What Is Brand Hierarchy?
Brand hierarchy describes how a company organizes its specific brands to best represent its services and meet the needs of its customers. Establishing a clear brand hierarchy can improve marketing performance, brand trust and authority, and each brand's communication with its customers.
Effective brand hierarchy is built on a strong strategic foundation. Grab your hammer.
Brand Hierarchy Strategies: Building a House
Also known as brand architecture, most companies fit somewhat neatly into one of three common brand hierarchies. Each of these architectures has its benefits and drawbacks, which we'll explain soon. But first we'll cover the timing of such decisions and what the options are.
At a few key points of a company's growth, decisionmakers need to consider developing a rebranding strategy, a co-branding strategy, or ways to keep brands separate. These moments will almost certainly start a discussion about the ideal hierarchy. How will you build the house?
Motivation 1: Offering a Substantially New Product or Service
Long-standing brands known for a particular product run the risk of diluting their reputation by expanding into new areas of their industry, or entering a completely new space, under their existing brand name. If Oneupweb, a fully integrated marketing agency with a stellar reputation, decided to break into the homemade jam industry, it could confuse our mission and purpose: Are we into world-class marketing or marmalade?
In this case, our reputation in marketing doesn't support our growth in the jam world. A new, separate brand would be better positioned to grow and build trust with customers.
Motivation 2: Feedback from Customers (Confused, Negative or Inaccurate Perception)
This can happen for a variety of reasons, but the root cause is often the fundamental sin of poor communication. Customer confusion about quality and/or recent bad press often lead to a dip in loyalty and retention. It can also lead to price-based decisions, forcing brands to lower their prices for goods and services to regain market share. This is when rebranding – and possibly dividing the company into brands to differentiate between product lines or services – can be an effective response.
Motivation 3: Acquiring a New Brand Through Merger or Acquisition
Whether it's one of the biggest acquisitions in business history or a kid buying out the rival lemonade stand down the street, there's an important question to answer: How do these two pieces come together? There are financial and legal factors to consider, of course, but many of those decisions don't have a direct impact on how each brand is represented going forward. Even mergers bring up the consideration of consolidating brands or phasing one out entirely based on the needs of the companies and, just as important, the needs of their customers. The solution to this puzzle is not an easy one, but it helps to know the pros and cons of common types of brand hierarchy.
Three Types of Brand Hierarchy with Examples
The Branded House
A branded house describes a company that markets through a single voice and image. This structure allows the company to invest all its resources into building and maintaining the prestige of a single entity. John Deere, for example, operates in the agricultural industry and relies on its brand reputation for quality, to grow. It relies on one logo and one name, even when it operates as a manufacturer or service provider.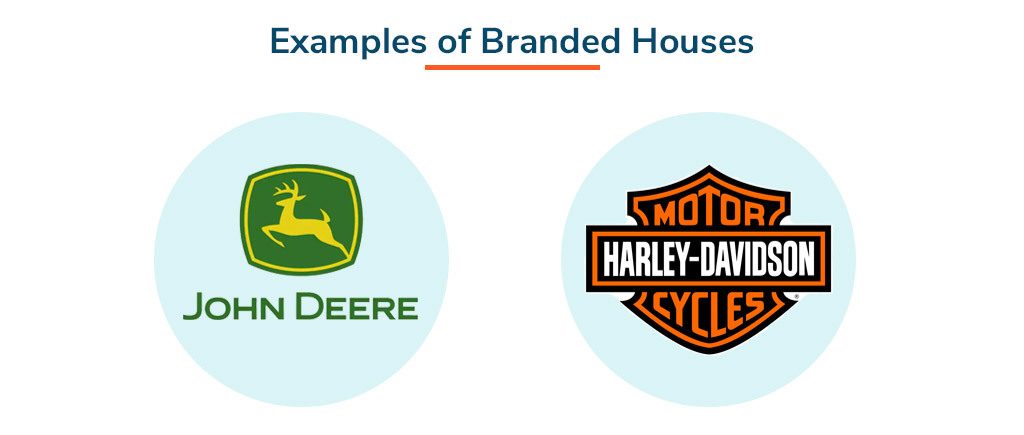 Pros: Maximizes investment into a single brand. Creates immediate association between brand and product or service.
Cons: Has potential to confuse customers looking for vastly different products or services. Negative feedback affects all goods and services.
Hybrid Branding (or Endorser Branding)
Hybrid branding is an especially attractive option for companies choosing to grow through acquisition. Hybrid is a form of co-branding, leveraging the value and recognition of both brands to appeal to a wider audience and influence customer loyalty. That is why this strategy is also referred to as "endorser branding"; one brand is added to endorse the other by lending its established credibility. Hybrid branding also allows companies to more clearly describe a brand's focus without sacrificing recognition of the parent company.
An excellent example of this model is Marriot, which leverages its established brand in the hospitality industry with subsidiaries like Courtyard by Marriot and JW Marriot, in addition to locations bearing its brand name. This specific format is a common tactic for rebranding after a merger.
It's also worth pointing out that not every brand applies this strategy across all of its goods and services. Brand hierarchy examples don't always fit neatly in a box. The key is to pick a style or structure and be consistent.
Microsoft puts its name on specific PC-centric software (Microsoft Teams, Microsoft Edge, Microsoft Excel) but not on other owned entities like LinkedIn. They follow a similar strategy to Marriot on certain products, like dubbing their game platform Xbox by Microsoft. Even when using different strategies, Microsoft stays consistent in where the parent brand is used as primary (software, PC hardware, cloud services), where it is used to endorse (Xbox by Microsoft), and where their other brands stand alone (ad-based companies like LinkedIn and Bing).

Pros: Lends credibility across all subsidiaries. Facilitates cross-promotion and brand loyalty across products and services.
Cons: Increases investment to support brands equally. Dissatisfaction from consumers may affect other brands.
House of Brands (Or Family of Brands)
This type of branding hierarchy is more common than you might think. Did you know that General Motors owns Cadillac, Chevrolet, Buick, and GMC? You probably did, but you likely have different associations with each brand, even though they're owned and operated by the same corporation.
The house of brands strategy maintains separate identities, personas, and marketing for each brand. To the consumer, each of these brands may feel like a separate entity, which limits the risk of passing along the preconceptions about the parent company to the subsidiary.
When Old Spice opted to recall products due to the presence of a known carcinogen, benzene, consumers were justifiably upset. News outlets around the world covered the story, plastering the Old Spice brand as irresponsible or untrustworthy. While the brand's owner, P&G, was mentioned, its name was primarily buried deeper in the copy or video content. And other P&G brands, like Vick's and Pampers, weren't mentioned at all. That is one of the prime benefits of using brands as silos: maximizing benefits and minimizing risk.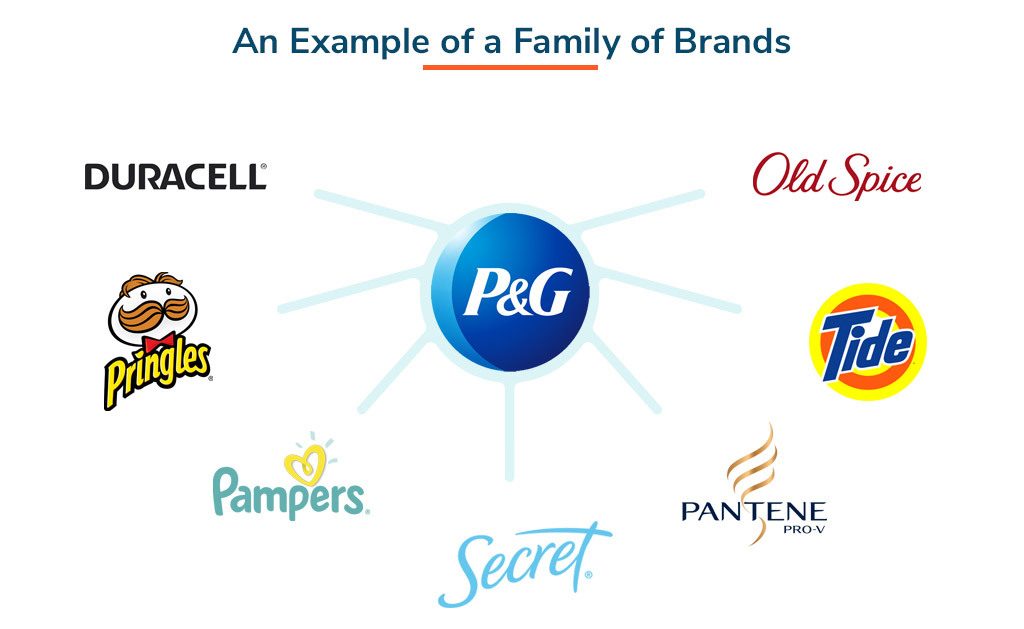 Pros: Specializing branding to fully support a specific product or service, limits brand reputation liability
Cons: High level of investment to maintain all brands, very limited opportunity for cross-promotion
Which Brand Hierarchy Is Best for Your Company?
Like any effective branding change, the best brand hierarchy for your business should meet these three key points:
It grows with you. One brand hierarchy may suit your needs today, but how does it work to support growth? Have a plan to accommodate future products or services, acquisitions, or the decision to spin your company in a completely new direction.
It serves your customer. In a world where the phrase "customer first" enters every discussion, keep it top of mind with all elements of your branding. Which structure makes communication clear, effective, and engaging to specific segments of your customer base?
It is defined. Your team should be able to clearly explain your brand hierarchy and the reasoning behind it. This will help keep the company committed to implementing the brand architecture consistently.
Branding, Rebranding, and Brand Hierarchy
Sometimes, marketing is walking into a crowded bar and yelling. Branding is walking to a booth, sitting down with people who share your interests, and bringing more people into the conversation. From establishing a brand identity from scratch, to rebranding an existing company, to implementing a fresh branding hierarchy to support the future of your company, Oneupweb is here to help. Our team can help you develop a brand strategy that serves as the foundation of how you communicate with the world. Contact us today or give us a call at 231-922-9977 to get the conversation started.