Branding in Healthcare Marketing
Healthcare organizations operate in a competitive marketplace where they're marketing deeply personal and often high-stakes services. This combination of factors alone makes healthcare branding and marketing difficult, yet so important.
Healthcare entities can no longer rely only on their physicians' reputations and their geographic proximity. They must build a brand that's trusted and familiar – and so well maintained – that their competitive advantages grow and last.
At Oneupweb, we're passionate about helping brands define or redefine themselves. We applied our deep experience in healthcare marketing to this guide so it's ready to put into action.
Why Is Branding Important in the Healthcare Industry?
The value of branding in healthcare is its ability to establish consumer trust and loyalty despite industry challenges. Patients are looking for providers that emphasize equitable care and modern technologies; they're also looking for a reason to choose one provider out of a growing range of care options, including telehealth.
Branding is your ticket to becoming recognized, chosen and remembered for your differentiators.
The importance of branding in healthcare impacts patient decision-making in several ways:
1. Branding builds trust.
The most important choices people make are health-related. To capture business, the organizations offering these services must have a trustworthy, consistent brand narrative that's carefully messaged and managed.
2. Branding differentiates your organization.
In the age of ample consumer choice, becoming someone's preferred brand is more difficult than ever. Your healthcare branding – from design to company values – can set you apart and ultimately increase your market share.
3. Branding supports successful consolidations.
Consolidation is a common occurrence in the world of healthcare, especially in the past decade. During a consolidation or acquisition, thoughtfully build a brand hierarchy strategy that allows you to achieve your business goals faster.  
4. Branding establishes customer loyalty and advocacy.
When a brand's accumulated trust is maintained through every aspect of the business, from customer service to the mobile app experience, it pays off in customer loyalty. Patients are also more likely to recommend their healthcare provider to their peers who are looking for care.
5. Branding supports recruiting and employee pride.
A respected brand attracts top talent, making healthcare recruitment much easier. Additionally, employees are proud to work for a respected brand – and they share the news about it.
Healthcare Brand Guidelines: Define Your Identity – an Audience
Healthcare brand development starts with defining an audience. This is the foundation of everything else: the mission statement, core values, value propositions and differentiators, visual assets, voice/tone and more.
Whether the goal is to refine an existing brand, fully rebrand or build a brand for a newly formed organization, the essential steps include:
Market research, including a deep dive into competitors' branding
Qualitative audience research (surveys, user testing on the website and app, etc.)
Quantitative audience research (website user demographics and behavior, social media engagement, etc.)
A visual brand workshop and voice/tone/style workshop with all key stakeholders
Creating a thorough brand guide that can be used organization-wide
These are some questions healthcare organizations may ask as they develop their brands:
Is our target audience different from our current audience? If so, are we being realistic?
What are the strengths and weaknesses of each competitor?
Are we trying to sound or look too much like our competitors, and if so how can we change that?
Do we expect different types of patients to respond favorably to the new brand? (For example, dark humor on social media may not appeal to those who are gravely ill.)
Do we expect career candidates and other sub-audiences to respond favorably to the new brand?
How can we better tell a story with our branding, both visually and through messaging?
Do drafts of the new brand design follow ADA-accessibility best practices?
Is our current technology ideal for supporting this branding journey? (CMS/editor, scheduling solutions, mobile app, etc.)
Since healthcare marketing teams must coordinate these conversations between many busy stakeholders, it can be a heavy organizational lift to define, document and deploy the best healthcare branding to achieve organizational goals. If you want an experienced agency to manage everything from the workshops to the final brand guide, reach out to Oneupweb.
Healthcare Branding Examples
As challenging as the branding process can be, there are several examples of healthcare companies getting it right.  Don't be afraid to use these top healthcare brands to start internal conversations.
CVS Health
CVS Caremark Corporation rebranded to CVS Health in 2014. Their visual branding didn't stray very far from a previous iteration, but they modernized their website and app with micro-animations and convenient features – a good example of practicing what you preach when you say you're a technology-centered company. They added the heart symbol to their logo to reflect their organizational purpose statement and trademarked tagline: "Bringing our heart to every moment of your health." Their differentiators are in a separate part of the website navigation for easy access and transparency. They also highlight community involvement and impact in a separate tab, again proving that they bring the heart to community members.

Merck
The German life sciences technology company Merck rebranded more than a decade ago as a "vibrant science and technology company." They broke away from the tame visual branding of their competitors, instead introducing an artistic typeface and bold brand colors that mirrored their scientists' and engineers' creativity. This helped them differentiate from the other company of the same name in the US. The funky typeface and bold use of color were both carried across their sister brand websites to unify them visually, despite their maintaining separate brand names.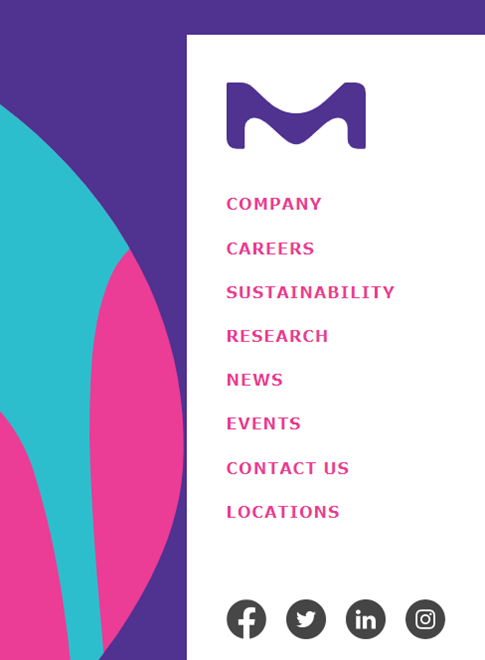 Healthcare Brand Marketing Tips: Growing It
Branding is who you are and how you communicate that identity in various ways.
Marketing is how you expose your audience to your brand.
This is why defining an audience is the first step of a healthcare branding journey – it ensures that branding and marketing are aligned and working together.
There are dozens of marketing channels to activate and levers to pull. So, when it comes to determining how to grow a healthcare brand, avoid relying on cookie-cutter strategies.
Instead, consider these guidelines to manage and amplify a healthcare brand:
Update all marketing and sales collateral to utilize your new brand design, voice and tone. Having a unified look and feel across assets builds trust among new and existing users.
Maintain global/national/systemwide as well as local-specific campaigns. For example, location-based ads and local SEO for healthcare are both worthwhile lower-funnel efforts.
Stay on top of paid media advertising for brand awareness. Competitors will bid on your brand name and branded keywords.
Address your audience's potential objections and pain points through transparent messaging that's aligned throughout marketing channels.
Celebrate successes through storytelling, especially patient satisfaction stories and other "social proof" of the organization's dedication to its mission.
Use SEO to make your content marketing strategies more competitive. This creates a more sustainable marketing program that doesn't over-rely on paid advertising or high-maintenance tactics. Remember: SEO matters for social media, too.
Check out our Healthcare Marketing Manual for more tips that truly work. 
Measuring Healthcare Brand Awareness
A big part of healthcare brand management and marketing is accurately measuring results and adjusting your strategy as needed. Reliable data is critical to guide short-term and long-term priorities.
What is brand awareness in healthcare, in terms of key performance indicators (KPIs)? Well, several metrics matter, including organic and paid impressions, branded search volume/demand, social media reach and direct website traffic. Organizations select their KPIs based on overall goals.
We created a guide to measuring brand awareness to support that process.
Choosing a Healthcare Branding Agency
If you're exploring healthcare branding services, it may be tempting to focus your search on healthcare branding firms that focus only on branding. While niche, it may not be the best way to access all the expertise and resources your brand needs.
Consider working with an agency that provides branding and marketing services. We have a better understanding of how your updated and reimagined brand will be used day in and day out, across all of your marketing channels.
Oneupweb brings a fully integrated team of branding and marketing professionals to every project, offering a well-rounded perspective from creatives and strategists. Interested in learning how we can help you build your healthcare brand? Get in touch or call (231) 922-9977 today.