ChatGPT, SEO and You: How to Use Generative AI for Search
Generative AI tools like ChatGPT and its competitors won't take your job, but a digital marketer leveraging AI tools might. Marketers use ChatGPT for SEO in several ways, mixing the technology into more traditional keyword and reporting tools.
Our SEO and content marketing team has developed a few ways to use ChatGPT for SEO, including AI keyword analysis and saving time on repetitive tasks.
An important note. Oneupweb does not use ChatGPT, Bard or other tools to write content. Not even this blog. So far, AI content's low quality, inaccurate and repetitive compositions don't meet our standards.
How to Use ChatGPT for SEO
The real power of ChatGPT is its ability to access and organize massive amounts of data quickly. That's a tremendous advantage for marketers sifting through reams of keywords, metrics and content to create blogs, social messaging or ad copy.
These are the ChatGPT SEO prompts our team uses to save time and add variety to our work.
1. ChatGPT Keyword Research
We rely on tools like Semrush to identify valuable and relevant keywords, but ChatGPT plays a role, too. A simple prompt can generate a broad list of related terms. Here's a quick example: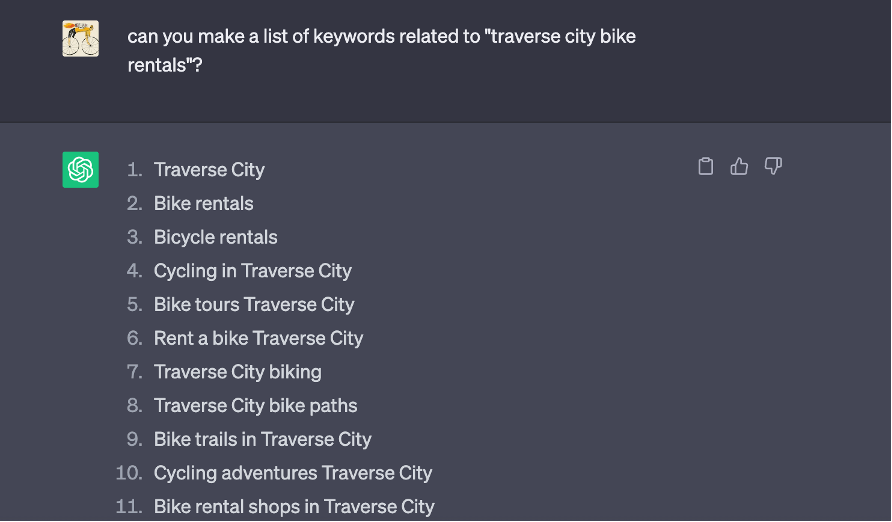 It's a start, but most SEOs will need more information about these keywords, such as volume or user intent. ChatGPT doesn't always provide the breadth of keyword variations to create well-rounded content, so plan on asking several more questions to get more options.
2. Bulk UTM Parameters
With increased privacy restrictions and the slow deprecation of third-party cookies, we rely on UTM parameters to track organic, social, paid and email conversions. Many useful tools exist for adding UTM codes to links in bulk, but ChatGPT already has them beat.
To use this function, ask ChatGPT to add the appropriate source, medium and campaign information to a link. It will automatically insert the tags in the right place in the URL in seconds!
3. Write Page Titles and Meta Descriptions
Even exceptional writers can struggle to deliver an engaging page title or effective meta description. Provide ChatGPT with the metadata best practices and have it write a few variations.
Keep page titles under 60 characters
Meta descriptions should be under 155 characters
We gave it a shot at writing the page title for this blog. How do you think it did?
"Boost SEO with ChatGPT: Unleashing AI Power for Website Optimization"
"Mastering SEO with ChatGPT: A Guide to Unlocking Website Potential"
"Harnessing ChatGPT for SEO Success: Strategies and Techniques Revealed"
"ChatGPT SEO Guide: Optimizing Websites for Maximum Visibility"
"Supercharge Your SEO Efforts with ChatGPT: A Comprehensive Guide"
4. Formulas and Calculations
We use ChatGPT to quickly source formulas in Excel, Google Sheets and tools like Google Tag Manager. Let it know the calculation you need, and it will produce the right formula; you'll just need to input the cells. This is a huge timesaver when preparing reports or trying to measure growth in new ways.
Why You Shouldn't Use ChatGPT to Write Content
There's plenty of discussion around AI replacing copywriters (especially involving said copywriters) but that appears to a long way down the road.
AI Writing Is Bland
You don't need an AI writing detector to spot AI content. Without substantial writing and restructuring, most of the copy churned out by ChatGPT reads dry, formulaic and vague to the point of being unhelpful. In many cases, it lacks the human voice that makes even mundane topics like "How to Change a Light Bulb" worth reading.
AI Writing Is Wrong
ChatGPT and its competitors are famous for making stuff up. Engineers in artificial intelligence call this "hallucinating"; bots attempt to fill in knowledge gaps with plausible but untrue statements. These tools are also susceptible to learned biases, including racism, sexism and anti-Semitism.
The Future of ChatGPT, Bard and AI
As the AI industry seemingly begs for regulation, leading companies like Open AI, Google, Meta and Amazon are racing to create or expand AI tools across platforms. In the dot com era of the 1990s, every self-respecting company threw common sense out the window to position itself as a "digital leader," embracing the tidal wave of new tech without truly understanding how it changed their business.
AI is the next iteration of the internet; it's smarter, faster, and more convenient. Its consequences for marketers – and humanity- are equally unclear.
Tap Into Real Marketing Intelligence with Oneupweb
Our vertically integrated digital marketing agency has leveraged emerging technology and good old-fashioned know-how for over two decades to deliver results. With experience in a variety of industries and markets, we'll assemble a bespoke team to help grow your business with sound, data-driven marketing. Get in touch or call 231-922-9977 to get started.