Get the Most Out of Ecommerce Email Automations
There are dozens of email automation tools out there, but just like a hammer, they can do more harm than good if you don't know what you're doing. It takes time, careful analysis and plenty of testing to hone in your email marketing flows, and we've got a few tips to get you started on the right foot.
What Is Email Automation?
Email automation sends specific emails based on predefined criteria. Most email automation tools offer some pre-packed email marketing flows that you're almost certainly familiar with – the "Welcome" email when you join an email list, the "Thank You" or confirmation email when you order something online. There are several other types of automated email campaigns based on what your customers do – or don't do.
Connecting your ecommerce website to email marketing automation tools like Mailchimp or Constant Contact can save time, generate revenue and keep you in front of customers on the regular.
And why email? Consumers don't mind communicating with brands via email and prefer email to social media or talking on the phone – by a lot.
Choosing an Email Automation Tool
Ecommerce brands on WordPress, Squarespace, Wix and Shopify have access to basic automation tools as a part of their basic paid subscriptions. Third-party email automation tools like Mailchimp offer comprehensive integrations with the most popular ecommerce brands. Some of the best email marketing tools for ecommerce are:
Mailchimp
Klaviyo
ConvertKit
Marketo
Keap
Make sure the tool matches your budget and integrates with your ecommerce platform, or you may not be getting the most out of the tool.
Read more: Mailchimp vs. Constant Contact vs. HubSpot Comparison
Automated Email Campaigns Every Ecommerce Site Needs
Let's start with the basics. Once you have your email tool set up, make sure you have these email flows ready to go.
The Welcome Email
74% of new email subscribers expect a welcome email, usually within the first 48 hours. Depending on your industry, product or service, separate that first dive into their inbox into two emails.
First, confirm they're on the list. Subscribers just want to know their request worked, so this confirmation email should be immediate. If your site offers a discount for joining, make sure this initial email includes the coupon code or other information for the customer to complete the sale right now!
Next, welcome them to the brand family with relevant information about what you do, why your products rock or current promotions. This is the welcome email most brands send between 6 and 48 hours after initial sign-up.
Keep it simple
Keep it clear
Limit it to a single action or button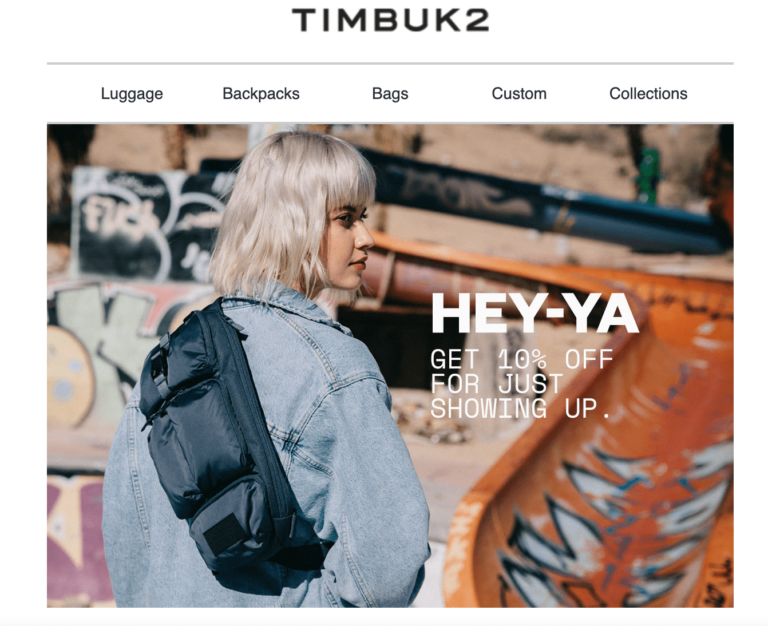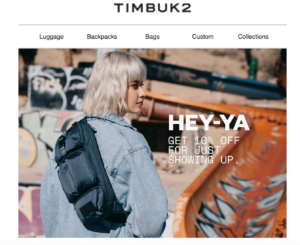 The Abandoned Cart Email
Did you forget something? Abandoned cart emails rely on your customer base's behavior to send abandoned cart reminders when customers are mostly like to convert. Recovery rates, or the rate at which abandoned cart emails convert, vary by industry and order value. Even low-volume stores with high-value average carts convert at rates in the double digits, averaging between 12.1 and 14.9%.
Include cart specifics in the email (product name, quantity and value)
Include a single action or button; if possible, link directly to the checkout page
If carts expire on your website, let the customer know how long their cart will be saved to create a sense of urgency
The Reengagement Email
The first two types of automated email speak to customers that are active and ready to convert. But what about the customer giving you the cold shoulder? They haven't visited your site in ages, they haven't bought anything – they haven't even been reading your wonderful emails!
Re-engagement emails typically combine a light tug on the heartstrings (Subject Line: We Miss You!) and an offer that's simply too good to pass up. This is a great time to offer low-engagement audiences access to a flash sale or steep discount on high-inventory and high-margin products.
Set clear expectations – Make the incentive crystal clear: "Use this coupon code and get X% off."
A/B test re-engagement emails to compare how different discounts or messaging influences consumer behavior.
Don't overdo it, either. Limit re-engagement emails to set cohorts, such as users who haven't opened an email in the past 6 months.
The Package Deal Email
From buy one, get one to upselling, there's a lot of value in offering discounts when customers buy more than one product at a time. Package deals help brands regulate inventory, increase average cart value, and ensure customers lock into their product ecosystem. There's a reason Apple will occasionally offer free AirPods when you purchase a new laptop or phone.
The key to package deal emails is to clarify what's on offer. That's why brands rely on clear terms, like "Buy One, Get One Half Off" or "Free with every $50+ purchase."
Have a reason, such as regulating inventory levels
Limit the sale to a few days or a few specific product pairings
Personalize the offering to customers who have made similar purchases before, if you have that information
Fast Email Automation Tips
Email automation can reduce your workload, but it's not set-it-and-forget-it. Make time to optimize your automations – or let our email marketing team handle it.
Welcome emails get 4 times more reads and 5 times more clicks than standard emails – keep testing new messaging and promotions to maximize impact!
Tie flows together. Email automations can trigger new flows based on customer behavior. Serve highly-engaged subscribers a steady stream of company updates, promotions and product information that build on previous actions.
47% of subscribers open an email based solely on the subject line. That means about half of your audience will like it and half won't; use A/B testing to see which messaging plays best with your crowd.
Automate Your Marketing (But with Real People!)
Email automation can chop down your to-do list, but we're willing to bet you have plenty left to do. We want to be your marketing department! Oneupweb has been an extension of internal marketing teams for over 20 years. Tap diverse skills, experiences and willing hands to deliver great content to the right audience. See what we can do, and call 231-922-9977 and get your project started.