Google Analytics Channels Explained
Google Analytics and other analytics tools provide a detailed look into how users are interacting with our websites. But they can also be challenging tools to make sense of without the right background knowledge.
Thankfully, wise marketers exist to help you through the process!
Google Analytics allows us to better understand how users from different channels interact with our site and identify pages that would benefit from search engine optimization (SEO), conversion rate optimization (CRO), or other digital efforts.
But first, we must fully understand how to harness Google Analytics for our benefit. This knowledge starts with understanding how the tool segments our traffic into channels.
Google Analytics Default Channel Groupings
The following channels come as default channel groupings and are automatically identified in all Google Analytics accounts under the All Traffic Channels view in Acquisition: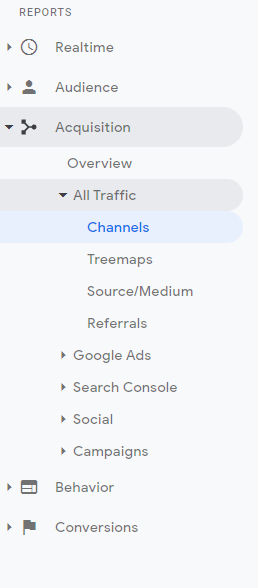 Organic Search
Here is where you'll find all traffic arriving at the site from search engines, including Google, Bing, Yahoo and others. Users arriving on your site from Google My Business listings will also be included in this channel.
We recommend looking at your organic traffic by landing page to better understand how each page on your website is performing in the search results.
Direct
Direct traffic includes all users who arrived on the website without going through another channel – including folks who type the URL directly into their browser or who have bookmarked a link to your site. It can also include URLs that were emailed between two individuals and some additional hard-to-classify traffic.
Direct traffic can be a good indicator of brand recognition, as users who aren't familiar with your brand are unlikely to reach the website directly.
Paid Search
All traffic coming from PPC search campaigns will appear in this segment. That said, an effectively managed PPC program will usually segment traffic from their efforts more specifically to gain better insights on how each campaign is performing individually.
Display
Traffic from display ads, those that show on websites other than your own (and other than search engines!), will appear in the Display channel grouping. Viewing performance of traffic in this channel is a great way to gain a better understanding of how often clicks on your display ads turn into conversions.
Referral
Referral traffic includes all non-paid traffic that arrives on the website after a user clicks a link on another website. Referral traffic can help us understand how our backlinks are working for us. With backlinks being a valuable ranking factor for search, it's important to keep an eye on referral traffic and identify strategies for increasing it.
Social
The social channel tracks users who arrived on your website after clicking a link from social media, whether on one of your posts or something from your site shared by another user. While social media platforms provide data on how your posts are performing, taking a closer look at social traffic to the website in Google Analytics will tell you how users are actually converting once they reach your site. It will also give you an idea of how your content is reaching users outside your own audience on social.
Email
The email channel includes traffic from emails, surprise surprise!
Most traffic from email systems for business, such as MailChimp and Constant Contact, will automatically be placed in this category, allowing you to look at the effectiveness of your email campaigns. That said, we recommend implementing UTM parameters on links in your emails, allowing you to track users who came to the site from each individual email or email campaign.
(Other)
Google Analytics always has a section for traffic they aren't able to identify. When it comes to channel groupings, (other) is exactly that. Sometimes this traffic comes from direct ad buys, misguided UTM parameters or other sources.
What Next?
Ready to take your traffic segmentation to the next level? Using UTM parameters and advanced segments will let you manipulate Google Analytics data in the way that works best for your business.
Feeling a Little Lost?
Google Analytics is a mainstay of our daily life at Oneupweb. As an official Google Partner, we eat, sleep and dream data, and we're always happy to help. Drop us a note online or give us a call at (231) 922-9977. We'll help you make sense of your Google Analytics data.