Google Begins Calling out Mobile-Friendly Sites in Search Results
Is your site mobile friendly?
Google confirmed that it cares about mobile-friendly design a lot when it announced November 18 that it has begun a gradual roll-out of optimizing its search results for mobile users by adding a "mobile-friendly" label to search results that are considered "mobile-friendly." This change has been rolling out globally over the last few weeks and the new label looks something like this: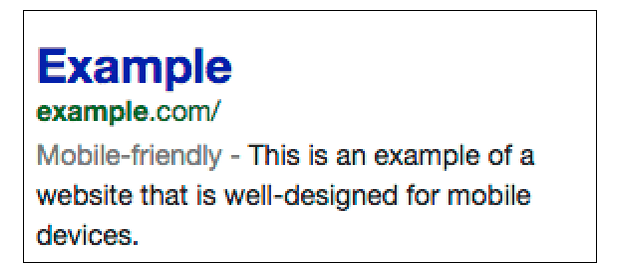 What does this mean? It means that websites meeting Google's mobile-friendly criteria will be more likely to turn up front and center in a Google search.
Mobile search has been increasing exponentially in recent years. In fact, analysts expect that 2014 will be the first year in which mobile Internet use will outpace desktop Internet use. With so many users searching on mobile devices, it's become an absolute necessity to have a mobile-friendly website.
The benefit of having a mobile-friendly site has increased over time with the volume of users searching on mobile devices. Sites that are easily navigable on smartphones keep visitors longer and convert more visitors to leads. Now, mobile design can have an impact on whether anyone even clicks on your site at all. Based on Google's recent announcement, you will want to have a site that:
Avoids software that is not common on mobile devices, like Flash
Uses text that is readable without zooming
Sizes content to the screen so tablet and smartphone users don't have to scroll horizontally or zoom
Places links far enough apart so that the correct one can be easily tapped
If you're unsure whether your website is mobile friendly, run it through Google's Mobile-Friendly Test. This test analyzes your web page and will report back to you if your site passes the test. If it doesn't, it is a smart move for your business to invest in the work it takes to make your site one that will.