The Importance of Curation in Ecommerce Marketing Strategy
With the number of US malls expected to drop from 700 to just 150 in the next decade, concerns about the viability of traditional retail are on the rise. As shoppers return to in-person shopping after the pandemic, it's important for ecommerce brands to recreate the hands-on experience of brick-and-mortar retailers.
Combined with personalized digital marketing, there's another way to personalize the customer journey. Here's how to optimize your ecommerce marketing strategy with guided selling.
Customer-Data-Driven Sales: Ecommerce Gets Personal
Data makes consumer research an important but potentially confusing prospect due to the sheer amount of information available. Many direct-to-consumer brands have done a superb job of extrapolating the shopping habits of existing ecommerce customers and enhancing their experience with first-party data. With time and the tools to make sense of all that data, brands can curate a highly personalized shopping experience, also known as guided selling. In fact, some D2C brands have leveraged data so well that they are flipping the traditional formula upside down by opening brick-and-mortar stores to expand their customer base.
Online Shopping vs. In-Store Shopping: Finding the Happy Medium
In recent years, increasingly sophisticated data collection and supporting software have allowed data-driven sales to flourish. Even after the removal of third-party cookies, ecommerce sites can personalize the user experience to mimic the inviting feel of a brick-and-mortar store. The change is reflected in web design itself: just compare Zappos.com of 2006 to Zappos.com of 2020. In previous years, limited technology and integration forced marketers to bombard users with products in the hopes that potential customers might see something they liked. Today's design guides the user toward products they're likely to find highly relevant based on previous browsing and purchasing behavior.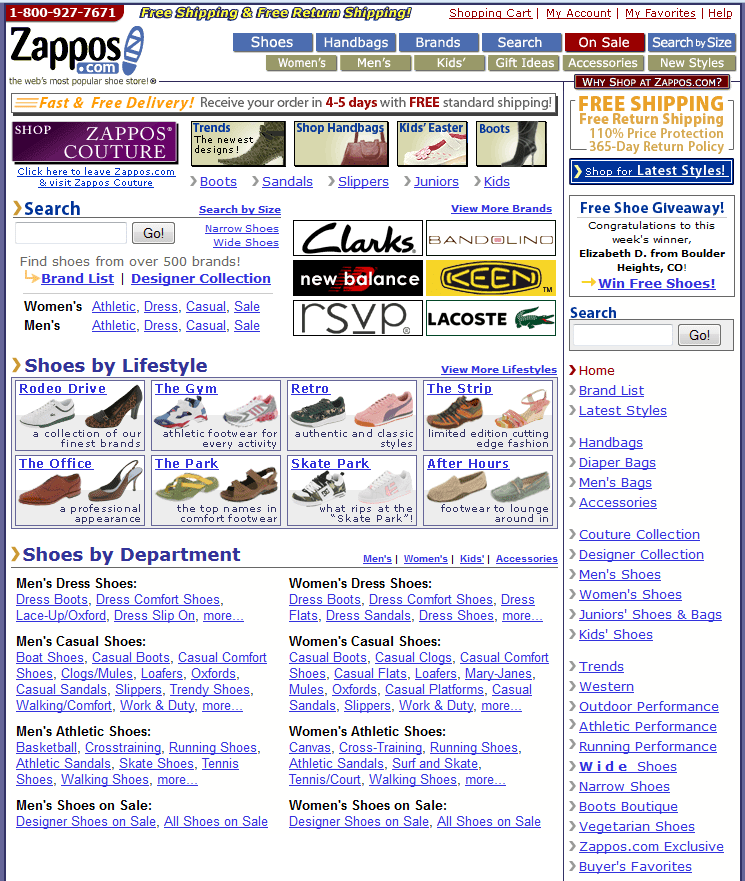 On Zappos.com of 2006 – before the introduction of more sophisticated technologies – even the customer service pioneer was forced to adopt a "spray and pray"-type marketing approach.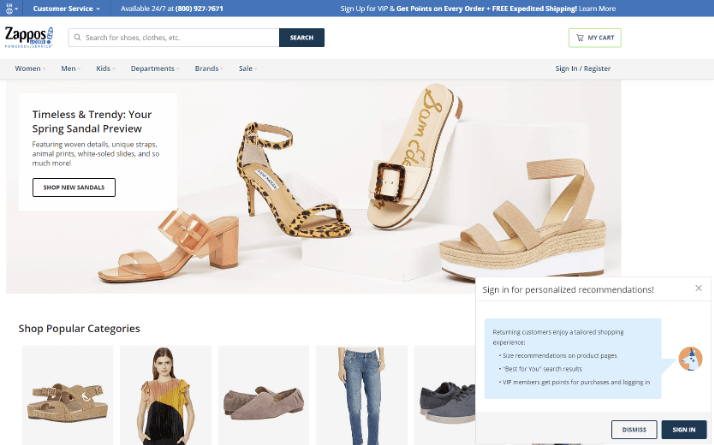 Leveraging detailed customer behavior and purchase data, the new, cleaner Zappos.com emphasizes guided selling and personalized recommendations, offering a highly "curated" experience.
Curated Shopping Comes Home
The core element of a boutique shopping experience is finding products hand-picked just for you. Curated commerce describes online shopping tools that use data to make personalized product recommendations. These tools combine information from a single customer's shopping habits with the preferences of hundreds or even thousands of other shoppers with similar characteristics, interests and spending patterns.
The result? Personalized bundles of related products that are likely to check each customer's boxes, including size, style and price.
Guided Shopping and Millennial Consumers
Guided selling in ecommerce takes on particular importance for retailers seeking to attract customers to their online storefronts. Conversion rate experts Invesp show just how vital a market segment, like millennials, can be. Here's a look at millennial shopping habits by the numbers:
In 2020, millennial spending was estimated to account for 30% of total U.S. retail sales.
67% of millennials prefer online shopping over in-store.
54% of millennial purchases occur online.
40% of millennials have conducted a voice search to make an online purchase.
8 out of 10 millennials won't make a purchase without reading a review first.
Deborah Weinswig, CEO and founder of research and advisory firm Coresight Research, says, "Free delivery and competitive pricing are table stakes for retailers, but almost half of millennials rank same-day delivery as important when shopping online. We think this underscores that younger consumers are less likely to view ecommerce as a commodity-focused, price-driven counterpart to store-based retail. It points to a channel-agnostic attitude from digital natives: They expect similar immediacy from the online channel as they get from buying in stores."
Ecommerce Guided Selling Best Practices
To draw more young consumers to online stores, ecommerce digital marketing programs should embrace some of the things that used to make traditional shopping so appealing – namely, personalized product recommendations and lightning-fast acquisition of purchased products.
Customers want to be guided, but they don't want to sacrifice the experience of shopping. As in content marketing, a successful ecommerce marketing strategy is about curation, not direction. It's a page straight from the traditional retail playbook: greet the customer (preferably by name), highlight what's new, relevant or on sale and let them discover.
No one appreciates a hovering salesperson. But we all like to feel special.
Guided Selling Techniques
Even without cookies to offer individual data, there are still ways to personalize a user's journey through your website.
Employ guided selling software, like Clickpoint, Salesforce or Shop Assistant.
Use a quiz or questionnaire to narrow down the products or services a user has to choose from.
Save product preferences or recently viewed products on a user's account when they log in (for example, a shoe store saving size or style preferences).
Use a robust filtering system to allow customers to personalize their journey.
Install a chatbot or customer service chat function to take the place of an on-floor salesperson.
Provide transparent information about your products and clear avenues to ask questions.
Address common ecommerce concerns by explaining your shipping rates or offers and return or exchange policy.
Bespoke Marketing Support from the Pros
Oneupweb offers solutions for ecommerce brands of all sizes. Let us help accurately collect and analyze data and drive your marketing strategy. Take the guesswork out of ecommerce and tap into a professional, integrated team of designers, writers, videographers and strategists. Drop us a note or call 231-922-9977 – we'd be happy to help.