New Music Tuesdays: From the Land of Scots, Synth
Last week was our first foray into New Music Tuesdays—the recurring forum where we offer a little glimpse into what we're listening to when we're doing our thing.
This week, a band from the Land of Scots . . .
CHVRCHES
This Scottish three-piece has my heart right now—although really, I've been in love since they debuted last year.
With CHRVCHES, electronica meets indie rock in a synth-obsessed, bright, poppy-in-all-the-best-ways style that cuts across the spectrum of tired guitar indulgence and emotional affectation. From the toe-tapping energy (it's dance-floor worthy) of "We Sink" to the melodic and thoughtful break of "Tether," the songs on The Bones of What You Believe are as refreshing as they are carefully wrought. There's something honest and very unguarded about their sound, something that knows what it is and doesn't really give a damn where it belongs. The music does hearken back to electro artists of the 80s (the band has noted Depeche Mode as a major influence) but CHVRCHES spins it into today's sphere in a way that is entirely their own—check out "Dead Air" for an example of what I mean.
Plus, singer Lauren Mayberry's voice is the kind you want to talk with late into the night—I imagine she has a crazy sexy whisper.

Up Next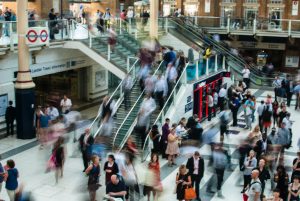 When you've worked in marketing for a couple of decades, you've surfed hundreds of waves of change in digital marketing. Through it all, these have been the top digital marketing FAQs we hear at Oneupweb. Cruise our answers to these marketing questions, and feel free to ask us something directly. Who should I be marketing...