What Is Oneupweb?

Often I'm asked, "What does Oneupweb do?" Seems like that should be an easy answer—and on the surface it is. The so called elevator pitch goes something like this: Oneupweb is a full service digital marketing agency providing everything from strategic planning, website development, online advertising and content marketing. Sounds special, right? Not really.
To me, the "what" isn't as important as the "who." And who is Oneupweb, you ask? Like many other digital marketing agencies, we sometime struggle with our true identity. What makes us so damn special? How are we different from the literally thousands of other agencies—or even the guy working from his basement in a worn out pair of boxers? It's my job to know the answer to this question. Still, it's difficult.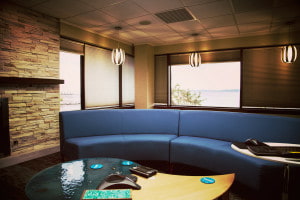 I could say it's our people. But—yeah, everyone has good people, or they wouldn't have a business. I could say we've been doing this a really long time. But again, who cares? We are results-oriented. Duh. Who isn't? We have a really cool office? Wow. Is that all you've got Lisa?
When you get beyond the cheesy, seemingly meaningless attributes that we internally feel are important and instead focus on what causes a business to choose Oneupweb for their digital marketing needs, I believe it goes like this…
Our reputation celebrates the stellar work we do. Beyond that, we make our clients believe in what we can do—together. We're honest, we hold ourselves accountable and we don't make excuses. We don't stop moving forward, and that comes out in our proactive recommendations to clients based on performance. After all, if we aren't continually growing our clients' businesses, why should they stay? Oh, and our clients have full access to me—the founder and key decision maker; the person who sets the standard for this agency. It matters.

When I interview employee candidates, I make it a point to impress upon them the fact that we owe our clients success. The money they pay us isn't Monopoly money. It's real. Careers and businesses depend on us getting this right. It's our job to make our client a hero, which in turn makes us heroes.  Integrity, honesty, caring, roll-up-the-sleeves, do the hard work, down-to-earth Midwesterners with give-a-damn attitudes—that's us.
So what is Oneupweb? Who is Oneupweb? We're the company that does killer work with great people for fantastic clients. We own it and carry the responsibility for success with us every day. We push our clients. We wear a lot of hats and we work hard to make our word—our commitment—mean something. We're not a good fit for everyone but for those small to mid-size businesses that need to show fast, tangible growth, we're a partner they can trust to get them there. And then, they out-grow us.
Yep, you heard right. It's our job to grow our clients beyond us. It's our job to educate them, nurture them, prepare them—and then kick them out of the proverbial nest. Our most successful clients take on their next stage of growth because of our effort, and then they make room for the next Oneupwebber. Kind of like an incubator. It's what we do best.
Here's the Oneupweb positioning statement:
We are growth instigators for small ($10-$20M) and mid-size ($20-$80M) companies, setting their marketing trajectory and preparing them for their next growth stage.
After 20 years in the business, we've tried to change who we are only to realize it doesn't feel good. We know what type of client we best serve, so aside from answering the question "Who is Oneupweb", I hope we've helped by provoking you to truly define who your company is. Own it and be the best you can be at it. Cheers!