Optimize Your Web Page for Voice Search
Note: This post was created in 2015. While it's mostly still good info, we recommend checking out our more recent post about optimizing for voice search.
And help Google rank your page as the answer to conversationally-posed search queries.
In Fall 2013, Google launched the Hummingbird algorithm in part to better understand conversational search queries – that is, the growing trend of users presenting their queries in the form of questions or commands (as if they were talking to a real person), instead of a small string of keywords, the way they had interfaced with Google in the past.
Here's a question: Did you know that mobile voice searches have doubled in the past year?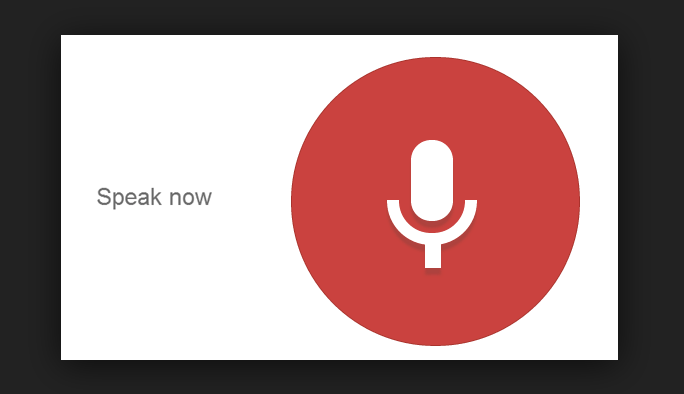 Results from a Northstar research study published this month by Google reveals that 55% of teens (aged 13-18) now make conversational voice queries with their mobile device daily (and remember, in six short years all those teens will be adults). The survey also found that 41% of adults use the feature daily.
Also according to the survey, teens and adults both frequently make conversational voice queries of Google or Siri while engaged in other more primary tasks like watching television, cooking and yes, using the bathroom (potential queries: Who delivers toilet paper in [my city?], Who are the nearest plumbers to me?, What are some inexpensive bathroom remodeling ideas? and What is the meaning of life?)
Before Hummingbird, Google might have dealt with a question such as this one: "What are the most famous restaurants in New Orleans?" by simply computing the search based on the keywords "New Orleans," "restaurants," and "famous" — and "throwing out" all the articles, pronouns and conjunctions that made up the rest of the sentence.
Now that Google "understands" the intent behind our fully stated questions thanks to Hummingbird's advanced semantic translation tools and since conversational queries are growing more commonplace, it raises the importance of the question: Is there anything marketers should be doing to better position their web pages as "the answer" to fully formed questions spoken aloud by potential customers into their smartphones?
There are, after all, differences between the results, when queries are made as a short string of keywords (the old way) and when the query is made as a fully formed question (the new way)…
Pages Rank Differently, Depending on How They Are Searched For
The older way: You might type this into Google on your desktop: Semantic search, SEO optimization
Top 5 Natural Google Results:
Amazon link to book by David Amerlan called "Google Semantic SEO"
Moz blog post "5 Questions about Semantic SEO"
HitTail blog post
David Amerlan's homepage
CrazyEgg blog post "14 Insights into Semantic Search and SEO"
The newer way: You might speak this into your smartphone (or desktop with Chrome browser): How can I optimize my site for semantic search?
Top 5 Natural Google Results (compared to results above):
David Amerlan's homepage (moves up from #4 to #1)
FuzeSEO blog post (moves up from #6 to #2)
Barnes & Noble link for David Amerlan's book (unranked to #3)
Amazon link to David Amerlan's book (moves down from #1 to #4)
Informative blog by SEO industry observer SEOSkeptic about semantic search strategy (moves up from #13 to #5)
So yes, there's a difference between the two searches even though both contain variants of the same two root keywords, 1) SEO/Optimization and 2) semantic search.
What can you do as a marketer to increase the chances that your page will rank for conversational queries entered into Google?
There are several:
Revisit your Keyword Strategy
Revisit your content keyword strategy. In choosing keywords to optimize for on any given page of your site, think additionally about how the content on it answers a question. Reverse engineer it. What question or questions does your page answer? Does your title, meta description, headline or body copy lack any keywords that would be involved in forming that, or those, questions?
Now, remember, Google's Hummingbird algorithm is working hard with its semantic intelligence to match conversational queries to relevant content, so don't think you need to rhetorically pose that question on your page "word for word" to get Google's attention. That would get very awkward quickly. But if you identify missing words or phrases that your user would use to frame questions that are answered by any given page on your site, adding them naturally can help. Revisit your content and look at it with "voice search" glasses on. Tweak as necessary.
Add Schema Markup
"Schema," as described by the Search Engine Journal, "is a markup language that website owners can use to help Bing, Google, and Yahoo better understand and identify content."
Entered directly into the code of your web pages, Schema also helps to enable "rich experiences" by informing the engines in a more clear way the information that exists on the page for users to consume, and helping them display it better. As it is explained by Search Engine Journal, "The search experience has extended to apps, voice search and so on. Search engines are more like 'data engines' and with Schema markup you can help add to a search engine's dataset. More data leads to more accurate results for searchers."
The bottom line? "If you're marked up, and we enable rich search experience, the opportunity for inclusion is much greater."
Just Quality
Remember, Google's hummingbird is doing most of the work with its semantic translation capability – it's meeting you way more than halfway. It's also designed, overall, to reward the best content with the most eyeballs.
So more than any "trick" or tactic you could employ, "quality" web pages that are:
informative
relevant
free of grammatical mistakes
quickly loaded
well-optimized with titles and metas, h1 and h2 tagging
well-linked by bloggers and media sites (have good quality signals)
…will position best in the SERPs, including for voice-delivered queries.
But, revisiting keyword strategy, making gentle tweaks to the content accordingly, and using Schema tags are also great ways to optimize for the way more and more of your potential customers are searching for your products, services, content and thought leadership.