Does Personalized Web Copy Help with Conversion Rates?
Without website personalization, it may seem like you're talking to everyone. Eventually, it will sound like you're talking to no one. Adding personalization and dynamic content to your messaging is a foundational marketing tactic but has also become expected behavior for visitors and consumers of your product and/or service.
What is Dynamic Content?
Dynamic content simply means that the content on the website changes depending on user data. A dynamic content website serves different versions of the same webpage based on variables ranging from user demographics to past behaviors on your site. With increased internet privacy and the death of the cookie, it may be harder to target exact customers, but dynamic content and website personalization are still valuable.
We set out to test exactly how effective dynamic content can be by evaluating conversions and conversion rates on a dynamic website.
Our Hypothesis
To test the effect of dynamic content, the Oneupweb marketing team tried adding personalized messaging to our own buying signal pages, or the pages on which we expect users to contact us. We were interested in how it would impact the conversion rate of users completing the Contact Form.
We hypothesized that adding dynamic content that treats new and returning users differently would have a positive impact on conversion rate.
We started with the About Us page and Contact Us page to add simple acknowledgments to visitors that have been to the website more than once. This acknowledges that we know that a user has been to the site before. We've found that when a visitor has been to our website numerous times and starts checking out the About Us page and Contact Us page, there is a good chance that they are interested in talking to us further.
Here is the About Us and Contact Us page for first-time visitors: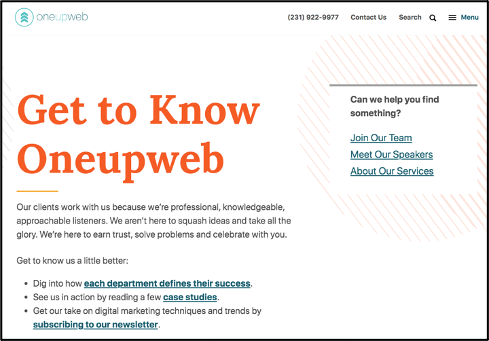 Our Results
With our personalized messaging test, we've noticed an increase in conversion rates for both the About Us and Contact Us pages. At the current time of publication, the average conversion rate combining both pages for personalized visitors is 9%.
When compared to the same period last year, the conversion rate without any personalization was 5.4%. That marks a nearly 5% increase in conversions, and we do expect to see this number improve over time. It also allows us to make subtle changes to the dynamic content that may increase the conversion rate for new users to improve their experience.
Let Oneupweb Improve Your Conversion Rate with Dynamic Content
Ready to start adding CRO to your website and want to see how incremental improvements can result in significant growth for your business? Put more than 20 years of digital marketing expertise to work for your organization. Make sure to get in touch or call us at 231-922-9977 to get started.