Does Personalized Web Copy Help with Conversion Rates?
A Oneupweb micro marketing experiment.
Without personalization, it may seem like you're talking to everyone, which eventually will sound like you're talking to no one. Adding personalization to your messaging is a foundational marketing tactic but also has become expected behavior for visitors and consumers of your product and/or service.
Our Hypothesis
To test this, the Oneupweb marketing team was curious to see how adding personalization messaging points to our own buying signal pages would impact the Contact Form conversion rate.

We started on the About Us page and Contact Us page to add simple acknowledgments to visitors that have been to the website more than once. We want to acknowledge that we see you and know that you've been to the site before. We've found that when a visitor has been to our website numerous times and start checking out the About Us page and Contact Us page, there is a good chance that they are interested in talking to us further.
Here is the About Us and Contact Us page for first-time visitors: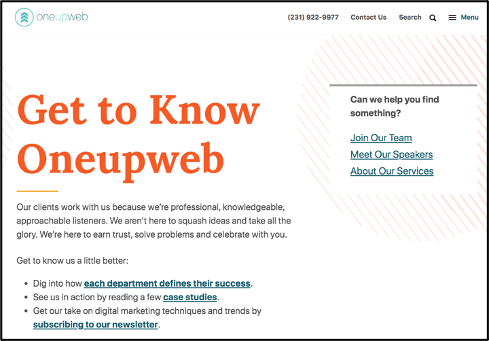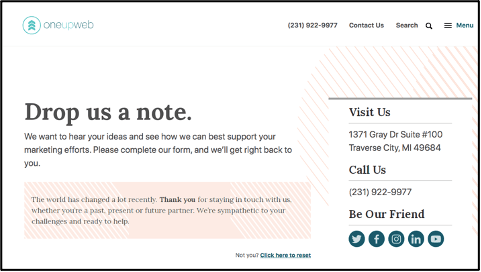 Versus the About Us and Contact Us page for returning visitors: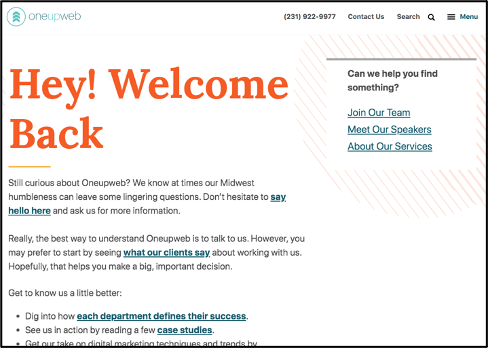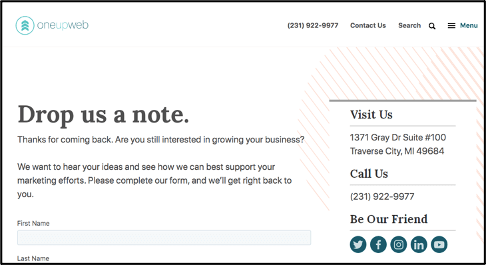 Our Results
With our personalization test, we've found already a noticeable increase in combined page (About Us and Contact Us) conversion rates. At the current time of publication, the rate for personalized visitors is 9%.

When compared to the same period last year, the conversion rate without any personalization was at 5.4%. So, nothing mind-blowing yet, but we're a big fan of the power of tiny gains (aka Marginal Gains Theory) when it comes to CRO and only expect to see this number continually improve.

We'd also love to dig in further and see how those conversion rates relate to actual new customers. Next time friends.
Ready to start adding CRO to your website and want to see how incremental improvements will show significant improvements for your business? Make sure to click right here or give us a call at 231-922-9977 to get started.