What Does RankBrain Mean to Your Search Rankings?
Google announced several weeks ago that a new machine learning system is the third-most important ranking factor. At first blush, it sounds like the robot apocalypse is upon us. So, as a public service I'd like to explain RankBrain and how it will potentially impact your site rankings.
RankBrain Explained
Google handles nearly 3 billion search queries per day. Nearly 15 percent of those queries have never been seen before. That's a lot of really weird and complex search queries! So, Google is relying on Artificial Intelligence to associate meaning to these unfamiliar search terms. And even though RankBrain is relatively new, it's playing a huge role in search results.
As explained by Bloomberg:
RankBrain is one of the "hundreds" of signals that go into an algorithm that determines what results appear on a Google search page and where they are ranked, [senior research scientist] Greg Corrado said. In the few months it has been deployed, RankBrain has become the third-most important signal contributing to the result of a search query, he said.
What Does This Mean to You?
Users are becoming increasingly conversational in their search queries. For example, I'm looking for a hat that's particularly popular in Northern Michigan. I just saw some really cool guy walking downtown in one of these hats. He was wearing a Stormy Kromer, although let's pretend I don't know that. But I want to know who makes those hats. And I want to buy one, like now. (Micro moment!). So, I turn to Google and search for, "hat with ear flaps."
I get the following Search Engine Results Page (SERP):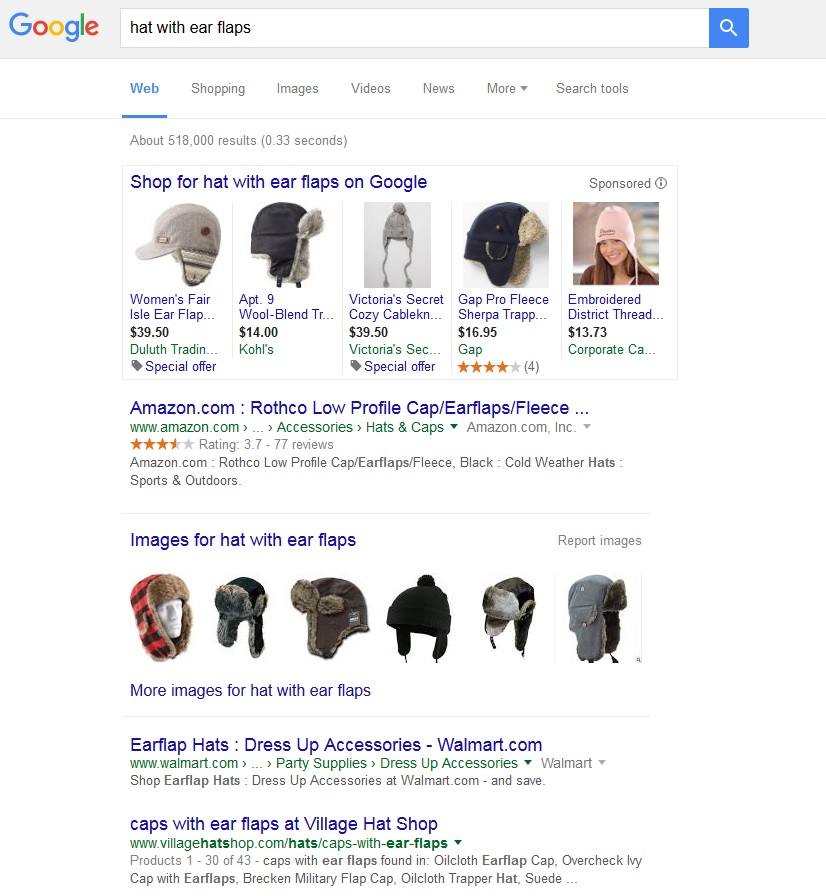 It's all wrong. As you see, Google did not return any results for Stormy Kromer. I see a lot of results for furry winter hats. Amazon, nope. Walmart, nope. Further down the page, there are even knitting patterns for hats with ear flaps. I try a new query: "brand that makes caps with ear flaps."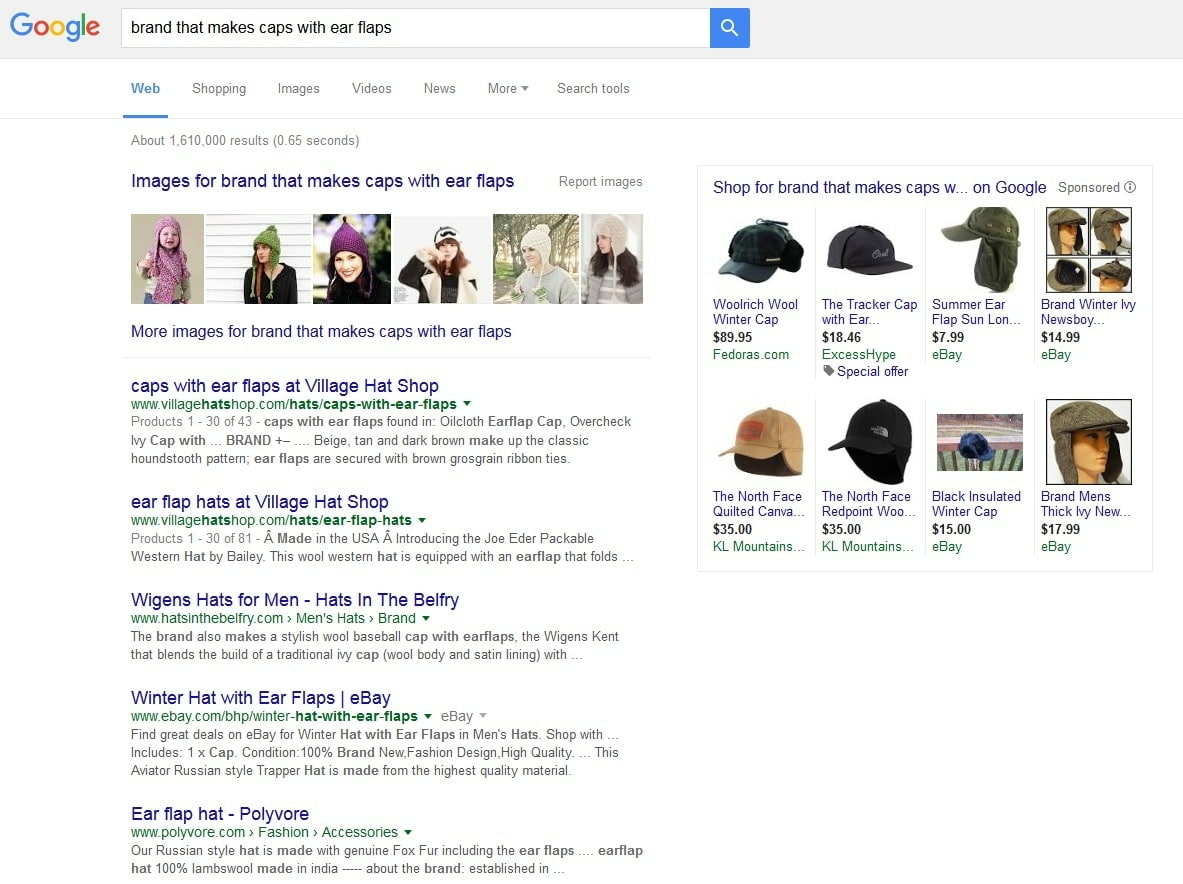 This one is closer, but no Stormy Kromers. Instead I'm seeing ads for similar caps, images for winter "hats" and organic results for hat shops.
This is where RankBrain will potentially improve results. Over time, RankBrain will learn the difference between "caps" and "hats." Also, it's interesting that adding "brand that makes" to my query caused Google to serve Ads and organic results for stores yet no results for actual hat brands. Again, another learning opportunity for RankBrain.
Back to my search for the ultimate winter cap… I finally search for "brand that makes caps with ear flaps Michigan."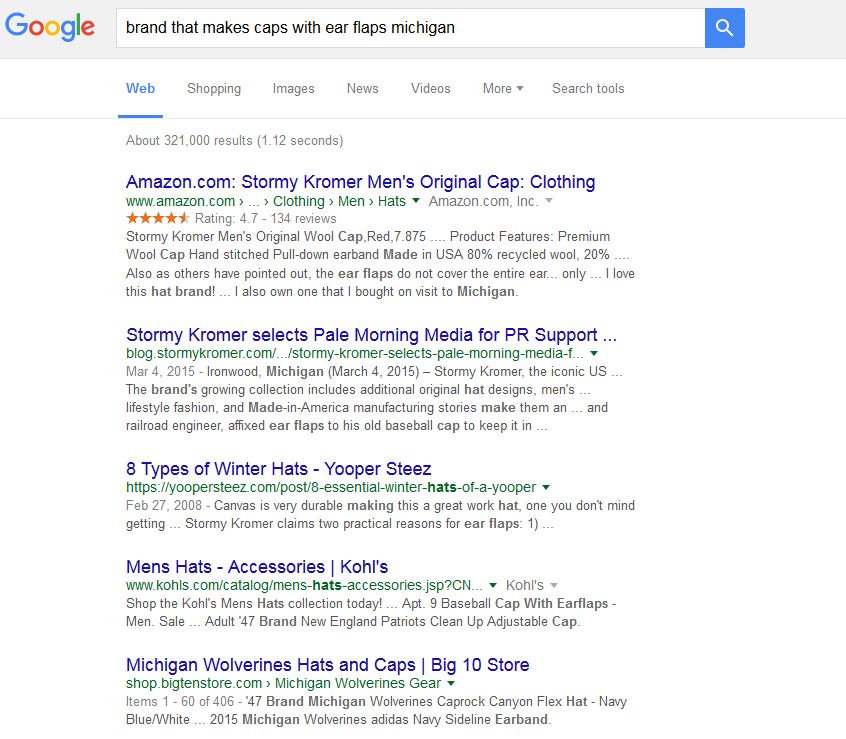 Finally! I found the name of the brand! However, Amazon is the top result. A Stormy Kromer blog post is ranking second — the homepage is nowhere to be found. The point is, these results can be improved if Google understood that I was searching for a specific brand that makes a specific type of hat that's popular in a specific region.
Remember, it's Google's mission to provide the most relevant content to users. The purpose of RankBrain is to connect complex search queries, like the Stormy Kromer example, with relevant search results. Therefore, RankBrain will benefit sites with quality content. So, does your website have quality content? Does your content provide context to your brand? Does your content provide answers to your customers? If you're not quite sure, then RankBrain is a great reason to beef up the content on your website.
Who Are The Losers?
As a machine learning system, RankBrain will continue to get smarter and smarter at associating complex search queries with relevant results. We speculate that the real losers are websites that rank high (based on site optimization, link signals, etc.) but lack quality content. While external links and on-page optimization is still hugely important, it needs to be backed by content that actually provides a solution to the query.
What Are My Next Steps?
Auditing your website for thin content that should be improved.
Look for content gaps that present opportunities for new pieces of content.
Write in a conversational tone for semantic search and complex, long tail search queries.
If you want more information on RankBrain and other Google updates that may be impacting traffic to your website, let's talk.