Submitting Your XML Sitemap to Google and Bing
An XML sitemap documents all important pages on your website and helps Google find them. With ready access to your site URLs and structure, Google and other search engines like Bing can serve your content more effectively – and more often! Find out what an XML sitemap is, how to submit an XML sitemap to Google, and when you can expect to see your hard work pay off!
Spoiler: It's not that hard!
What Is an XML Sitemap?
An XML sitemap is a file that includes all the important URLs associated with your domain. It acts as a directory to your site, making it easier for search engines to find relevant content and serve it to the right search queries.
Every XML sitemap is designed to tell a search engine crawler what it's looking at, including:
The XML version – This informs the search engine what type of file it's about to read.
The URL set – This informs the search engine about any file protocols, or how to read the file.
The URL – This is a page on your site that you want search engines to find easily. Files you'd rather search engines not see should be added to another file labeled robots.txt.
How Do I Create an XML Sitemap?
Depending on your content management system (CMS), you may already have one! Platforms like Squarespace, WordPress and Shopify can automatically build and update sitemaps for you. You can also use plug-ins like Yoast SEO to build and manage your XML sitemap, even if you're not a web developer. The key is to use a solution that dynamically updates the sitemap each time you edit your site, especially when you add, remove, or noindex pages.
You can find your XML sitemap (if it already exists) in a few different ways:
Add /sitemap.xml to the end of your domain and search that in a web browser. E.g., thatsmyjam.com/sitemap.xml
Add /sitemap_index.xml to the end of your domain. E.g., thatsmyjam.com/sitemap_index.xml
No luck? You can also find your XML sitemap by searching for your robots.txt file and seeing if the sitemap is linked there.
To do that, add /robots.txt to your domain. E.g., thatsmyjam.com/robots.txt
Here's a peek at the /robots.txt for oneupweb.com.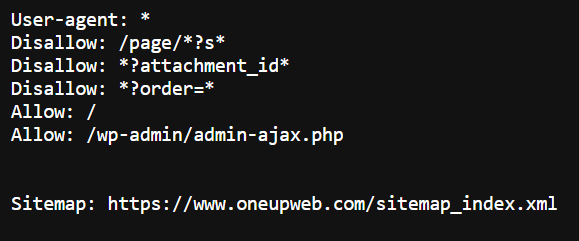 What Does an XML Sitemap Look Like?
Your XML sitemap might look slightly different based on the XML builder or CMS your site uses, but the basics remain the same. It will include a list of URLs and details about them, like the last-modified date. Those lists might be organized within a larger sitemap index, which is like a menu of sitemaps organized by criteria that you or your builder set.
A single sitemap can contain 50,000 URLs, but we recommend dividing sitemaps into groups of 1,000 URLs or less and putting those in a sitemap index.
Our XML sitemap index includes 7 separate sitemaps, with each sitemap containing roughly 1,000 URLs.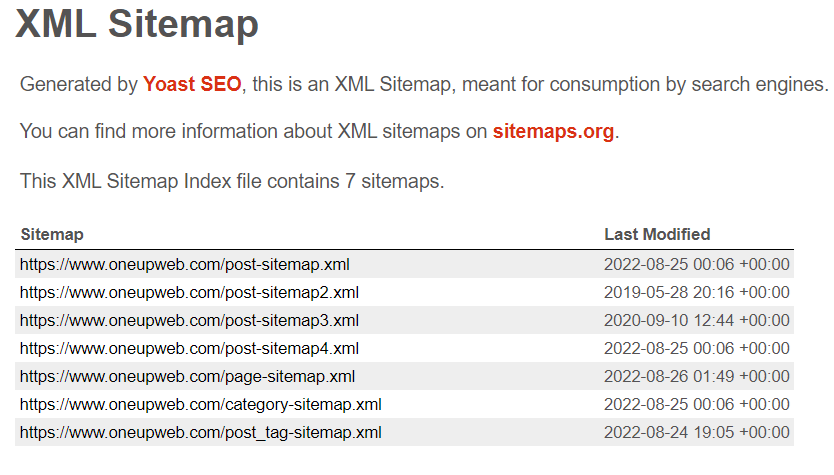 How to Submit an XML Sitemap to Google Search Console
XML sitemaps give Google a cheat sheet so your URLs are easier to find and index. Once you've created an account on Google Search Console, here's how you'll add your XML sitemap:
Sign into Google Search Console.
On the left side of the screen, find your website domain property. (Verify it if you haven't already.)
Look under the "Index" section and locate "Sitemaps."
If there are no sitemaps displayed, that's okay; you're adding one! If there are old sitemaps, scroll through the URLs and consider removing old sitemaps or sitemaps flagged as invalid.
Paste your XML sitemap URL into the box.
Click "Submit."
Do I Need to Submit My Sitemap to Google?
It's a fair question. No, websites are not required to submit their XML sitemap to Google, but doing so can improve indexing coverage, site traffic and page rank. Google Search Console is also an excellent tool for evaluating and improving your website's performance. Our SEOs and developers use Google Search Console almost every day!
Plus, a lot of people use Google Chrome. Google holds 87.72% of search market share in the US and 92.49% worldwide. You can get in front of nearly all global searches by adding your sitemap to the world's second most popular search engine, Bing.
How to Submit an XML Sitemap to Bing
Bing is a distant player in search engine popularity standings, with about 6.71% of market share in 2022. Still, domains can't afford to sleep on Bing. Submit your sitemap here, and your domain will be readily accessible to nearly 100% of all US search queries.
To submit your XML sitemap to Bing, follow these steps:
Sign into your Bing Webmaster Tools account.
Find your domain and select "Configure My Site."
Select "Sitemaps."
Remove old or invalid sitemaps.
Add your XML sitemap URL and hit "Submit."
You're on the board!
I Submitted My Sitemap. Why Is My Page Missing from Google Search?
It can take a week or more for Google to index any particular page after you submit your sitemap. If you don't see that page you care about being indexed within a week, you can do some sleuthing.
Go into your sitemap and find the URL. If it's not there, the URL wasn't included when you last submitted your sitemap.
Do a site search in Google and include the page title or important keywords from the page. E.g., site:thatsmyjam.com "ways to use strawberry jam." If the page doesn't show up, it's not indexed yet.
Use "URL Inspection" within Google Search Console to see when the page was last discovered. Manually request indexing with this tool if necessary.
Still no joy? Follow Google's indexing troubleshooting guide.
XML Sitemap Best Practices
Like everything on the Internet, XML sitemaps aren't set-it-and-forget-it components of your site. Luckily, there are plenty of tools to make maintaining your sitemap easy.
Use plugins to generate and update your sitemap automatically. Tools like Google XML Sitemaps and free plugins like Yoast SEO can create and maintain your sitemaps for you.
Monitor Google Search Console. Set a reminder to check your GSC property regularly. We recommend looking over your sitemap, site performance, indexing coverage, and other default reports at least once a month. If there are no issues, this might take five minutes or less. It will help you keep tabs on how Google is indexing your site and finding specific pages causing problems.
Indexing priority settings aren't a big deal. Certain sitemap tools claim to give users the ability to prioritize certain sitemaps in your index over others. Google has clearly stated its algorithm ignores priority settings and has done so since at least 2017.
Keep Your Business Priorities Straight
You focus on piloting the ship (or at least keeping it afloat) and let us worry about your sitemaps, robots.txt files, and SEO. Oneupweb has more than 20 years of SEO experience backed by video, design, and web development to grow your digital presence. Let's get rolling; get in touch or call 231-922-9977 today. (Tomorrow works, too.)