Timing Your Launch: A Lesson from Kickstarter
Timing is one of marketing's trickiest details.
Think about a time when you and your team thought you had planned the perfect marketing tactic or campaign.
But then things didn't go quite as expected. What happened?
Any number of things can sink even our best-laid plans—but maybe it was just bad timing?
The Case of The Coolest
Let's take a look at the importance of timing using a recent Kickstarter project as our subject. (Hat tip to Stonemaier Games for breaking this down). Does timing matter for a Kickstarter project?
Take the tale of two Kickstarter campaigns for the same product: The Coolest, a cooler on steroids—providing a built-in blender, Bluetooth speakers, attached bottle opener, and a detachable grill. It's completely battery powered and is perfect for tailgates or days at the beach.
The Coolest's entrepreneur, Ryan Grepper, launched a Kickstarter in late December 2013. The result: it nearly made its goal but ultimately fell short: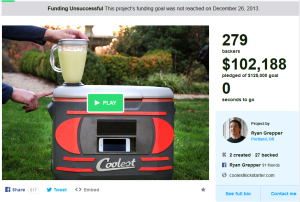 What was Ryan to do next? He believed in his product and felt there was a demand for it. After all, he was able to attract 279 backers the first time around. So Ryan launched a second Kickstarter campaign months later. He tweaked the design slightly, but otherwise everything else was the same—except the time. Instead of launching the Kickstarter late in the year when not many people were likely thinking of summer, he launched it on July 8—just days after Independent Day.
The result?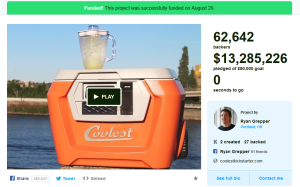 Ryan reduced the initial ask from $125,000 to $50,000 and managed to fund the project—with surplus of millions of dollars and tens of thousands of backers. What an incredible turnaround!
Here at Oneupweb, timing a launch is something we always take into consideration when we begin formulating strategy. Do you have a story of timing? (Good or bad?) Tell us about it, below!