Neighborly Case Study
Bringing Together the Best in the Home Services Industry
The Dwyer Group had long been known as a leader in the home services industry, with brands like Mr. Rooter® Plumbing, Aire Serv®, Rainbow International®, Mr. Appliance®, Molly Maid® and Five Star Painting®. In 2018, recognizing the opportunity to turn single-brand customers into multi-brand customers, the parent company rebranded itself as Neighborly® – a consumer-facing brand that is the source for trustworthy home service providers.


Rebranding an industry giant is complicated. For starters, nobody had ever heard of Neighborly. Additionally, another brand owned the neighborly.com domain, which dominated Google results for "neighborly" brand queries.
Oneupweb's primary challenge was creating organic brand awareness for Neighborly through content and SEO.
Core objectives:
Create content that cross-promotes all Neighborly brands
Leverage the Neighborly network to build an external link profile
Outrank San Francisco-based startup (that owns neighborly.com) for "neighborly" queries in Google.
Strategy: Build a Better Neighborhood
Before the rebrand, Oneupweb had been handling content calendars and enterprise SEO for several Neighborly franchises. Just as Neighborly recognized the collective strength of their 13+ core brands, we recognized the collective strength of their domain equity. In 2019, we proposed a getting more "Neighborly" with our blog tips and the outbound links within. Here's an overview of our strategy:
Identify competitor keyword gaps, and develop topics for each Neighborly brand's national blog, focusing on question-based queries. Why? Because this content is more likely to win a featured snippet. Featured snippets = brand impressions in the SERP + the lion's share of click-throughs.
Validate blog topics by search volume (SEMrush), and schedule them according to seasonal trends (Google Trends). By writing about popular topics when they're most relevant, we compete better in search engine algorithms and social media algorithms.
In every blog post from every brand, include at least one link to another Neighborly brand and another link to getneighborly.com (a new domain where consumers can book with any brand). Links to other Neighborly brands are contextually relevant, pointing to related services or blogs. Links to getneighborly.com explain the relationship between the brands while building link equity to help the new domain rank for its brand name.*
Simultaneously, publish blogs under Neighborly (the umbrella brand) on their new domain, getneighborly.com. Plan content about large home improvement projects that involve multiple Neighborly brands, which provides opportunities to include brand links.
In addition to researching and writing these blogs, produce social content to promote the blogs on each brand's corporate Facebook page. Share the blogs as links; then share again as videos or other visual media (with a link to the blog in the message). The social content would then trickle down to the local franchise level too.
*For example, in a Molly Maid blog about organizing Tupperware: "Convinced there is no good way to organize Tupperware in your kitchen? Mr. Handyman, another trusted part of the Neighborly community, can help you with a kitchen-remodeling project."
Scope of Work
In 2019, to complete the above strategy, Oneupweb was contracted to provide a content calendar and assets for 13 Neighborly brands on separate domains.* The content was also published on four Canadian domains.
528 blogs detailed
372 blogs written by Oneupweb
492 blog photos taken
576 social posts created
228 Google My Business posts created
*There is one other domain in the data set because its content was merged with another Neighborly blog. No content was published to this domain in 2019.
Neighborly-Wide Results
1. Organic Blog Traffic (Google Analytics)
+120% YOY Organic Blog Sessions (4,093,285 in 2019 vs. 1,864,836 in 2018)*
*An advanced segment is applied to all Views to exclude sessions outside of the US and Canada. Therefore, we only measure organic blog sessions from potential customers.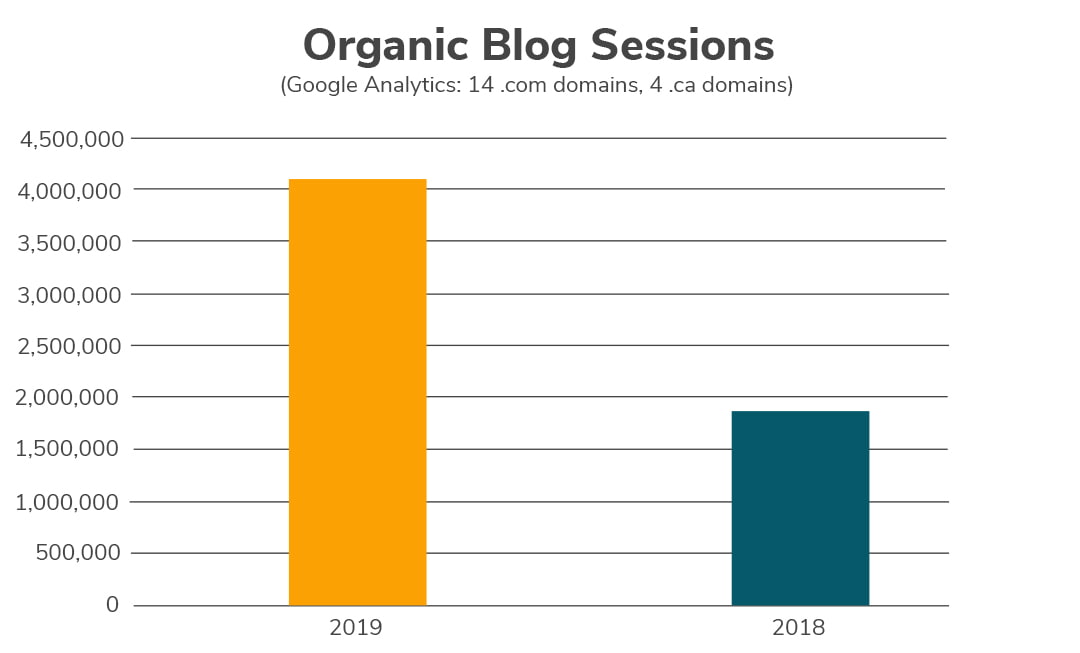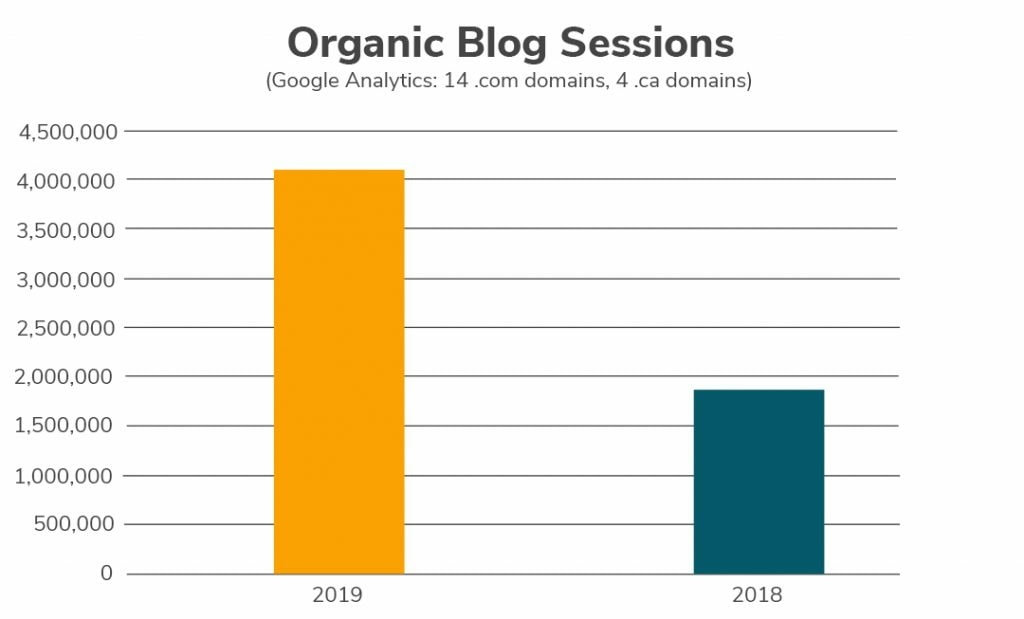 2. Featured Snippets (SEMrush)
+283% Keywords Taking the Featured Snippet (2,854 in January 2020 vs. 745 in January 2019)**
**Featured snippets are measured using SEMrush (fivestarpainting.com, protectpainters.com, mrappliance.com, mrappliance.ca, aireserv.com, aireserv.ca, mrelectric.com, glassdoctor.com, mrrooter.com, mrrooter.ca, rainbowintl.com, mollymaid.com, mrhandyman.com, windowgenie.com, groundsguys.com, groundsguys.ca, getneighborly.com, getneighborly.ca.).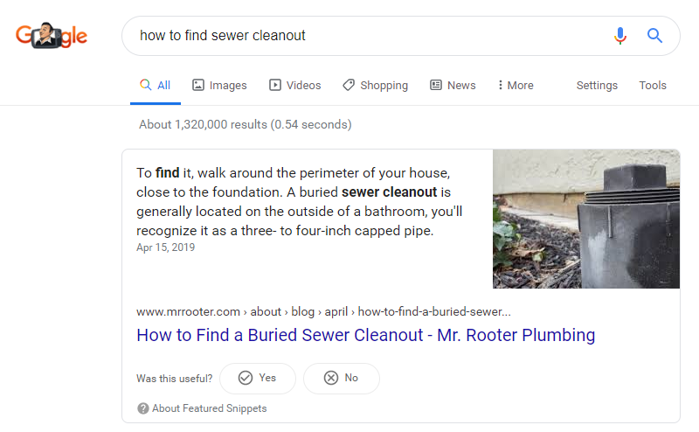 3. Domain Cross-Linking (SEMrush)
+13% Inter-Neighborly Domain Cross-links (10,082 in January 2020 vs. 8,913 in January 2019)***
***Cross-links are measured by exporting the 14 .com domains' external links from SEMrush and segmenting Neighborly domains only.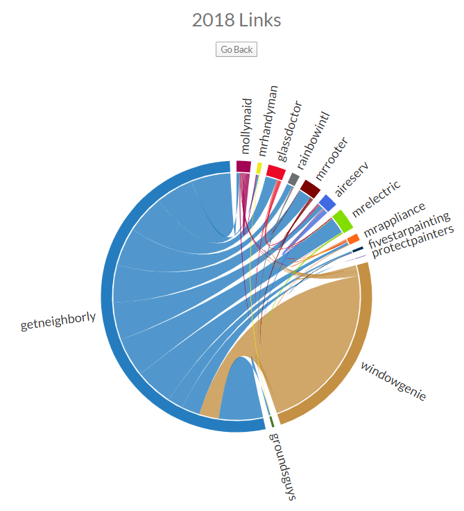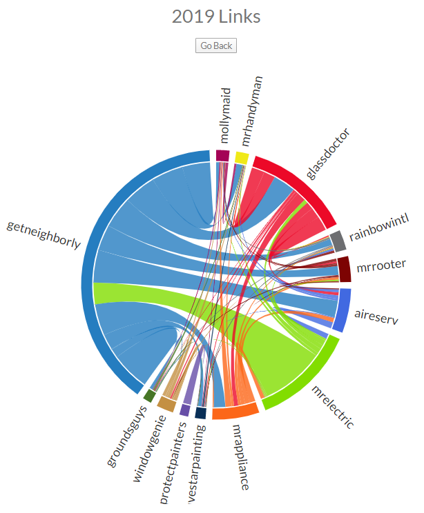 4. Getneighborly.com #1 Search Result for "Neighborly"
In fall 2019, getneighborly.com began outranking neighborly.com for multiple "neighborly" queries in Google. This continues into 2020, according to SEMrush, Google Search Console, and the SERP.


5. Leads Generated (Google Analytics)
+147.90% YOY Lead Forms from Organic Blog Sessions (1,237 in 2019 vs. 499 in 2018)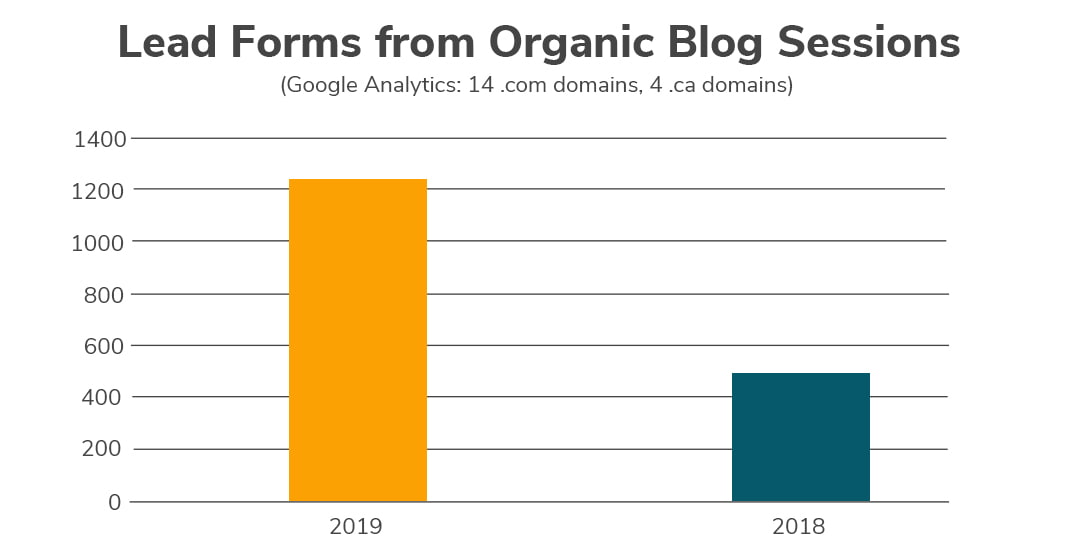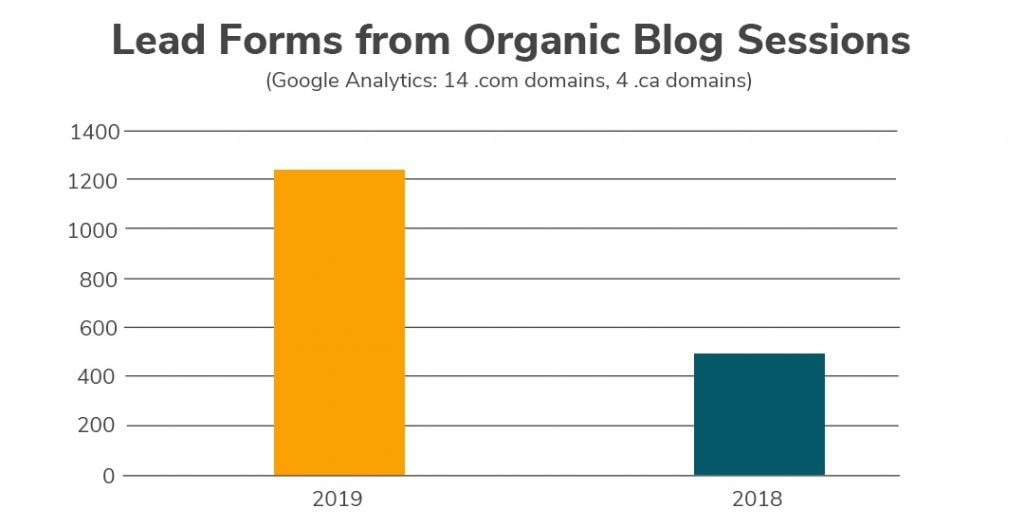 Conclusion
Many brand families simply place a clump of cross-links in their website footers or sub-navigation. While this method certainly has SEO benefits, it's not as useful as creating quality content with contextually relevant links. Our SEO philosophy is informed by Google's 10 things we know to be true. "1: Focus on the user and all else will follow." Just like sharing a cup of sugar with a neighbor in need, sharing contextually relevant links is beneficial to the entire neighborhood.
Want to see how Oneupweb can help your business? Reach out today.