E-commerce & Retail Case Study: Le Creuset
How we helped Le Creuset sell more kitchenware products.

An E-Commerce & Retail Case Study at a Glance

The Problem
Le Creuset was looking to drive additional e-commerce sales through paid ads, to increase foot traffic to brick-and-mortar retail locations, and raise awareness about new product launches.

The Solution
Using strategic messaging and demographic information, we created highly targeted Google AdWords and social media PPC campaigns to reach users in different stages of the conversion funnel – ultimately increaseing awareness and driving sales.

The Results
E-commerce sales campaign:

Revenue increased 40%
Conversion rate increased 26%
Transactions increased 52%
These statistics represent YOY performance from 2016 to 2017.
In-store traffic campaign:

29 million impressions served
Over 5M unique consumers reached
50,000 link clicks, 1,249 comments and 7,000 likes
These statistics represent performance for all of 2017.
Provence color/product launch campaign:

2.8 million impressions; 712,681 unique consumers
1.02% clickthrough rate
43,456 actions; 9,553 link clicks
These statistics represent performance for the 2018 campaign.
Disney co-branded products launch & sales campaign:
4.4 million impressions
Reached 1.6 million users
91,936 actions; 18,855 link clicks
These statistics represent performance for the 2018 campaign.
Chapter 1: The Story

First and foremost, Le Creuset is a manufacturer – the quality of their cast iron cookware is legendary.
The Dutch ovens, pans and skillets Le Creuset has forged since 1925 in their foundry in northern France have been passed down for generations.
Le Creuset sells these high-end products at nearly 90 brick-and-mortar locations in the United States, the brand's largest global market.
The company maintains two distinct types of brick-and-mortar retail stores in the U.S.: specialty boutique stores and larger, more mainstream retail outlets. Their American website, which Oneupweb optimized for SEO, is set up to sell Le Creuset products online.

The company likes to use their digital marketing budget to support each of these revenue streams. So we developed campaigns to boost e-commerce sales, drive foot traffic to stores and create awareness about their new products – especially during the all-important holiday season.

For years now, Oneupweb has designed, launched and managed PPC search and display campaigns for Le Creuset on platforms including Google, Bing and Facebook. In 2017, our various campaigns for Le Creuset generated more than 45 million impressions, creating demand and driving over 15,000 consumers to retail locations from AdWords to:

buy their first Le Creuset product
add to their collection
make a high-end gift purchase
Our paid media efforts on behalf of Le Creuset in 2017 and 2018 consisted of the following:
A campaign to drive sales on LeCreuset.com and partner e-commerce sites (Chapter 2)
A campaign to drive customers in-store to brick-and-mortar outlets and boutiques (Chapter 4)
A campaign to promote the launch of Le Creuset's newest cast iron glazing color (Chapter 6)
A campaign to promote the launch of Disney co-branded products and drive in-store sales (Chapter 8)
Chapter 2: Our E-Commerce Sales Campaign Approach

GOALS & RESEARCH

On the e-commerce front, Le Creuset simultaneously partners and competes with third-party retailers – brands such as Williams-Sonoma and Sur La Table – that sell Le Creuset products and their own items online. In addition, because these retail partners have to abide by certain pricing levels, it's especially tricky to navigate the balance between messaging in PPC ads at the top of the search engine results page.
To address this problem, we developed a search strategy that captured high-intent search queries around Le Creuset's top products and product categories. We used Tier 1 campaigns along with great offers and incentives to drive sales through LeCreuset.com. This allowed our e-commerce campaign to be as efficient as possible, providing optimal return on ad spend (ROAS) and tremendous YoY growth.

TACTICS

Here are some of the specific tactics we employed:
Geography optimizations
Device-bidding strategies
Custom ad schedules
Demographic modifiers
Chapter 3: How the E-Commerce Sales Campaign Performed
Having two years of campaign performance under our belts, we focused on the high-intent queries and previously mentioned tactics, which led to the following results:
Revenue increased 40% YOY
Conversion rate increased 26% YOY
Transactions increased 52% YOY
Bounce rate decreased 72% YOY
New users increased 21% YOY
Four years since first partnering with Le Creuset for paid media campaigns, we continue to make campaign optimizations and website enhancements to increase sales and awareness for Le Creuset products.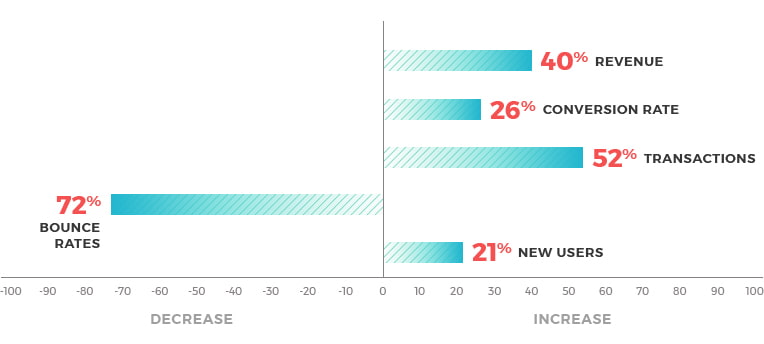 Chapter 4: Our In-Store Traffic Campaign Approach

Goals and Research
To complement our e-commerce efforts, we created targeted campaigns to bring users in-store, from California to New York. Knowing our best chance was to serve ads to people who were already on the go, we used Facebook and Instagram to target top-performing devices of one of the brand's core demographic groups. We also developed in-store campaigns for November and December holiday shopping periods, including Black Friday and Cyber Monday.
We formed our strategy with these goals in mind:
The primary goal was to drive foot traffic to brick-and-mortar locations
Secondary objectives included increasing brand awareness, driving in-store sales and providing promotional support.
Tactics
Here are some of the specific tactics we employed to achieve those goals:

Focused on identified radius around each brick-and-mortar location
Continued focus and refinement of custom audiences
Used a combination of static and video creative assets
Chapter 5: How the In-Store Traffic Campaign Performed

Our in-store campaigns accumulated 29 million impressions and reached over 5 million unique consumers while seeing positive engagement metrics. Consumers took 45,000 actions and made 39,000 clicks on various ad messages served throughout the year:

29 million impressions served
Over 5 million unique consumers
45,000 actions and 39,000 clicks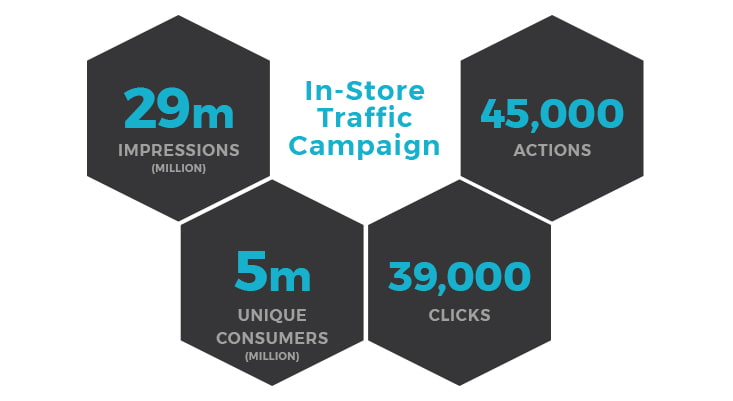 Chapter 6: Our Provence Launch & Sales Campaign Approach

GOALS & RESEARCH

Le Creuset releases new colors for their products periodically. In early 2018, they unveiled Provence ("inspired by the rich lavender fields blanketing the meadows of southern France").
TACTICS

To generate awareness, excitement and demand we designed multi-channel teaser and release campaigns in advance of launching the brand's newest color, aimed at Le Creuset's most loyal demographics.
With the client's objectives in mind, we took previous purchase lists provided by the Le Creuset team and combined them with lookalike and interest-based target lists that we generated in-house. We ran video ads on Facebook and Instagram and utilized Canvas ads to further drive engagement, testing video vs. static lifestyle images.
We created search campaigns in Google and Bing to promote Provence, the new color, through sitelinks. Further, retail campaigns drove consumers to brick-and-mortar retail locations to purchase new Provence-glazed cookware.
Chapter 7: How the Provence Launch & Sales Campaign Performed

Over a 15-day window, we generated more than 2.7 million impressions on Facebook and reached 711,000 unique consumers within our target demographics.
Further, our Canvas ads resulted in 146,000 impressions and 9,000 clicks, for a 6.75 percent clickthrough rate.
Other metrics of our success …
43,456 users took action on campaigns
14,309 users reacted to our posts
Our posts were shared 1,132 times
There were 9,553 link clicks from our ads
We gained an additional 796 Likes
Chapter 8: Our Disney Co-brand Launch & Sales Campaign Approach

Goals and Research

In partnership with Disney, Le Creuset released a Dutch oven and two ramekins (small, single-serving baking dishes) with a Mickey Mouse theme in 2017.
Le Creuset wanted us to raise awareness about the new products before the launch, and then to drive consumers to purchase the products in-store when they were made available.

Tactics
With the client's objectives in mind, we chose to use video and lifestyle still images on Facebook and Instagram to raise awareness about the impending Mickey Mouse-themed product launch. We also tested Canvas ads to drive additional engagement on Facebook. We used lookalike audiences and video assets on the social platform to further optimize our campaign.
As with the Provence launch, we maximized channel reach and audience engagement with search campaigns for Google and Bing, and we drove traffic to brick-and-mortar retail locations to encourage users to purchase these product collections.
This custom audience that we used for targeting was the most refined, which led to great engagement rates and product sales in-store and online.
Chapter 9: How the Disney Campaign Performed

The Canvas campaign generated 95,000 impressions and a 5.07% clickthrough rate, which far exceeded our expectations. Additionally, 5,456 users watched the product teaser video in its entirety, which was a great indication of their interest and excitement for the product.
Soft metrics don't tell the full story however, while we can't share the actual revenue we generated, the client was very happy.
Other evidence of our success is that in just 12 days,

49,461 users clicked on our ads
13,032 reacted to our posts
Our posts were shared 2,111 times
There were 18,855 clicks on our ad
We generated an additional 1,821 Likes

Chapter 10: Conclusion
Every client has unique needs and business objectives.
For Le Creuset, we continue to help a manufacturer and premium luxury brand drive foot traffic to their retail stores, increase e-commerce sales, and raise awareness about new product launches.
Get in touch with us if you'd like to learn more about our paid media marketing services.