Service Franchise Case Study: Molly Maid
How we helped Molly Maid expand their blog content, sell more gift certificates and improve their website UX.
At a Glance
The Problem:
Molly Maid, one of the leading home cleaning service providers in the United States, was looking to increase their footprint in search engines and connect with more prospects. They also wanted to increase gift certificate purchases on MollyMaid.com and sought to better understand how visitors felt about the Molly Maid website and those of their closest competitors.

The Solution:
To raise Molly Maid's profile in the SERP and reach more customers, we developed 12-month content calendars to strategically expand their blog content throughout each of the past three years. We also built Molly Maid a new e-commerce page to simplify gift certificate purchases, and we designed a cross-channel strategy to promote the offering. When Molly Maid began preparing to revamp their website, we performed extensive live user testing to determine ideal conversion paths and more. These are just pieces of the nearly 10-year relationship we've formed with Molly Maid.

The Results:
2016 Content Calendar:

10% increase in organic blog sessions
99% increase in social referrals to the blog
These are YOY increases comparing 2016 to 2015.

2017 Content Calendar:

64% increase in organic blog sessions
20% increase in social referrals to the blog
#1 spot for 25 "how to" search queries
These are YOY increases comparing 2017 to 2016.

2018 Content Calendar (Q1 + Q2 Results):

186% increase in organic blog sessions
29% increase in social referrals to the blog
These are YOY increases comparing Q1-Q2 2018 to Q1-Q2 2017.
Gift Certificate E-commerce Page

44% increase in gift certificate purchases
17% increase in gift certificate page entrances
These are YOY increases comparing 2017 performance to 2016.
Chapter 1: The Story

Imagine you're a busy family of four struggling to keep your house clean – and aching to spend more time together.
Molly Maid is one the most recognized residential cleaning services in the United States – its hundreds of franchisees serve homeowners coast to coast. The company is regarded by Entrepreneur magazine as one of America's top 175 franchises on their "Franchise 500."
Molly Maid separates itself from competitors and independent maids by offering free in-home estimates and a 24-hour satisfaction guarantee. Molly Maid teams are also fully insured for customers' peace of mind, and no long-term commitments (contracts) are ever required by their locally owned franchises.
They say money can't buy time, but Molly Maid knows different.
Molly Maid's target audience, in general terms, is middle- and upper-middle-class couples and families whose busy lives get in the way of keeping their homes clean. Customers appreciate how Molly Maid lets them have more time with their children, significant other, extended family and friends. Busy working couples and double-income families are open to spending disposable income to have a more balanced lifestyle, where they toil less and play more.
Oneupweb has served as the SEO and web design agency for Molly Maid for nearly a decade now, and in the past few years, our partnership has expanded to include content marketing, video production, and user experience (UX) research and testing. This case study dives into three recent focuses:
For the past several years, our agency created 12-month content calendars for the brand that organized blog topics thematically and seasonally, using five years of Google search trend data. The calendar topics target users (many in the market for professional cleaning providers) who search online for ways to clean, organize and live more efficiently.
When we redesigned the e-commerce web page to facilitate easier (and more) gift certificate purchases, our main goals were to make the purchases look less intimidating and more straightforward, and to build more capabilities into the e-commerce form.
We also conducted in-depth user testing, including an analysis of live sessions, to discover insights about how prospects use the Molly Maid website – and what they thought of the site's functionality and the brand overall. We paired this research with similar testing of Molly Maid's closest competitors, paying particular attention to the conversion process. This research allowed us to determine ideal paths to conversion, design improvements and much more.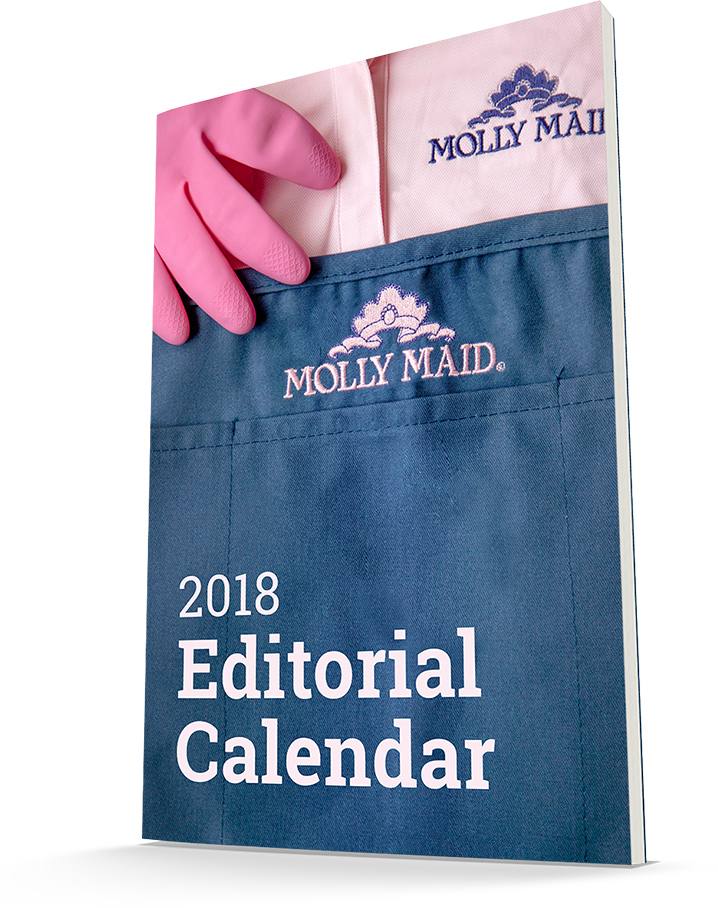 Chapter 2: Our Content Calendar Approach

Molly Maid wanted to further expand its visibility in search engines and to affirm itself as the thought leader in residential cleaning. Content Calendars were a powerful driver of achieving that goal.
GOALS & RESEARCH

To increase the brand's visibility and to connect with more prospects, Molly Maid asked Oneupweb to create a weekly content calendar to strategically expand their blog and other content to increase brand awareness and service requests. To date, we've created three 12-month content calendars for Molly Maid, complete with social media sharing recommendations, writing tips, keyword targets and more. Additionally, we began authoring blogs in 2017 to support their internal content team in following the calendars.

For each content calendar, we performed

audience research
an audit of their existing content
extensive keyword research
TACTICS
After completing the research, we filled the calendar with four monthly how-to topics that were thematically organized and would resonate with those who 1) care about having a clean house and 2) want to clean more efficiently to carve more free time out of their week.
We began by researching seasonal search trends to see when people in the United States are searching for certain keywords throughout the calendar year. This data helped us develop themes that are relevant to Molly Maid's business cycle. For the 2018 content calendar, we also included a Topic Profile, which provided a visual representation of all existing content.
Like our other content calendars, each topic in our Molly Maid calendars included all the related research, writing tips, keywords and social media messaging, along with an optimized title and meta description – so the Oneupweb and Molly Maid teams have everything they need to create the posts and ensure they perform well in organic search and on social media. Each month also included supplemental content, or existing related Molly Maid content their team could use to fill any gaps in their calendar for social media and other content production efforts.
Our most recent content calendar matched specific blog topics with videos and cinemagraphs, which the Oneupweb team created as companions to the blogs – and powerful social attention-grabbers. Below are some examples of how this content took shape: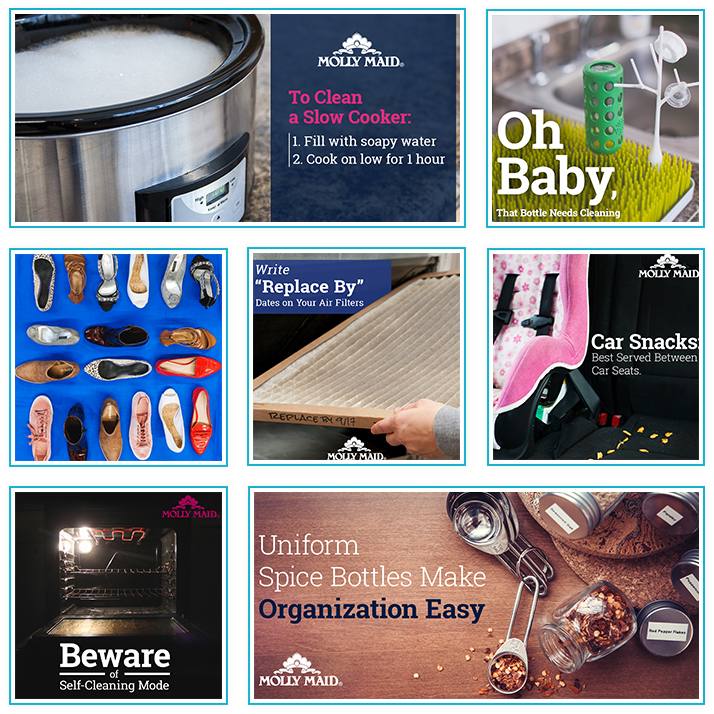 To make content creation and promotion even easier for our client, we provided specific blog sharing recommendations for Facebook (e.g., Carousel post instructions), Twitter (e.g., hashtag recommendations) and Instagram. Rounding out the content calendar were cross-promotion tips so Molly Maid and its sister home service brands could take advantage of each other's content creation efforts, building link equity and better domain authority.
Chapter 3: How the Content Calendar Performed

Meeting their prospects online with timely self-help content is allowing Molly Maid to serve and inform those looking for cleaning solutions all year long. By doing so, they also stay top of mind when users are ready to have someone else take care of their cleaning. Our 2017 calendar (for which we have a full year of performance data) outperformed the one before it. Year over year, we saw the following gains:
61% increase in organic blog sessions
40% increase in blog sessions from social referrals
#1 organic SERP position for more than a dozen "how to" and "tip" queries
This year, 2018, is shaping up to be even better. Through the first four months of the year (as of the writing of this case study), organic blog sessions are up 139 percent year over year. New organic blog users are up 135 percent, and social referrals to the blog have grown by 35 percent.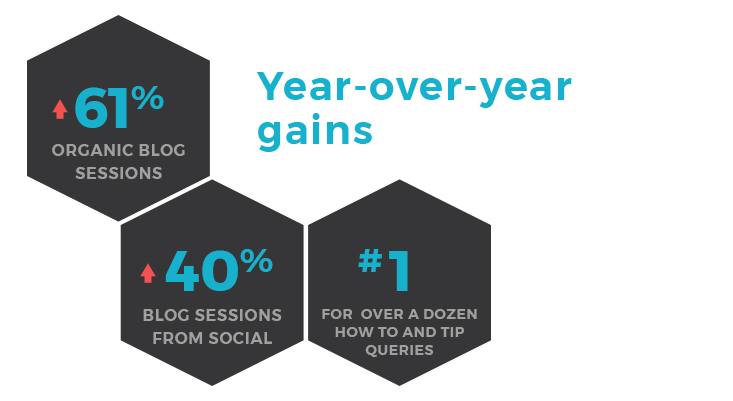 Chapter 4: Our Gift Certificate E-commerce Page Redesign / Promotion Approach
Molly Maid also enlisted Oneupweb to significantly increase gift certificate purchases made via MollyMaid.com.
GOALS & RESEARCH
Our plan to increase gift certificate purchases was two-fold: 1) to improve the e-commerce page that customers used to complete gift certificate orders and 2) to create video and other content to raise awareness about Molly Maid gift certificates and drive demand.
The goal of the redesign was to reduce form abandonment and improve customer satisfaction with the purchase tool. The overall goal of both the redesign and the promotion campaign was to increase conversions/sales.

To help inform the promotion campaign, we dug deep into raw data provided by the client and discovered insights into why and when customers purchased housecleaning gift certificates.

TACTICS

E-commerce page redesign:
We redesigned the gift certificate purchase form to be simpler and shorter. Additionally, we added functionality that was missing from the current page.

We made sure that users could create more than one certificate, send the information to an alternate person (e.g., the purchaser's company for corporate orders), use the form on multiple devices, work with USAePay, have a service verification, and feature inline error messages to reduce frustration.
To increase gift certificate purchases, we also took into consideration a range of other needs any particular purchaser might have, such as including notes for gifts, mailing a physical certificate as a gift, emailing the certificate and making multiple purchases at once.
To increase gift certificate purchases, we also took into consideration a range of other needs any particular purchaser might have, such as including notes for gifts, mailing a physical certificate as a gift, emailing the certificate and making multiple purchases at once.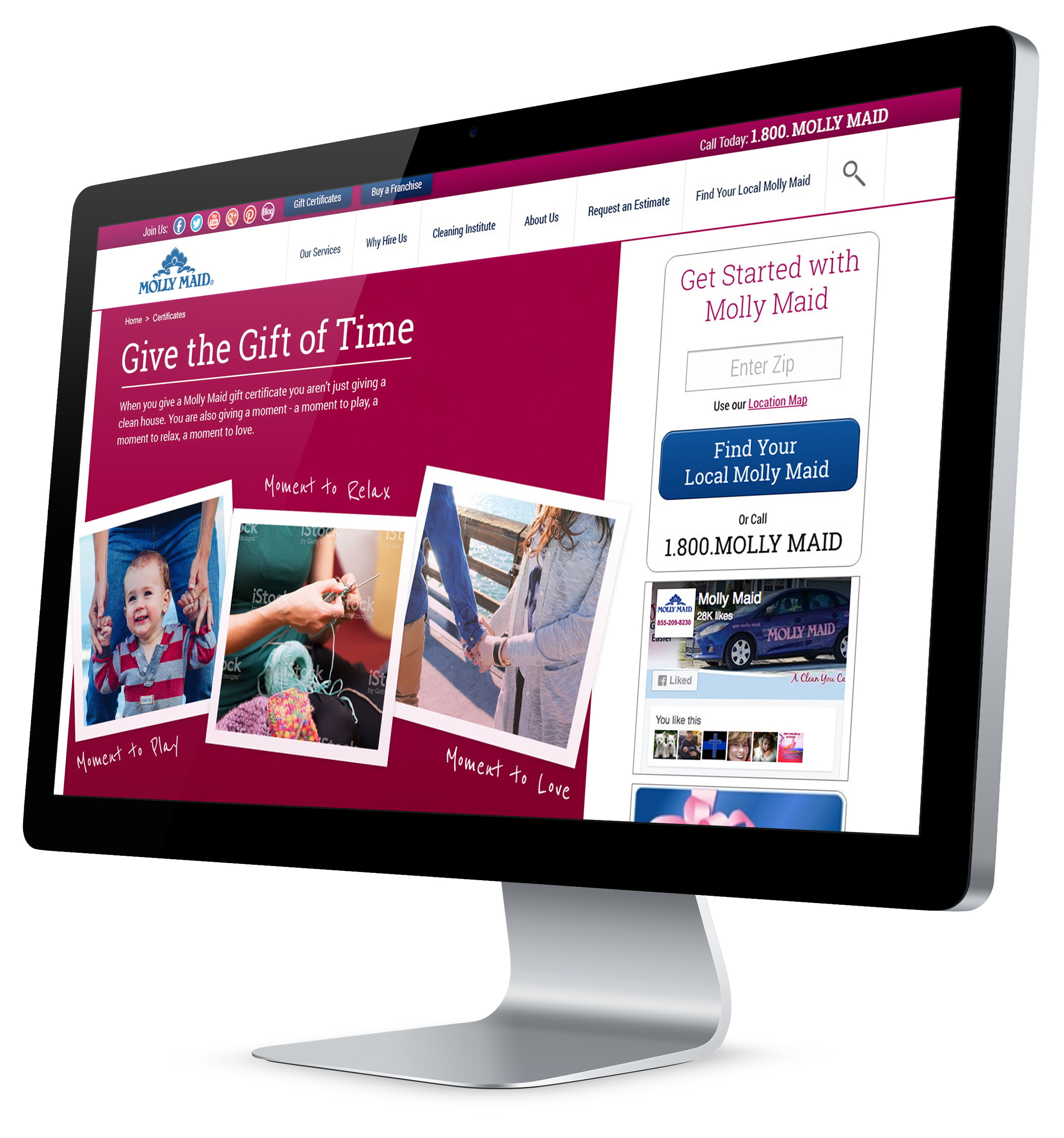 Gift certificate promotion:
The content strategy for promoting Molly Maid housecleaning gift certificates included several videos that we produced in-house to drive traffic to the new e-commerce page.
Based on insights divined from customer data, we created humorous and heartfelt videos themed for Christmas and Mother's Day, and we also focused on military families. The videos were embedded on the Molly Maid site and republished seasonally across the brand's social media. Beyond Christmas and Mother's Day, we also sifted through hundreds of messages that real-life Molly Maid customers left on their gift cards and determined that there are many occasions that are appropriate for giving cleaning gift certificates, including the arrival of a new baby, the death of a loved one, a housewarming and many more.
Promoting these occasions with messaging on social media that pulled at the heartstrings, and enticed users to enter a sweepstakes to win a $250 gift certificate, generated a good deal of new interest.

Chapter 5: How the E-commerce Page Redesign and Promotion Campaign Performed

Many of our efforts focused on promoting gift certificates during the November and December holiday season. During this two-month period in 2016, the website saw a 10% year-over-year increase in gift certificate transactions. The next year, after tweaking the campaign based on learnings from 2016, the website saw a 23% year-over-year increase in gift certificate transactions. This was aided by an improved e-commerce page design and sharable videos that were distributed via Facebook and email.
Chapter 6: Our Website User Testing Approach

In 2018, Molly Maid hired Oneupweb to better understand what their site visitors liked – and didn't like – about their website's structure, messaging, branding and conversion process. We also analyzed user experiences on the websites of Molly Maid's closest competitors.
GOALS & RESEARCH

Molly Maid enlisted us to provide them with insights about the user experience (UX) on their site and competitors' sites in order to prepare for their website redesign and online estimating process overhaul.
Our research objective was to see how visitors perceived and experienced the Molly Maid website on desktop and mobile. We wanted to understand how potential customers interacted with the website along their path to a conversion (or lost conversion/bounce). We also wanted to understand how the local services search experience influences conversion intent. Our user experience research was designed to identify users'
General perception of the homepage
Ease of finding the nearest Molly Maid
Thoughts and feelings about the "request a cleaning" experience
Our UX/UI, branding and content teams worked together to design a test that would capture a snapshot of user impressions of MollyMaid.com.

TACTICS

We completed and recorded a series of live user sessions with a range of persons squarely within the Molly Maid target audience. For each test, we screened for the following demographics:

Gender: 10 female, 2 male
Age: 28 – 65
Country: United States
Income: $75,000+
Education: College / University
Employment Status: Any
Family Status: Any
Parental Status: Any
Community Type: Urban, Suburban
Social Networks Usage: Any
The user owns a home or condo and has considered hiring an in-home cleaning service in the last 12 months (All subjects answered affirmatively.)
In addition to having these users complete a 15-second impression test, we asked them to complete a series of tasks designed to test their experience with the website and the brand. Expanding on their initial impression, we first asked them:
Take 1 – 2 minutes to scroll down the entire Molly Maid homepage without clicking on anything. Verbally describe your impressions of the homepage with specifics about what you might like or dislike.
Subsequent tasks asked users about the "locations" page, the estimate request experience and more. All tests were designed to identify pitfalls within the current design and elicit feedback for improving the most critical experiences that led to conversion (or a bounce).

Finally, we asked each participant four survey questions, such as this one:

Describe important factors that you consider when researching a home cleaning provider. Does the Molly Maid website experience meet your expectations for a home cleaning service?
These tasks and survey questions were customized for each competitor. We aggregated these results, created a highlight reel with the most actionable insights, and coupled this with an in-depth investigation of conversion funnels in Google Analytics to identify specific pain points in the journey to requesting a cleaning.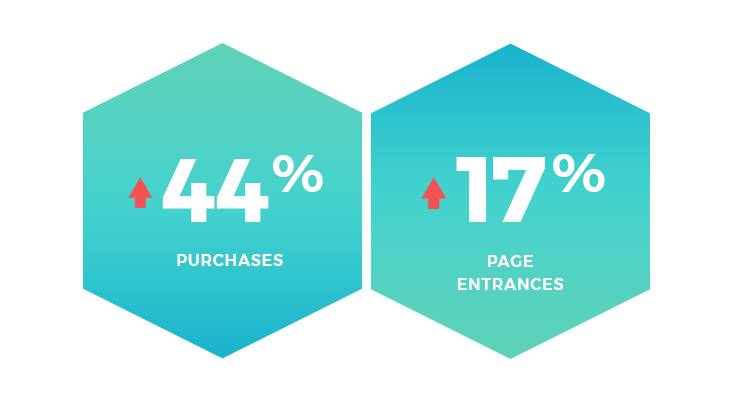 Chapter 7: How the User Testing Helped Molly Maid

Molly Maid delivered the research and results to their web design partner, who began incorporating it into their new design at every turn. Molly Maid is now in a position to improve their local page experience, gain more cleaning requests and provide a better end-to-end experience for their prospective customers.
The new site is expected to launch in mid-2018. We will update this section once we have information about how the UX research and subsequent design decisions impacted conversion metrics.

Conclusion
Every client has unique needs and business objectives. For Molly Maid, we helped a large service franchise improve and expand its real estate in the search engines and further establish its position as a thought leader in the industry.

We made it easier for Molly Maid customers to purchase gift certificates and gave them more of the e-commerce options they wanted. We provided the company with insights into how their website was being perceived by online visitors and how the brand stacked up against its closest competition.

"Honestly the OUW team is simply the most impressive digital group I've worked with in my career. Well done, gang. Believe it or not, I will watch all those hours of footage… no comment on the lameness of my life."


– Meg Roberts, President of Molly Maid
In the end, we helped Molly Maid improve the experience customers have on the current MollyMaid.com, and we are proud to inform the creation of their upcoming redesigned website. They continue to serve their audience with quality self-help content and are able to generate more service requests for their hundreds of franchisees from coast to coast. We're grateful to have become a trusted part of the Molly Maid team over the years.

Get in touch with us if you'd like to learn more about our experience marketing for franchise brands.

Contact Us