Client Snapshot: Franworth Site Migration
A Budding Franchise Partnership
Oneupweb had been working with Franworth indirectly since May 2019 by supporting some of the franchise organization's brands. This website migration project kicked off in late February 2021 and was our first project for the Franworth brand itself.
The Problem
While growing their portfolio of brands, Franworth realized their Wix website was difficult to manage and edit. Even simple tasks like updating content were difficult. Working closely with Franworth's marketing team, Oneupweb set out to create a solid WordPress website that Franworth could build on independently after launch.
Scope of Work
Franworth enlisted the help of our talented development team to transition their website from Wix to WordPress while leveraging similar styles. In addition to the website migration,
We created six new pages to feature their portfolio of brands.
We created a new homepage section to highlight the portfolio of brands.
We merged blogs from multiple locations into one location for improved SEO and simplicity.
Because our web development projects aren't complete without search engine optimization efforts, we also provided keyword research, optimized titles, H1s and meta descriptions for 12 key pages.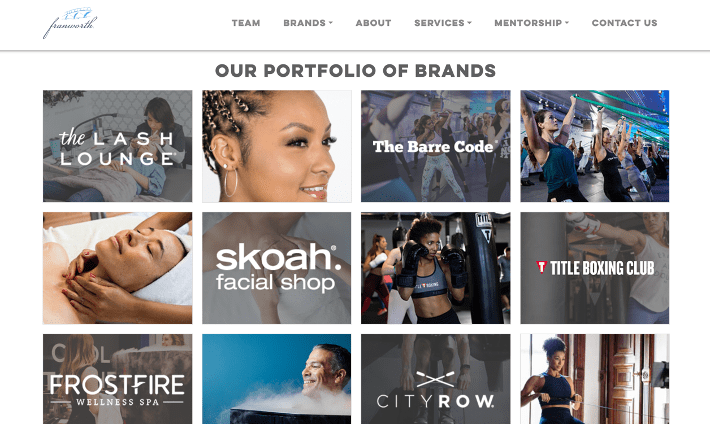 The Results
After we migrated the website to WordPress and implemented the other improvements, desktop performance shown in PageSpeed Insights improved from 12 to 96, and mobile performance reported at 79.
While the design and functionality of the website didn't change much, website speed, best practices, and Core Web Vitals improved. Our web developers' understanding of what's "under the hood" of a website sets our replatforming service apart.

Our Website Replatforming Services
Moving forward with a CMS migration doesn't have to be a daunting task. With a team of skilled developers, attentive account managers and thorough SEO specialists, Oneupweb is ready to help with your project. Reach out today or call (231) 922-9977 to start the conversation.