Oneupweb Website Replatforming Snapshot
CMS Migration Made Easy
The Oneupweb team began working with a consulting company in early 2021 to move the existing site of their law firm client from a proprietary content management system (CMS) to WordPress.
The Problem
The consulting company's team felt common website CMS issues such as difficulty updating their client's website, and general unhappiness with a proprietary platform including issues like:
Limited ability to add content
Update requests weren't completed quickly
SEO optimizations were basic
Core Web Vitals scores were low
Ultimately, they were interested in being able to easily make changes to the website on behalf of their client.
Do you need a new website??
Scope of Work
The Oneupweb development team jumped into the opportunity with this consulting company to replatform the website for their law firm client. Our team successfully transferred the site from a proprietary system to WordPress.
Our work significantly improved Core Web Vitals for the site. We also added extra website-related schema, which helps bolster search engine optimization efforts and better positions their site for high ranking in the search engine results page (SERP).
The Results
It's also worth noting that the client's Core Web Vital performance was sitting at 26 on their previous platform. At launch we saw an immediate improvement to 81. Today, we are sitting at 99. We went from a 67 in best practices to 93. The Core Web Vitals are excellent across the board.
Core Web WHAT?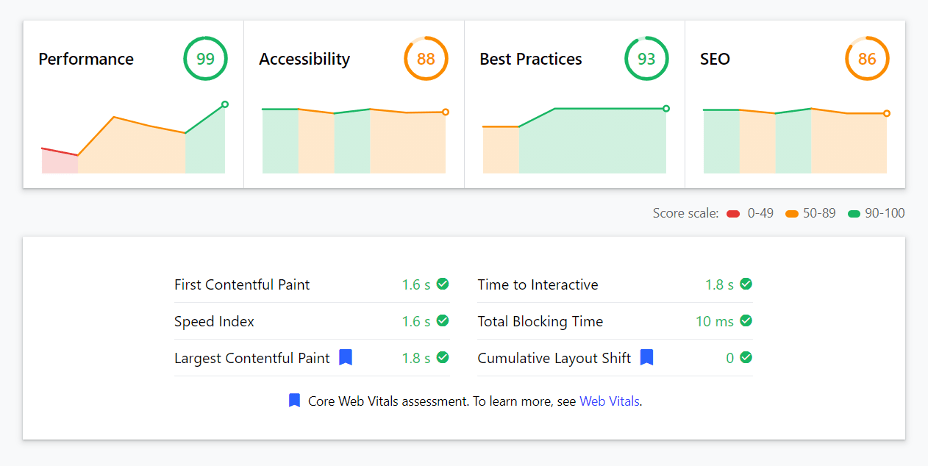 Outside of the performance improvements, we were able to bring over their site (a cookie cutter platform) into its own theme, where growth and functionality potential could be endless.
With Oneupweb, the website development possibilities are endless. If you're feeling frustrated with your current CMS, reach out and see how we can help.