Oneupweb Reviews: The Facebook IPO
Come the third week in May 2012, the eight year old Internet company, Facebook, will go live on the stock market with what may be a $100 billion IPO and will offer shares to the general public. It reported to be in the top 10 biggest IPOs of all time. On top of that, this will be the tech giant of IPOs of all time.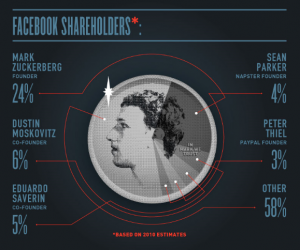 On Wednesday, February 1st, 2012, Facebook paid a $573,000 fee and filed papers to raise $5 billion or more in the most highly anticipated initial public offering.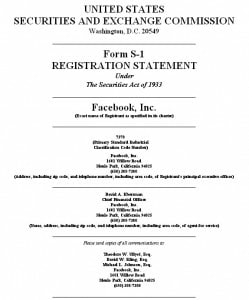 According to their 188 page public filing with the United States Securities and Exchange Commission, they reported revenue of $3.7 billion in 2011, up 88% from 2010 where they reported $1.97 Billion in revenue. That makes each Facebook user equate to $4.39 each. Facebook states in the document of that $3.7 Billion that their net income for 2011 was reported to be $1 billion exact. That's 94% increase from 2010.
Since the NASDAQ uses four-letter stock symbols Facebook plans to list their symbol as the letters "FB."
They make clear their risk factors. One that stood out during my read:
"Any number of factors could potentially negatively affect user retention, growth, and engagement, including if: users increasingly engage with competing products."
The growth of Google+ in its first year growing 60 million users, a quarter of that in December 2011, could be that competing product.
When I was reviewing the S-1 document today I noticed certain patterns between words and number volumes.
All data reported begins in 2009
There was a drastic increase in revenue, expenses and activity from 2010 to 2011
The term 2005 Stock Plan
Why do those three points stand out to me? Because I can see a premeditated plan that has taken successful root. This told me that Mark Zuckerberg's confidence in his company shifted somewhere in 2008. He was hit with the realization that his take on a viral expansion model held the right formula. According to the patterns in the S-1 there is a bold upward movement beginning in 2009 and even more so into 2011.
What happen before 2009? This is where the term "2005 Stock Plan" became like a beacon within the document. After some digging I found the shift and it started in the 2008 tax season.
As of December 31st, 2007, Facebook had assets exceeding $10 million, which meant their existing RSU's (Restricted Stock Units) needed nonrestriction. Enter October 18th, 2008, a man named Jeffrey R. Vetter and his Request for Exemptive Relief from Registration under Section 12(g) of the Securities Exchange Act of 1934 on behalf of Facebook, Inc. This document showed that my assumption of a shift was correct. Having this exempt restriction in turn opened the pathway for where we are now: the Facebook IPO.
Though I have my hesitations in relation to Facebook in general, I will give this premeditated move of theirs thumbs up for effective and well thought out execution. They covered all their bases.
This has gone from viral sharing to stock sharing eight years in the making. And now a new tech frontier begins. Will you take a share?
Social Media: Who Benefits from Viral Expansion?