Oneupweb: Obama Ups His Game with Tumblr, Instagram, Spotify
In 2008 then Sen. Barack Obama's social media game made the McCain team look like MySpace. This year, with the Republican nominee not yet determined, the Obama campaign has already made it clear: when it comes to social media, the gloves are off.
A few highlights:
Tumblr
The Obama campaign joined Tumblr in October, featuring behind-the-scenes photos and video from the campaign as well as user-submitted content. Perhaps more than any other channel, the Obama campaign's Tumblr account has helped forge a personal connection between the campaign and its supporters. Recently shared content includes a photo of Michelle Obama and the family's dog, Bo and a user-submitted "version of snow angels" for 2012.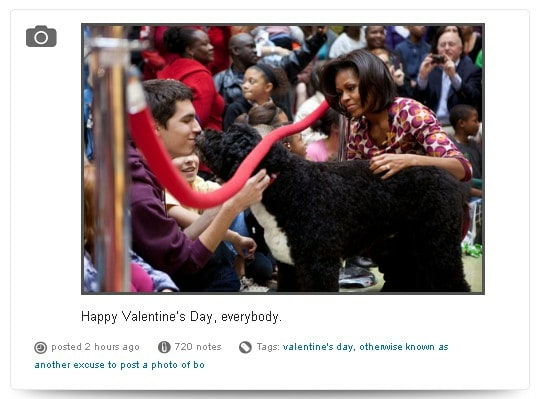 Instagram
As it demonstrated in 2008, the Obama campaign doesn't mess around in social media. Chicago is well aware of the importance of photos in telling the story and boosting engagement. And so instead of stopping at Tumblr, the campaign doubled down, joining Instagram in January. Less than two months later, the campaign's account (@barackobama) has more than 160,000 followers and its behind-the-scenes look at life on the campaign trail has helped project a grassroots image – no easy task for an incumbent waging the most expensive election fight in history.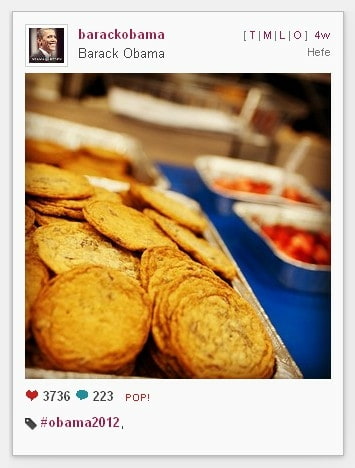 Spotify
No campaign is complete without a good anthem. In 2008, Obama earned a hat tip from rockers and hipsters alike with campaign appearances by Bruce Springsteen, The Decemberists, The Black Eyed Peas, and more. This year, the campaign took it a step further, accepting supporter recommendations and publishing a complete campaign soundtrack on Spotify.