Facebook Camera-Instagram Face Off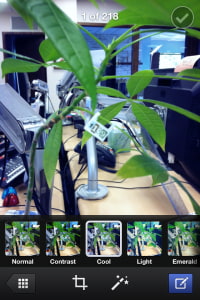 Good day photo people!  Today we're reviewing the new the photo app from our friends at Facebook: the Facebook Camera App.
Why does Facebook have a Camera App? Didn't they just acquire Instagram?
Well, thanks for asking, Dear Reader! Yes, Facebook acquired Instagram and it may seem redundant to have two types of photo apps, but they're actually quite different, each with their own pros and cons!
So let's break it down. Here's the skinny on Facebook Camera and how it compares to Instagram.
Facebook Camera
Filters- That's right, the new Facebook Camera App has filters much like those on Instagram, though not as artsy (can't beat Instagram's Toaster or Kelvin). Kiss Red Lens, Blue Lens, etc. goodbye in Facebook Camera. That's not to say Facebook Camera filters aren't helpful; you just may not achieve that artsy feel you were looking for.
Cropping and rotating capability- Here's where Facebook Camera shines. This is an awesome feature that allows for more photographic spontaneity than available within Instagram, which requires a square photo shot vertically. With Facebook Camera, you customize your pictures much easier and you're not limited to the stock Instagram square.
Smooth Integration with the Main Facebook Interface – Facebook Camera users are automatically connected to their existing friends on Facebook and can see photo (only) posts by friends in the Facebook Camera feed.  Instagram on the other hand, requires users to find and follow other Instagram users and to establish and/or follow Twitter-esque hashtags to see photos of things they are interested in. With Facebook Camera, you have a naturally built following simply by virtue of your friends list.
It's More Social – Facebook Camera users can "like" or comment directly on images shared by friends or on those they have shared themselves. This keeps the conversation alive and makes it easier to connect with friends on a social level. Instagram, on the other hand, is more concerned with developing a following through hashtags and simply by virtue of the images themselves, not so much on the comments or likes they receive.   are posted directly to the users' newsfeed, sharing to other social platforms is currently unavailable.   With Instagram, users are encouraged to post to Facebook, Twitter and Tumblr to name a few.
At this time there is no Android version for Facebook Camera….
As you can see there are interesting similarities and differences both between the new Facebook Camera app and the existing Instagram photo app.  Users can benefit from both apps; one almost compliments the other and the user experiences are different – photographers wanting to share photos with friends will probably do better with Facebook Camera, whereas photographers wanting to show off their creativity and otherwise build a following in the Interweb community should use Instagram. Will Facebook eventually envelop Instagram altogether to create a competition free SUPER camera?  Maybe.  Probably.  …Who knows…   For the time being,  Oneupweb is giving the Facebook Camera app a thumbs up.