Boosting a Post vs. Creating an Ad: What's Better?
It's a dilemma every paid and social team faces every time there's a budget discussion. In the case of Boosted Posts v. Ads, there's a strong argument to be made for the immediate and long-term benefits of both options. Of course, there's no perfect social paid strategy because there are too many variables – from changing algorithms, new competitors and seasonal trends, brands need to be as nimble with spend as they are with content creation.
From a quick comparison between boosted posts and ads, we'll jump into a platform-by-platform look at how each of these paid strategies work and which might be right for you.
Definitions: Boosted Posts vs Ads
Boosting posts and creating ads are part and parcel to a successful social media strategy for any brand. Both options can have a substantial impact on your account's reach, impressions and conversions. The key is to know how each option works and when to pull the right lever.
What Is Boosting?
Boosting posts amplifies an existing post and serves it to a wider audience. On most platforms, boosting posts is easier than creating dedicated ad sets. Once you have your payment option connected, admins and editors can boost any post in two or three clicks.
Boosting is the bread-and-butter of many social teams and most will dedicate a fixed budget to use for boosting posts on a monthly, weekly or per-post basis.
A consistent boosting strategy achieves several key goals, including:
Attract new page likes or followers
Increase impressions
Increase engagement
Provide insight into what content appeals most to your followers
It's important to note that boosted posts are treated as ads on most platforms, including Facebook and Instagram. In your reports, metrics associated with boosted posts will include both organic and paid data, which gives you an idea of how the post would have done without a splash of cash behind it.
What Are Ads on Social Media?
Ads are a little more time-intensive to create but arguably more effective depending on your goals. On all social media platforms, you'll need to create ad sets in a dedicated part of the site, such as Meta Business Suite or LinkedIn Ads Manger.
There are several advantages to putting in a little extra work to create ads, though. On most platforms, you'll have considerably more control over who sees your ads and what actions users can take once they see them.
Ad placements – Ad managers can place ads in different areas of the social media platform. Over time, you'll learn which placements drive more conversions, allowing you to optimize spend when it matters most. Think of ad placements as where users will show up. On Facebook, these include:
Newsfeed
Messenger
Stories
Reels
Dedicated ads panel
New goals – In addition to impressions or reach, ads also allow for different target actions, including website clicks to drive traffic to your ecommerce store, generate business leads, download an app or learn more about your services.
Audience targeting – Social media platforms are a hive of user data (raising plenty of privacy and security concerns) that let marketers serve ads to specific audiences at specific times. That precision is an advantage for teams with small budgets or particularly niche markets.
Read more: How to Set a Marketing Budget
When to Use Boosted Posts vs. Ads
In most cases, we recommend a dedicated boosting budget designed to increase impressions or engagement. Use the data gathered to learn more about your audience and fill the sales funnel with users in the discovery phase. Take those insights to shape your paid campaigns and test, test, test!
When to Use Boosting
Increase reach or engagement
Amplify an organic post that is already performing well
Introduce a new product or service
When to Use Ads
Drive sales and conversions
Reach a specific audience
Remarket or reengage past customers or prospects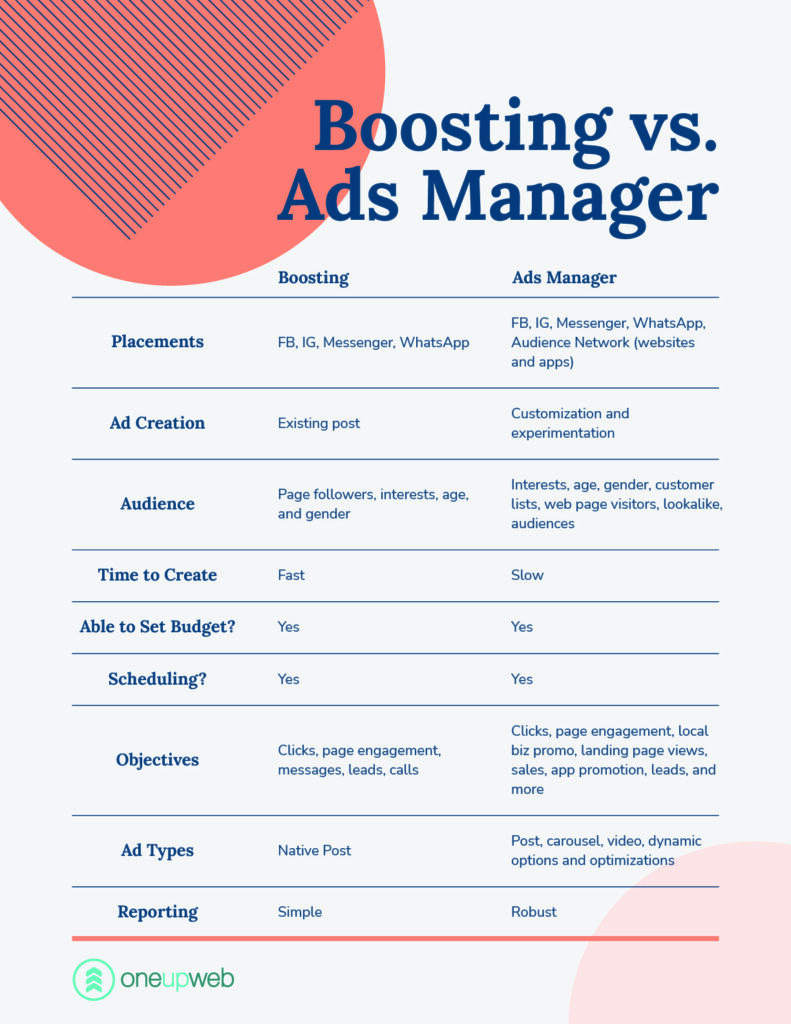 Platform-by-Platform Comparison
When you're talking paid social these days, odds are you're working one of these four platforms – or all of them. And before you say, "What about Twitter advertising?", we aren't playing in that sandbox anymore.
Facebook Ads vs. Boosted Posts (and Instagram Ads vs. Boosted Posts)
We're lumping these two together because the lines between Meta's two big money makers have grown increasingly blurred. Marketers have the option to serve boosted posts and ads across both platforms. That can save plenty of time for managers, but don't set it and forget it; cross-posting requires a careful eye to determine which platform is more impactful.
Are Facebook Boosted Posts Worth It?
Yes! Pairing a consistent boosting strategy with a conversion-focused ad campaign is an excellent way to grow your brand and leverage boosted insights to improve your ad performance. Our social media team often designs a specific boosting budget to keep our brands in front of followers and mitigate seasonal fluctuations.
TikTok Ads vs. TikTok Boosting
TikTok is one of the fastest growing social media platforms in history and the paid space has gotten extremely competitive. As brands have gotten more comfortable (and have avoided reading the headlines), they've also opened up their wallets.
Is It Worth Boosting on TikTok?
Absolutely. Especially for newer accounts, boosting is the most cost-effective way to add followers and learn more about what your audience wants to see. As the account matures, you'll have the data you need to create effective ads that meet the unique demographics of TikTok's user base.
LinkedIn Boosted Post vs. Ad
LinkedIn shares many of the same features and goals as other platforms, with one important wrinkle – hiring. The specificity of a LinkedIn ad for recruiting is unique because the target action, which is asking a user to click and apply for a new job. That's not an easy ask, even if the user is actively seeking a new gig.
LinkedIn is much more than a glorified job board, however. Boosting posts achieves the same goals as it does on other networks, chiefly to increase impressions and brand awareness. For B2B marketers, LinkedIn Ads provide the same level of targeting to generate leads and kickstart new business relationships.
Is Boosting on LinkedIn Worth It?
If you're hiring, stick with ads. If you're looking to generate leads, establish authority within your industry or stay top of mind, a steady boosting strategy on LinkedIn is the way to go.
We're Into Boosting, Too. Boosting Your Marketing Success!
Our paid media and social media teams work hand-in-hand (and sometimes at adjacent desks) to share ideas and insights and brainstorm effective campaigns that drive results. We'll work with you to establish short and long-term goals and lay out a flexible game plan to achieve both. Ready to roll? Get in touch or call 231-922-9977 to get started!