A Decade Later, Facebook is a Social Commerce Powerhouse
Facebook turns ten today—let's take a look at its effect on social commerce.
Nearly ten years ago, I received an email from a friend at Brandeis University asking me to join something called Facebook.
The social network had caught fire at Harvard University (where its founder and creator, Mark Zuckerberg, attended classes) and was starting to spread to other colleges around the country.
To be honest—I didn't get it at first, and I was convinced it wouldn't last.
I was wrong about that.
Facebook is now the largest and most popular of the online social networks. The site boasts 1.1 billion active users and Zuckerberg's net worth is $9.4B—even though it wasn't originally created as a monetized business.
The biggest hurdle businesses who have tested the waters with modern social commerce sites has been figuring out how to not employ intrusive, hard-selling behavior that offers little usefulness or meaning for the users.
As you think back on Facebook's ten years of service, how has your business adapted to it? Where does Facebook—and other social media networks—"fit" into your e-commerce sales cycle?
To learn more about social commerce, download our free white paper, Social Commerce and Your E-Commerce Strategy, and let us know your thoughts in the comments, below.
Up Next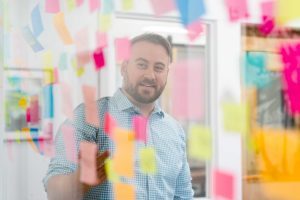 Things are uncertain. We know. Here are eight things you can do today to take control of your marketing and set yourself up for success, no matter what's ahead … Go through your social posts and channels. If there's anything that you've planned or scheduled out that needs a second look or to be shelved,...