Digital Marketing: Pulling Back the Curtain
A Look into the Fantastical Voyage That Is the Redesign and SEO Campaign for Our Own Heretofore Neglected Website
We have to confess something. For a while now, we've neglected our own website—true, we've been pretty busy doing some cool digital marketing for our clients, but the result has been a Frankenstein-esque Oneupweb.com with a slew of broken links, orphaned pages, and under-optimized content. With that in mind, and with the New Year fast approaching, we've resolved to turn things around, and we thought we might keep you in the loop, so you can see our process.
Okay, So What's the Problem?
We rely on branded searches for most of our organic traffic, and we get a lot of leads from references and industry contacts, so it wasn't a "big deal" that we weren't being as competitive as we could be. Still, though, one of our core services is search engine optimization and content marketing, and it was silly not to be doing more of that for ourselves. The design of our website is pretty sweet, thanks to our crackerjack team of designers, but it was time for a refresh. And since we really needed help with some good, old-fashioned SEO, that would mean a reexamination of IA, layout, etc.
How Do We Solve It?
We don't advise (and we would never do this for a client) going so quickly from problem to solution. Typically we do plenty of discovery on a website, especially if we get the feeling that what a client wants and what a client needs are not the same thing. But we wanted to do something very specific with our site, and besides, we're being as transparent as possible here (plus it's our site, so we can experiment all we want). And hell, if it works, maybe it'll be something we can bring to clients down the road. If one thing's for sure in digital marketing, it's that there's always room for adaptation and evolving strategies.
What we wanted, first and foremost, was to be more of a presence in Michigan. We've written before about how much we love our little pocket in the north, and it's important to us that we effect change in our community in meaningful ways.
Sit Down, Strap In, and Research
The first step in our digital marketing strategy was keyword research—Google AdWords Keyword Planner, Ubersuggest, and heavy SERP/competitor analysis, to start. We looked at Ubersuggest to discover ways that people are searching for digital marketing agencies and strategies in Michigan (and in Traverse City), things we might not have considered. We looked at what our competitors are doing/optimizing for, and we identified opportunities where we could do it better. And we used the Keyword Planner to get some basic estimates for impressions.
If a client is in an industry we don't have a lot of familiarity with, this wouldn't be enough. So we might use Wikipedia to do additional keyword research (seriously, check out this comprehensive post from Neil Patel), or we might use the Moz Keyword Difficulty tool for more insight into who are competitors are. But since we're pretty familiar with digital marketing, this was a good start.
They Call It a Storm in the Brain for a Reason
We put content strategy on the backburner for a while, because we need to wait for our design team to catch their breath. In the meantime, though, we identified another opportunity for Michigan content, something we could repurpose to suit a number of different needs.
We began brainstorming (what a great word! a good brainstorm is like a tumultuous force of nature, something unpredictable, wild, and beautiful) topics for the blog. The point is not to limit yourself, to see where your collective creativity takes you. That's why it's so invaluable to have a great team dynamic, which is one of our best strengths as an agency—we seek input from everyone and challenge each other to be better marketers, and the result is usually an amalgamation of all our best ideas. Anyway, here's what some of our initial brainstorming ended up looking like: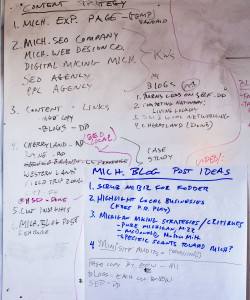 And that's where we'll leave you for now, because that's where we left ourselves. (After all, we've got amazing clients to work for!) Stay tuned for the next installment of the fantastical voyage that is the redesign and SEO campaign for our own heretofore neglected website.