Oneupweb : Northern Michigan—Our Home is Your Vacation
Years ago, I thought that tagline was cheesy, and a tad bit obnoxious. But now that I've returned home to Traverse City, MI, that saying holds true. There's no where in the world I'd rather be during the summertime than on the shores of Lake Michigan. Having grown up in the quaint fishing village (yes, village, it's that small), Leland, I was spoiled by the bodies of water that surrounded me—only two blocks from Lake Leelanau and four from Lake Michigan—two large, natural fresh water lakes (none of that man made stuff here).
This summer as a few of my college gal pals visited (all young professionals, and even some in the tech industry too), I kept getting the same lecture "You're so lucky you get to live here", "It's not fair, you have this much fresh water within walking distance; I wish I didn't have to drive two hours to see a lake", "I don't want to leave, I'm not ready to go back to (Atlanta, New York, Chicago, Boulder)." And yeah, I have to say, I'm pretty thankful I live where I do, and that I'm able to work for a progressive digital marketing agency that remains to execute award-winning work right here in Traverse City.
During one of my lovely summer Fridays off…oh, if you aren't familiar, Oneupweb employees get every other Friday off during the summer months—I know, it's rather fabulous. Anyhow, while I was on the beach, I read an entertaining Ad Week article: "Out of Office: How Media Maevens, Tech Gurus, and Agency Honchos are Spending the Summer" and if you'd like to read it for your self, check out the digital version. I had fun getting the dirt on what some of the A-Listers of the business world were doing for their summer getaways…my three favorites are displayed below: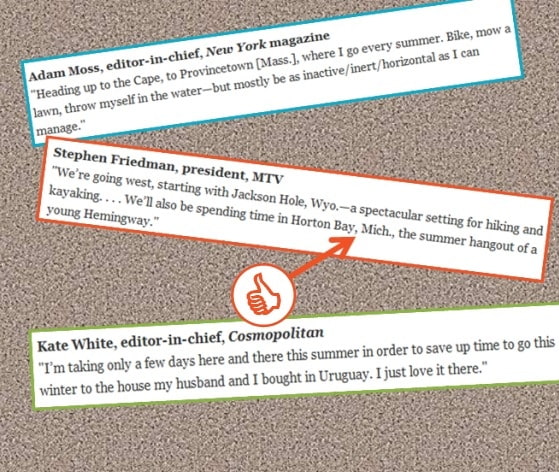 Mr. Moss, like most East Coasters, has to pack up to enjoy a peaceful vacay. I do love New York and everything it has to offer, but when it comes to summer…I'd rather play in my own backyard. And whoah, the President of MTV spends his time where? Can you read that? Ahh, why yes, he holidays in Michigan, the wonderful, beautiful mitten—The Awesome Mitten. I bet Cosmopolitan's Kate White wouldn't be hoarding her vacation days for wintertime if she lived and worked, and of course played in Northern Michigan.
See for yourself…a few photos to convey how Oneupwebbers have adventurous, relaxing and beautiful vacations staycations: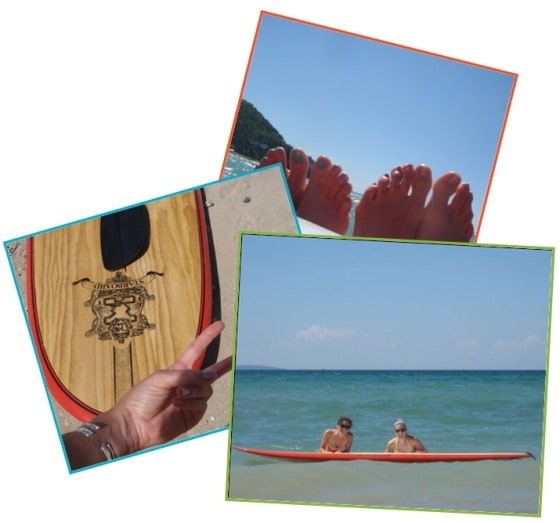 That's right we spend our days swimming, paddle boarding, kayaking, biking, hiking…we like our adventures. If you're an avid StraightUpSearch reader, you may have learned that we enjoy Geocaching, and it's no secret that we appreciate where we live. If you just can't take our word (blog posts), go ahead and watch this ABC News clip, which announces the title of "Good Morning America's" Most Beautiful Place in America:  Sleeping Bear Dunes National Lakeshore (part of our home).
Longing to live in the most beautiful place in America (in my opinion the entire world)? Looking for a marketing career that's forward thinking, bleeding edge and let's you set the trends of the digital world? Check out our available positions. Better yet, attend the 2011 Oneupweb Career Fair on Tuesday, August 30, 2011!