Meet Andy "Funky" Olds, PPC Extraordinaire
Position: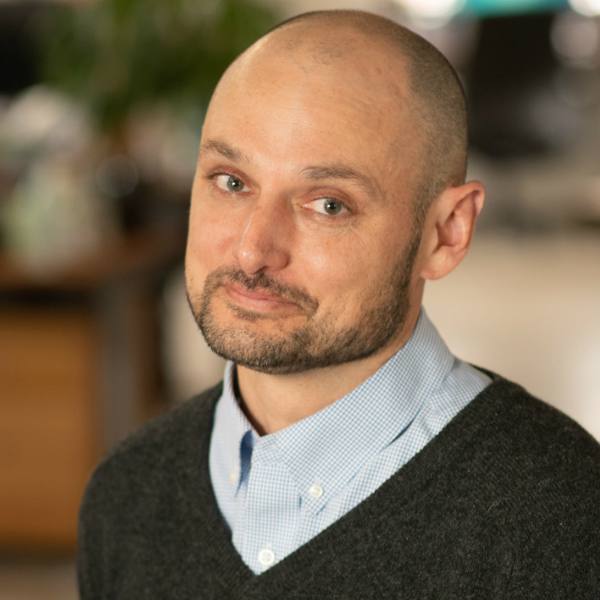 PPC Project Manager
Choreographer of the Funky Dope Beat Maneuver
What's your average day like at Oneupweb?
I maintain and optimize clients' advertisements on paid media and make improvements based on results of data analysis.
Tell us about a favorite Oneupweb moment.
The day a conversation led to the loosening of the anti-Oxford comma style guide.
What makes Traverse City appealing?
Walkability. Walk north and end up at the bay; walk south and there is Boardman Lake with its namesake TART trail; walk east and get to the VASA trail; head west and there's The Commons.
What do you really do at Oneupweb?
Look at spreadsheets -> think about the information within -> consider what it means to, and within, larger socio-economic trends -> apply changes and test hypothesis -> consider results, and if this really helps the client -> iterate as necessary.
What do you do when you're not at work?
Spend as much time as possible with my family. We like to paddle, hike, bike, read, and fill our house with friends and family for dinner, parties, and dinner parties.
Years from now, what will stick out most about 2019?
That this really happened.
It's 5:30 p.m. – what's your cocktail of choice?
If I'm at Earthen Ales (right next-door to our office), it's a Juniper Rye IPA. if I'm at Rare Bird then Love Wins. If I'm on the patio at Little Fleet then something from Short's. When I'm making dinner it's Chateau Grand Traverse Gamay Noir, and if I'm just at home on a Friday night – TC Whiskey.
What's the last song you intentionally listened to?
"Waiting Room" by Fugazi and "You're a Customer" by EPMD as I was creating a playlist of songs to play at work – songs I know so well they won't distract me and can help with flow state.
But I often have a soundtrack constantly running in my head, too. Most recent songs played there are "Undertow" by Warpaint and "His Indie World" by Mary Lou Lord.
Favorite Spotify/Pandora station?
Morsels Radio. When Morsels first opened, I made Misha and Jeff a Pandora playlist to play in the cafe. I seeded the algorithm with Neko Case, Gillian Welch, Eilen Jewell, Sharon Van Etten, Joan Shelley, Marissa Nadler, The Wailin' Jennys, The Watson Twins, Melody Gardot, The Be Good Tanyas, and so on – 10 years later and I still listen to this station often. As in when my wife and I are making dinner.
What do you carry in your man-bag?
Don't have one but I do use an old Altoids tin as my wallet, and in it I always have a safety pin (I've carried a safety pin with me since one salvaged a Nashville road trip in 1996 with my friend Rogan G. by replacing a fuse in the car). Other components in my everyday carry are a Pilot G2 pen in my pocket and a memo notebook.
What's your secret guilty pleasure?
guerrilla gardening
watching the animated Star Wars series with my kids
teaching lessons
Favorite book/movie/album/TV show/etc.?
Books/Writers:
Fiction: whatever Kim Stanley Robinson published last
Non-fiction: northern Michigan pre-1812 history (natural and societal) and anything Chris McDougall is writing
Science /Tech News and Reporting: Emily Underwood, Mari Silbey, Ariel Schwartz, Greg Ferenstein
Economics: Joseph Stiglitz, Mariana Mazzucato, Shoshana Zuboff, Noreena Hertz, Nassim Taleb
Essayist: John McPhee
Poet: Edna St. Vincent Millay
Humorists: Mark Twain and Sarah Silverman
Movies: Varies, but Wes Anderson will be the director – Royal Tenenbaums or Moonrise Kingdom or Rushmore
Album: There are eight albums I consider impeccable. They are:
1. Liz Phair – "Exile in Guyville"
2. Jawbreaker – "24 Hour Revenge Therapy"
3. A Tribe Called Quest – "The Low End Theory"
4. Ivy – "Realistic"
5. Sharon Van Etten – "Epic"
6. Operation Ivy – "Energy"
7. Neko Case – "Blacklisted"
8. Prince – "Purple Rain"
TV Shows:
1980s: Airwolf and MacGyver
1990s: The Kids in the Hall, MST3K, The Simpsons
2000s: Arrested Development, seasons 1-3; Battlestar Galactica; Survivorman; Good Eats; Food Jammers
This decade: men's and women's professional soccer leagues, The Expanse, Game of Thrones (though I was slow to get into it)
Tell us something weird/unique/quirky about yourself.
Does having 20/10 vision count?
I was city badminton champion in high school.
And if I see a microwave oven with the display showing the time left (from when someone previously pulled their food out early and did not reset the timer) I feel compelled to cancel it back so it shows the clock (*but I don't need the clock to be set to the correct time).
Describe yourself in 3-5 words.
Bird of prey.
What's one of life's simple pleasures?
Knowing that your loved ones are sleeping peacefully.
The internet is listening: Give us your words to live by.
Assumptions are not observations.
Tell us about a favorite client moment.
During a client presentation, I may have "accidentally" sang "Who Let the Dogs Out" but changed the lyrics for our plumbing client to, "Who let the clogs out? Who? Who? You!"
What's your favorite blog, and why?
This is a hard question to answer!
Because as a member of the last generation to have memories of a life pre-internet, I still think of "blog" as shorthand for "web log" – a personal website where individuals shared thoughts, ideas, and opinions – a log of their life. Then it became more of a "blog" with the invention of Real Simple Syndication (RSS), co-created by the "Internet's Own Boy" Aaron Schwartz (RIP) plus the launch of the Blogger/Blogspot hosting platform created by Meg Hourihan and Ev Williams. Blogger removed the friction in creating a blog and RSS made possible blog readers that could aggregate feeds together. Aggregation meant monetization and this is when the blog platform became today's blog. A feature of every website.
But there are two original blogs from the time of RSS 1.0 that I still follow and enjoy, BoingBoing.net as an example of the group-edited model and Kotke.org as one of the original web logs.
In terms of the modern use of the word "blog," I really admire how the magazines Outside (Abigail Wise especially), The Atlantic, and Fast Company have upped their publishing and blog games these past few years. Those are three of my "must-reads."
Yet, I also now see individuals wanting control of their own message, and this doesn't mean "influencers" who are the beautiful people of Instagram, I mean a reinterpretation of the late 1990s/early 2000s web log. The way this is done now is when someone shares themselves across platforms – blog, video, podcasts, newsletter, tweets, etc. There are two people in this model who I really enjoy following and always am sure to engage with first across platforms: Colin Wright and Maria Popova.
And I use blog aggregators of course to follow all of these. For sites with an RSS feed, I use Feedly as a Google Reader replacement, Hypem.com to listen to my favorite music blogs, and Overcast to listen to podcasts.
If you were stuck on a desert island, what office tool would you bring and how would you make your deadline?
Old Technology: scissors. Take them apart to make a spear; use them to cut up cordage, skin animals, dig tubers, so on. Making deadline would be difficult with just scissors, though. I'd have to flash reflections from sunlight to convey my message in Morse code, but that will only be a few bits per minute transfer rate. Maybe I could use a smoke signal instead? ("If you get this message, I need an extension.")
New Technology: A smartphone. I would use it to email in my report and then call for help and provide search and rescue with my latitude and longitude.
But then I would tell search and rescue – "no rush."