Get to Know Tessa Lighty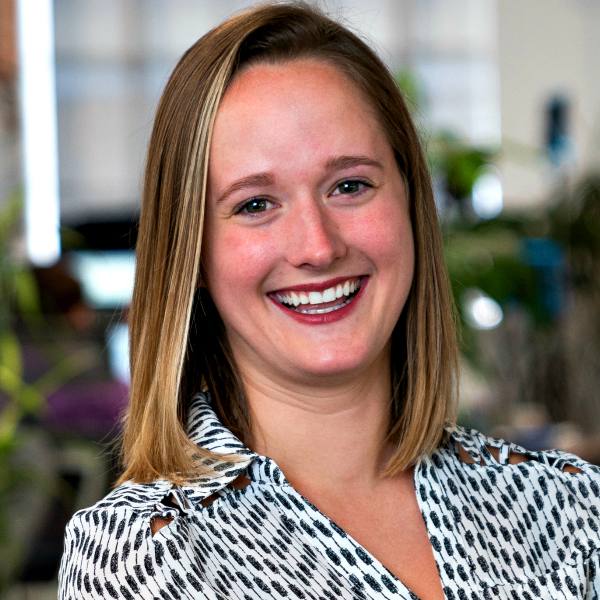 Find me on LinkedIn or Instagram
Name:
Tessa Lighty
Position:
Content and Social Media Strategist for Oneupweb and Digital Strategist for PointA
What's your average day like at Oneupweb?
No day is average. I'm tasked with something different every day to meet the needs of our clients and company. Pretty much every day includes posting to our social channels, checking email performance, and moving tasks along for our website and other inbound marketing efforts.
Tell us about a favorite Oneupweb moment.
There have been countless belly-shaking laugh moments in the office and while working from home. The 2021 annual Pit Spitters game is easily one of the most fun events I can remember. I'm a big fan (had season tickets) and it's always good fun cheering on the team, with the added benefit of seeing my coworkers for the first time in a while.
What makes Traverse City appealing?
Traverse City is the perfect small town with a big-city feel. There are endless things to do here without it being too crowded. I love that I know my neighbors and find it easy to make friends. And I love being outdoors, so it's nice to have a community that values the same things.
What do you really do at Oneupweb?
Work hard to put good Oneupweb content and vibes out into the world and hope the right people notice.
What do you do when you're not at work?
The most important thing to know about me is that I achieved my childhood dream in 2021 and purchased my first horse. I spend most of my spare time at the barn, or wishing I was at the barn. Sometimes, my partner tears me away and we take a hike with our very active dog. I'm a member of Bowers Harbor Winery, an avid reader, and running my first half marathon in 2022.
If you were stuck on a desert island, what office tool would you bring, and how would you make your deadline?
Desert doesn't mean deserted, so I'd bring my smartphone and post to social from the comfort of my beach bungalow.
It's 5:30 p.m. — what's your cocktail of choice?
During the pandemic, a group of college friends and I got together to take a cocktail class. I learned how to make a gin drink with crushed blueberries, lemon, thyme, all my favorite things.
What's the last song you intentionally listened to?
I've been listening to Dermot Kennedy a lot lately. Here's my favorite.
What do you carry in your purse?
I usually just carry a wallet these days. My purse has pens, horse treats, sunglasses and some random tea bags?
What's your secret guilty pleasure?
I'm an extroverted introvert, so when I've been social for a few days I need to just stay home on the couch, doing nothing and talking to no one.
Favorite book/movie/album/TV show/etc.?
"Favorite" is a tough category to fill, but here are some good suggestions…
Book: "Outlander" by Diana Gabaldon
Album: "Broken Bones and Pocket Change" by St. Paul and the Broken Bones
TV Show: Bob's Burgers – I used to play it for my dog when she was just a little puppy and she'd fall right to sleep every time.
Tell us something weird/unique/quirky about yourself.
I'm impeccably organized. And when things are out of place, it stresses me out, so I spend a good chunk of my day tidying up my house even if I'm just shuffling things around so they have a place to be messy. My friends used to think it was funny to come to my house for parties and rearrange things slightly. I always noticed. And never thought it was funny.
Describe yourself in 3 to 5 words.
Straightforward, lucky, determined and generous.
What would you not be caught dead wearing?
Things with big logos. I don't care how much money you spent on a branded t-shirt that says "Supreme."
What's one of life's simple pleasures?
Simple sounds. Like, boots crunching on fresh snow or horses' hooves on concrete.
The internet is listening: Give us your words to live by.
Be as good of a person as your dog thinks you are.