Video Marketing FAQs
Whether you're calling it a commercial, a social media video, or a YouTube upload, video marketing is everywhere. Businesses are feeling pressure to have a presence on TikTok or Instagram Reels, both high-engagement video platforms. And YouTube holds its spot as the second-most popular search engine, behind Google.
If you're considering implementing a video marketing strategy, the most common questions you're bound to have are answered below.
These answers came straight from the team at Oneupweb. If you're curious, you can see our video marketing capabilities right here.
Common Video Marketing Questions, Answered
1. Why Is Video Important in Marketing?
Video is a versatile and engaging content format that has become essential for marketing efforts in recent years. It has the power to distill complex information in a simple, digestible format. After all, the human brain can process visuals far more rapidly than text. And those visuals stick better, too. Studies have found that viewers retain 95% of information when watching video, as compared to 10% when reading text. Just check out these video marketing stats if you want to be convinced.
In addition to video marketing's incredible return on investment (like 480% more clickthroughs), it also offers a boost in other areas, such as:
Search Engine Optimization. YouTube is a massive search engine. One report shows that internet users watch 1 billion hours of YouTube content each day. Company websites with video content attract 41% more website traffic than those without. Couple that with the engagement signals users send when they linger on your video content, and you have the perfect recipe for a big boost in SEO performance from video content.
Conversion Rate.  According to HubSpot, landing pages that have videos have an 80% higher conversion rate. Types of videos that help with conversions include product and service explainers and testimonial videos, but there's so much more you can experiment with.
Engagement Rate. Across nearly every social platform, videos get more engagement and more exposure. If you're looking to improve your social media presence, creating quality video content is well worth it. 
2. How Do You Create a Marketing Video?
While the process for each video you create will vary slightly based on your team size, resources, and ultimate goal, here is a brief outline of how we recommend you concept and create a video.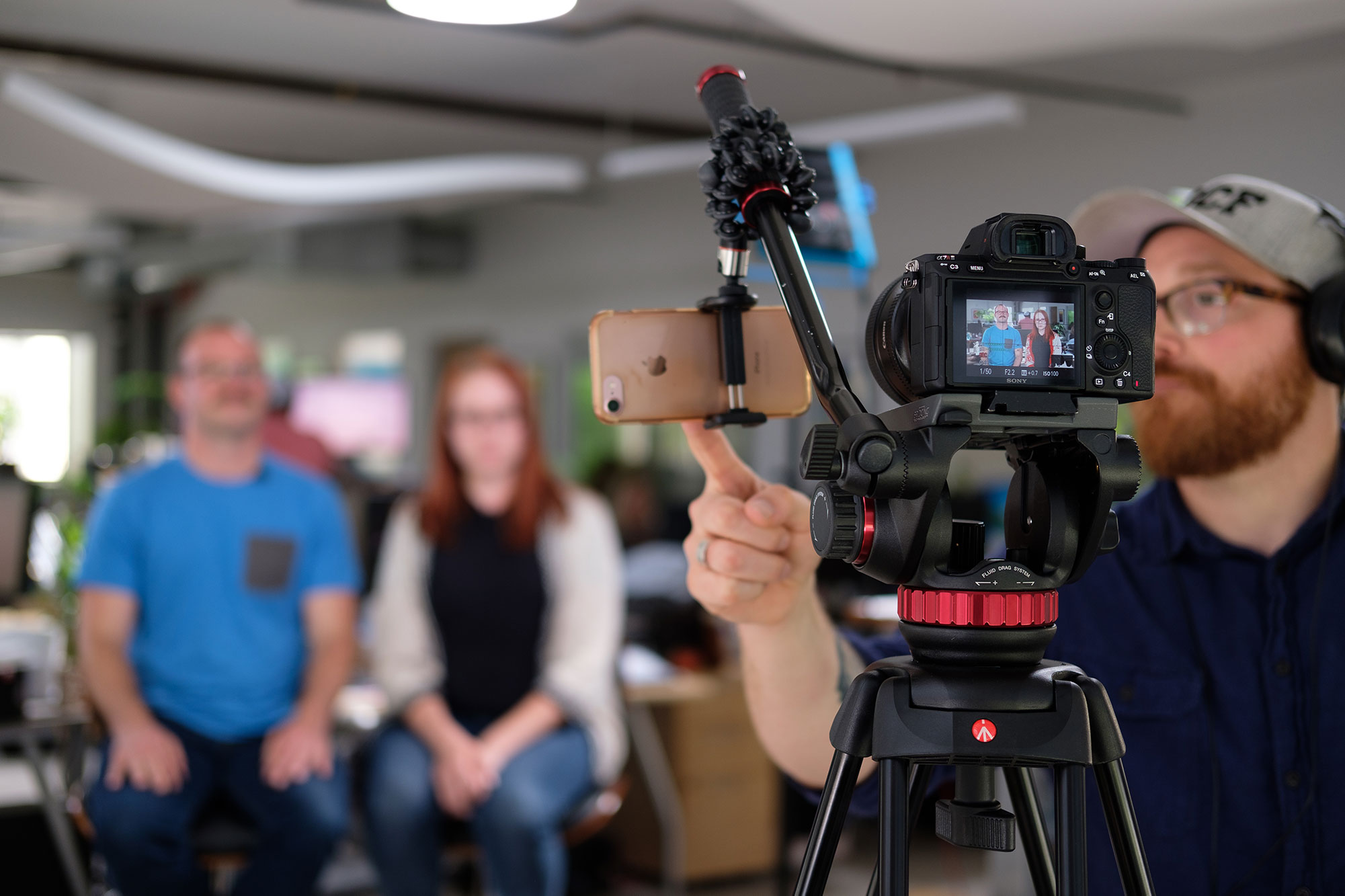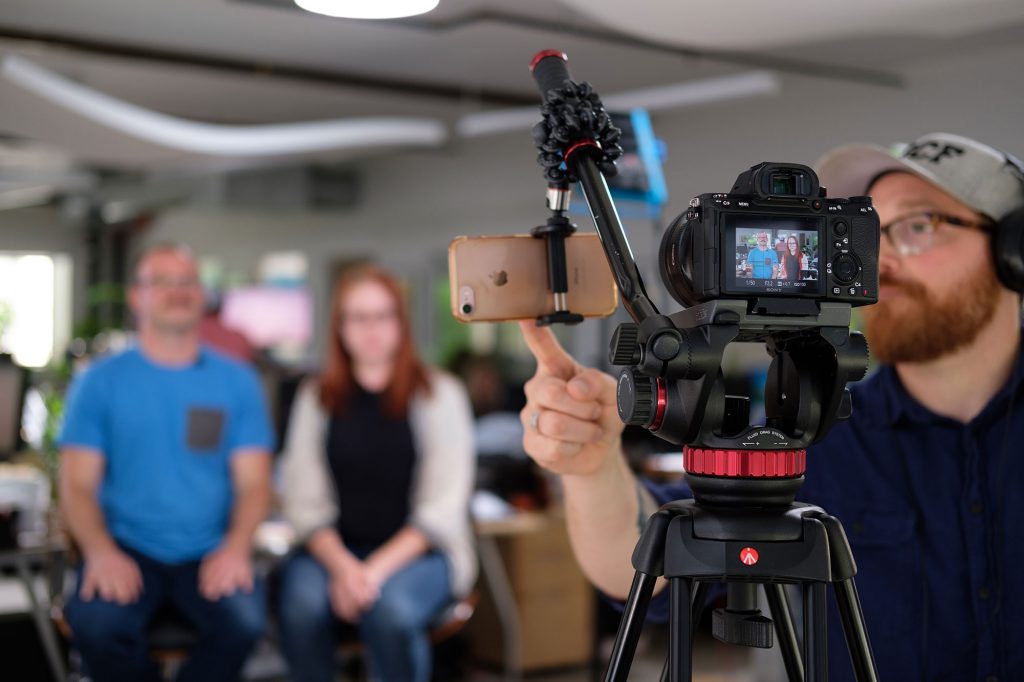 – Discovery
An important step in creating a marketing video is identifying all the important information like how long the video should be, what the primary goal is, what platforms it will live on, if it will be live action and more.
– Concepting and Pre-production
During this phase, brainstorm concepts based on what you talked about in the discovery meeting. Take the best concepts and develop them more fully with scripts, storyboards and shot lists.
Once the concept is nailed down, you can get into the nitty-gritty like sourcing talent, equipment, props, locations and whatever else is needed ahead of the big day. (Yes, you deserve to have snacks on set.)
The details matter. Having a well-thought-out plan before shooting is necessary for creating a quality marketing video.
Psst! Grab a free storyboard template here.
– Shooting
Lights… camera… action! Your marketing video is in motion. Film the shots to complete the storyboard, using the shot list as a guide. Then record the audio from the script already created.
Then capture some more – just in case. For example, the Oneupweb video team often grabs some stills, B-roll and fun extras to provide the most value through our video marketing services.
– Post-production
After filming, it's time to put your noses to the editing grindstone and make the movie magic happen. This is when the video is assembled, audio is mixed in from the shoot with curated music and sound effects, and any special effects, like motion graphics, are added in as needed. Then comes review and revisions to ensure you create the best marketing video.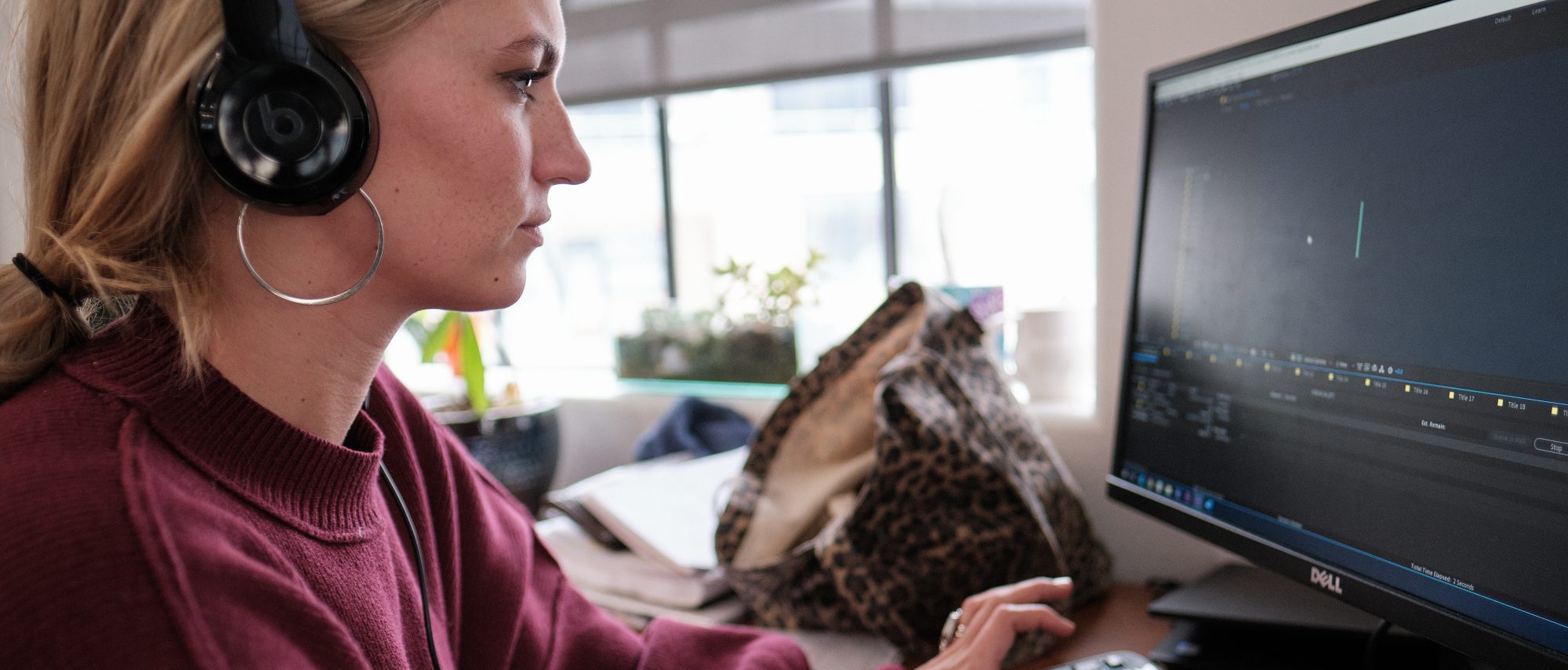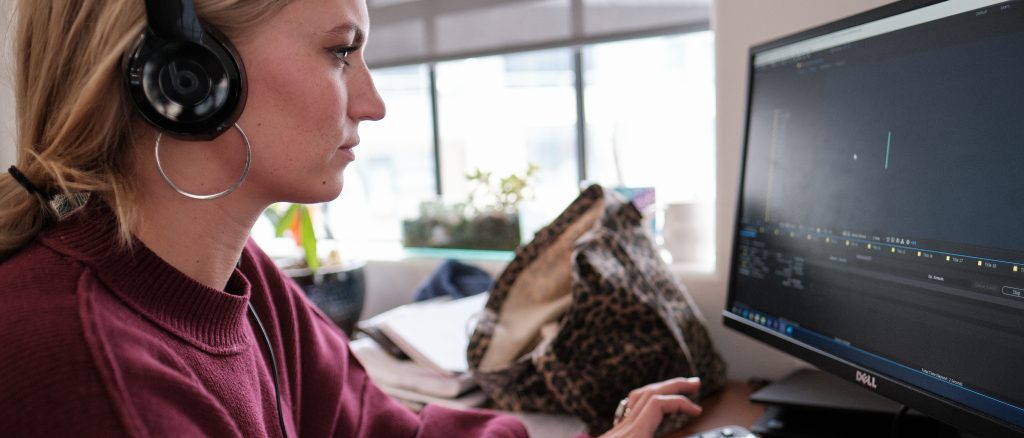 – Delivery!
And that's a wrap – your video is complete! Give it life with a robust promotion strategy.
3. What Does "Shooting in the RAW" Mean?
RAW is a type of image file (like JPG), but it's usually minimally processed and holds more image information than other file formats. This ensures photos can be fine-tuned without losing data and quality.
The Oneupweb video team shoots photography in RAW and uses a Picture Profile to shoot video. Both formats give us more freedom in post-production to alter color, exposure, white balance and other aspects.
4. What Is Aspect Ratio, and Why Is It Important?
Aspect ratio is the width and height ratio of an image or video and is commonly expressed as two numbers separated by a colon (16:9). There are so many different platforms for uploading video, and they all require different aspect ratios. For example, social videos like Instagram Reels are 9:16, the inverse of a traditional horizontal photo, because it matches the vertical height of a smartphone.
5. What Makes an Effective Marketing Video?
Creating an effective marketing video is about delighting your viewers. While the goal of your video depends on many factors, it's most important to ensure your video is engaging.
No matter the length of your video, a strong introduction is essential. We also recommend having quality audio and clean editing. While content is the most important part of an effective marketing video, having a video that's also technically perfect will set your business apart.
6. How Long Should a Marketing Video Be?
It depends on the goal and the placement of the video.
Certain platforms have time limits, like 60 seconds for Instagram feed, or Reels, but you can create long-form video for IGTV. If you're creating video advertisements instead of organic videos, your videos might only be 6 seconds long.
7. How Much Does a Marketing Video Cost?
Like most marketing projects, the cost depends on the end product, resources needed and time to complete the video.
If you're creating a video with an in-house team, the biggest cost will be equipment.
8. How Does Video Advertising Work?
Video advertising, different from organic video marketing, is creating videos that will be placed as ads. You can create video ads for:
Social platforms like Facebook, LinkedIn, Instagram, and more.
You can also run ads on YouTube. (Here's our guide.)
Many video streaming platforms, like Hulu, have recently made it easier to place OTT (over-the-top) video advertisements.
5. How Do I Get Started with Video Marketing?
Video marketing can work for any business. If you have the internal resources to create the type of marketing video you want, that's awesome! Otherwise, it might be time to think about hiring an agency to help you with your video marketing projects. We have a resource here for finding an experienced video marketing expert.
Frequently Asked Questions About the Oneupweb Video Marketing Team
1. How Many People Are on the Team?
Our video and photography department is made up of talented videographers, photographers, animators, and special effects artists as well as production gurus that make it all happen. However, we often work with other experts when we travel.
2. Is Everyone In-House?
Most of our videographers are based in Traverse City, Michigan, but we have a remote worker located in Illinois. He regularly visits family (and us) in northern Michigan.
3. What Kind of Videos Do You Create? TV Commercials?
Everything! We produce social shorts, which are meant to be short, sharable (often looping) videos like cinemagraphs or gifs. We produce six-second ad spots, 30-second ad spots, full-length commercials, case study videos, fun office pranks and so much more. There's nothing we've declined to film yet.
4. What's a Social Video from Oneupweb?
Social videos are one- to two-minute videos that we create specifically for social media channels. They're formatted with a social-curated aspect ratio and contain fun, shareable content.
5. How Can I Work with Oneupweb?
If you're interested in hiring Oneupweb for help with photography, marketing videos, or another one of our specialties, you can fill out this form with some details of your project or call (231) 922-9977 to get the process started.