Six Things We Learned About GA4 in a Year+
The release of GA4, the new Google Analytics, was announced in late 2020. This technology will likely replace Google Universal Analytics (UA) on July 1, 2023.
Despite the murky future of Google Analytics UA vs. GA4, our digital marketing agency knew one thing back in 2020: All our clients used Google Analytics, and they all needed to prepare for an eventual shift by starting to collect GA4 data now.
So, we set out to absorb the meager early documentation for GA4 and to create in-depth documentation of our own. Then, in the summer of 2021, we held an internal GA4 Summit to prepare all our employees to support our clients. A while later, we had most of our clients fully set up with their new properties, custom events, the whole shebang.
Here are six big things we learned about GA4 during that journey, which is still an active journey today.
1. You Might Need Flashcards
The names of various reports, dimensions, and metrics in GA4 differ greatly from UA. If you like flashcards, it wouldn't be a bad idea to make some. But write them in pencil or make them digital because we've noticed the names of various reports changing—often unannounced.
When comparing Google Analytics Universal vs. GA4, here are some terminology shifts you should know about:
Landing page insights are now represented by session_start. In UA, we often look at sessions by landing page. In GA4, the equivalent is the built-in event called session_start.
Users are the focus in UA, and active users are the focus in GA4.From Google: "Google Analytics 4 properties focus on active users (users who are currently engaged), while Standard/360 properties focus on total users."
Referral exclusions—the filter you can place on views in UA—are controlled in a List unwanted referrals option in GA4's admin menu under Data Streams. Plus, GA4 has automated self-referral detection that UA doesn't.
Goals from UA are called conversions in GA4. These conversions are usually event-based or destination based, like you're used to, but they are set up quite differently in GA4.
Pretty much all engagement metrics go by different names—and sometimes different definitions—in GA4. For example, pages / session from UA is called views per user in GA4. And instead of session duration, you see average engagement time, which is a slightly different metric.
Are some of these name changes seemingly arbitrary? Sure. But it's what we're working with, and at least the data we're used to seeing is represented.
2. GA4 Ecommerce Integration Is Tough – For Now
If you use an ecommerce solution for your website, like Shopify+ or WooCommerce, you've probably enjoyed using the simple integrations offered for ecommerce event tracking in Universal Analytics. Unfortunately, most ecommerce solutions haven't quite finished easy integrations with GA4, nor has Google (as of early 2022).
GA4 ecommerce event tracking can be done manually through Google Tag Manager and fancy custom data layer variables. But even when you set that up, you might have trouble pulling the data into GA4's "Monetization" report. It's tough to configure. However, we're confident that simpler integration options—think: plugins—will be offered by major ecommerce players soon.
3. The Debug View Is Magical
When you set up custom event tracking through Google Tag Manager (GTM) and enter Preview mode to test your tags, you can validate that testing by looking at the Debug report in GA4 too. It will show real-time events coming in, along with associated parameters, even if they aren't yet published in GTM. The data lovers at Oneupweb think this is a vast improvement over the event tracking testing options offered by UA.
4. Certain Events Are Automated
That's right. You don't have to create custom event tracking anymore for the super-common actions that users take on your website or app. With a basic setup, things like on-site ad clicks and external link clicks are automatically tracked as events. And if you turn on Enhanced Measurement, you get even more automatic event tracking like video actions (for embedded YouTube videos only), site searches, and scrolls. The GA4 file_download event is one that we especially love; it fires whenever someone clicks on an auto-download link for a PDF or other common file extension.
If you still need to set up custom events, no worries. You can use the same triggers you use in Google Tag Manager for UA. The tag configuration, however, requires a much steeper learning curve. If you run into issues, feel free to reach out to Oneupweb for advice or even a tag audit. We've been through it all before.
5. If You Know Looker Studio, You're Ahead of the Game
Though Looker Studio, formerly Data Studio, has its little quirks, it's an excellent marketing reporting tool. And if you already use Looker Studio, you'll be thrilled when you open up the Explore tab in GA4. It uses the same dimensions and metrics setup as Looker Studio, which makes building explorations (a.k.a. mini-reports within the platform) really easy. This is where you can dive into the deeper data related to event parameters that don't show up in the standard Events report.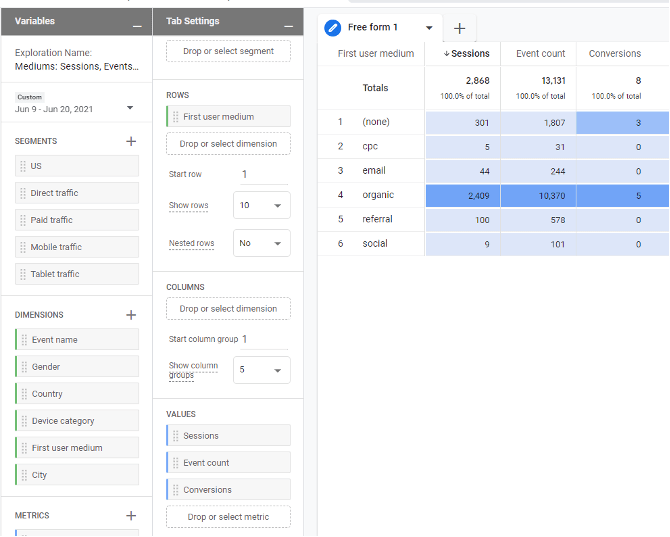 6. Many Businesses Haven't Set Up GA4, But It's Time
What would you do if Google's Universal Analytics disappeared in three months? It's had its fair share of troubles, after all.
It's a good idea to get set up in GA4 now and start collecting that good, good data. It might even put you ahead of your competitors in terms of website and app performance visibility. Change is good. Learning is good. And we wish you good luck.
If you're looking for a leg up with marketing reporting, strategy, or anything else, Oneupweb would love to talk to you. Give us a form fill or a ring at (231) 922-9977.
GA4 FAQs
Should I use GA4 or Universal Analytics?
Both! We recommend creating your GA4 immediately to capture data before Universal Analytics' scheduled sunset on July 1, 2023. You will have to migrate to GA4 in 2023, so take the time to learn the platform now, even if your reporting is still based on Universal Analytics.
Is GA4 free?
Just like Univeral Analytics, Google Analytics 4 is free to use.
When will GA4 replace UA?
Google announced plans to sunset Universal Analytics on July 1, 2023. That means GA4 will replace UA on that date.