Google's New Effort to Improve Mobile Search
As we know, Internet usage via mobile devices has overtaken access by desktop, and Google, as is its wont, is adjusting accordingly, so that it can continue to dominate search. The big G recently announced that if mobile searchers are thinking of clicking through to a specific page, and that page redirects users to a homepage, Google may "gently suggest" that users find what they're looking for elsewhere.
By gently suggest, I mean Google briefly explains the situation, and follows it with a fairly prominent warning that invites the user to Try Anyway: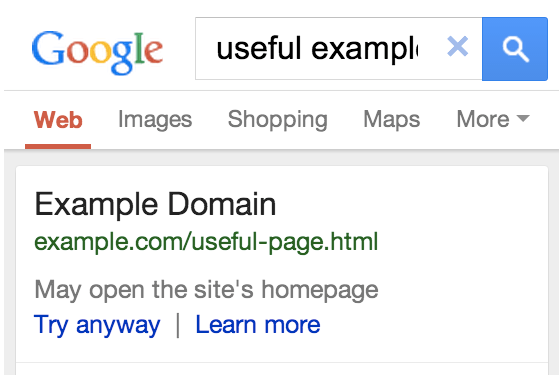 So What?
When we search, we employ the now-perfected art of impossibly quick scanning. We barely even read as we decide which result to click, and we do it in a matter of seconds. So, if you're like the majority of searchers, that means you're "reading" five different titles, five different meta descriptions, and maybe a knowledge graph, local pack, or video description—all in a few seconds.
Maybe it's just me, but if I'm scanning the SERP and I see "Try Anyway" under a site I'm thinking of visiting, there's a good chance I'll move to a different result without giving it another thought. Try anyway? And risk being disappointed? As if.
Obviously, it's going to depend on the type of search. If it's informational, then I'll absolutely keep moving—I don't care who tells me what Scott Baio is up to now, I just need to know. If I recognize the domain, on the other hand, I might be willing to give it a chance, if only because I can take in content elsewhere on the site.
Moreover, those nine little words of text below the URL could easily suggest to some users that the page doesn't even exist. And who wants to go to a site full of broken promises?
What Should I Do?
All of this is to say that if you own a mobile site, you better be sure you're doing it right. Go deep into your site architecture to ensure there are no faulty redirects (something you can check for in the Smartphone Errors section of Google Search Console). You can also see if you're having problems by simply browsing on your smartphone, or, if you're at a desktop, switching your user agent with a browser add-on.
In addition, you might consider building a responsive site instead of having a dedicated mobile site. I'm not going to debate the pros and cons of mobile vs. responsive, but Google has said it prefers the latter. And mobile takes more time and is more of a hassle to maintain. Just sayin'.
Want to weigh in on Google's new warning? Drop a comment below. Want to learn how to overcome the design and development issues your business' website is facing? Give us a ring, or check out our capabilities.