Hiding Your Address on Google Business Profile? You Should Reconsider
In working with about a dozen large home services franchise brands, the choice to hide or list your business address in Google Business Profile has been hotly contested. Home-based businesses have a legitimate reason for hiding their address – they don't want customers showing up at their house! And some brick-and-mortar businesses opt for showing a service area rather than a pin on the map. And that makes sense, too; they don't provide services at their shop, so why do customers need to know where it is? It's the service area that counts.
Get the most out of Google Business Profile, formerly known as Google My Business, by identifying the pros and cons of hiding your address.
Full disclosure: we don't recommend hiding your address. Instead, there are some very easy ways to optimize your local SEO, even if you don't operate from a fixed location. 
Does Google Penalize Business For Hiding Addresses?
Our hypothesis was that businesses that list their actual address will rank higher and more often in local search results than businesses that hide their address in Google Business Profile. We expect that Google values the legitimacy and transparency that a business demonstrates by listing a physical address. In most other areas of search, Google tends to reward domains and entities that offer more information. But is it the case here?
Here's how GBP listings vary when hiding or showing your business address.
(Note: The brand that was the subject of my study will remain anonymous. The company featured in the screenshots below is being used as an example. But I'd love to work with them ????.)
Appearance in GMB with Address Hidden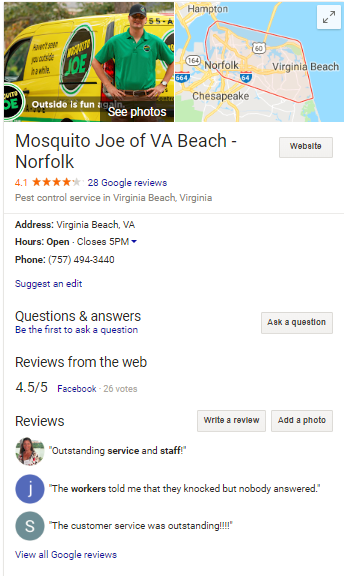 Appearance in GMB with Address Listed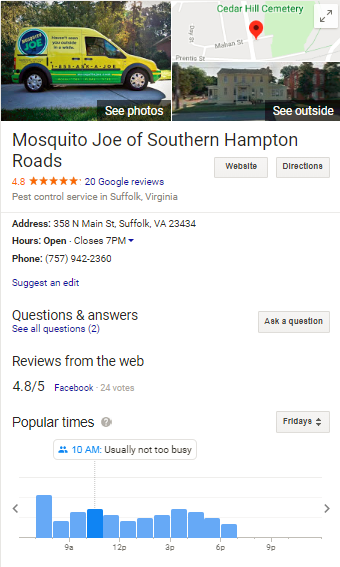 The Google Business Profile Experiment
To test this hypothesis, we identified 72 locations of a national handyman service provider. Half of the locations (36) hide their business addresses on GBP while the other half (36) list an address. Next, we exported three months of organic search data from Google Analytics (March 2018 – May 2018) and compared organic sessions, organic lead forms and organic clicks-to-call that came in through Google Business Profile each month.
Here's how the monthly averages compared:
| | | | |
| --- | --- | --- | --- |
| | GMB Sessions | GMB Lead Forms | Clicks to Call |
| Address Hidden Group | 184.06 | 12.08 | 5.67 |
| Address Shown Group | 245.86 | 13.83 | 5.94 |
| Difference | 34% | 14% | 5% |
The Results
On average, franchises that show their address in Google Business Profile received 34% more organic sessions to their franchise pages from the Google local pack. This is quite significant! This group also received less dramatic advantages in lead forms (+14%) and clicks-to-call (+5%). We speculate the difference in calls was not as pronounced because users likely click the phone number shown in the local pack (without ever visiting the website at all).
Are the differences statistically significant?
Taking it one step further, we tested the results using this awesome T-Test Calculator for 2 Independent Means. After inputting my table of organic sessions for Address Hidden and then Address Shown, we came up with a t-value of -1.71527 and a p-value of .045359. Therefore, the difference is significant at p < .05.
Other Considerations
The franchise locations in the two groups were selected at random. It's possible that one group contains more franchises in larger markets or less competitive markets. We also didn't account for Google Business Profile reviews. The number of Google Business Profile reviews may be much greater in one group and the other. And drawing on my own observations, GBP reviews may have a much greater influence on local pack rank than listing or not listing your physical address. We can say with confidence, though, that both are important.
What This Means to You (and Your GBP Listing)
Audit your Google Business Profile properties. Are they verified and up to date? And based on the findings of this study, it's a promising idea to list your business address. If your business uses your home address, you can still list your address in GBP. Check out these guidelines for representing your home-based business on Google Business Profile.
Still Want to Add Your Business to Google Without an Address?
Here's yet another reason to list it anyway. Google Home Service Ads provide another reason to list your business address. These ads are showing up in major markets across the country and may be on their way to your market and industry. Learn what Home Service Ads could mean to your Google Business Profile listings.
If you're relatively new to Google Business Profile, you may be missing out on a huge opportunity. Google is emphasizing local search more than ever before. If you need proof, go ahead and tag your GBP website links to see how much traffic is really coming in through those links. You'll likely find that GMB is your second most productive organic channel behind Google organic and that it converts at nearly two to three times the rate as other channels. Need some help getting your GBP in order? Let's talk about a GBP audit and strategy!
---
If you're not tagging your GMB website links, you should! Tagging your links allows you to segment your organic Google Business Profile traffic from the rest of your organic Google traffic. That way, you can drill into valuable GBP insights (like the stuff included in this report!). Just add this tag to the end of your website link:
?utm_source=gmb&utm_medium=organic&utm_campaign=local