Loomly vs. Hootsuite vs. Buffer: What's the Best Social Media Tool?
There are plenty of social media management software options out there – you might say too many. Each platform has its own features and pricing structure, which offers brands willing to do their homework an opportunity to find the right fit.
Over the past several years, our social media marketing team has tested several platforms, from Buffer to Hootsuite and Later to Sprout Social. Don't limit your search to our favorite three – but we think this social media scheduling tools comparison will get you headed in the right direction.
What Should Social Media Publishing Platforms Do?
No matter which tools you're researching, make sure they meet the basic requirements of a functional tool.
It Should Post to All Your Channels
These days, most tools have the proper API connections to publish automatically to most major social media networks – in theory. Some tools may connect to the platform but send users reminders to post content manually. Until May 2023, for example, few tools could automatically post stories to Instagram. As new platforms gain momentum, you may need to nudge your platform to connect with new networks like Mastodon or Blue Sky.
It Should Organize Your Work
The best social media automation software will make your job easier, not harder. Platforms like Loomly, Hootsuite and Buffer allow teams to share ideas, save drafts for review and reuse high-performing posts to streamline workflows. Other features, like a saved media library and recommending trending topics, are also nice-to-haves to increase post quality.
It Should Measure Performance
Some platforms still separate scheduling from reporting – stay away from those. Having centralized social media reporting metrics creates a central point of truth and pulls in data from several platforms, making it easier to evaluate what's working and where it's working, too.
It Should Grow with You
You might be a scrappy one-person social media team today, but you could be running a distributed team of social pros in a year or two. Flexible user accounts and pricing ensures the tool grows your business and grows with your business, so keep track of future pricing options to anticipate important cost increases.
We can confidently say that all three platforms we're comparing check all these boxes and more. If you want to learn more about the basics of social media marketing, check out our Social Media FAQs.
The Best Social Media Scheduling Tools (According to Us)
We've put these three social media tools through the proverbial wringer over the years. Working with clients and internally, our social media team has collaborated, posted, analyzed and evaluated several tools and these are our favorites.
It's Loomly vs. Buffer vs. Hootsuite for the Ultimate Bragging Rights!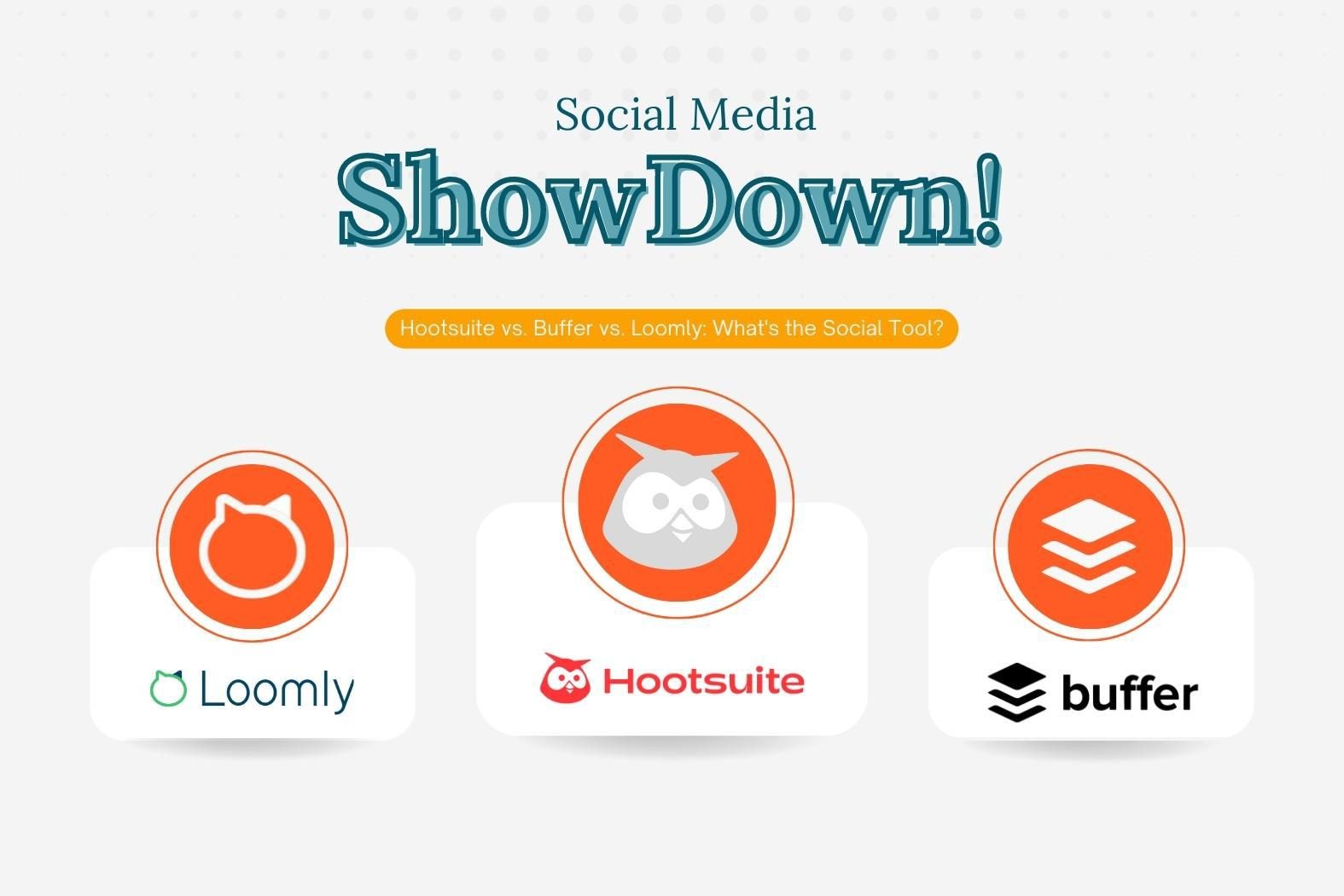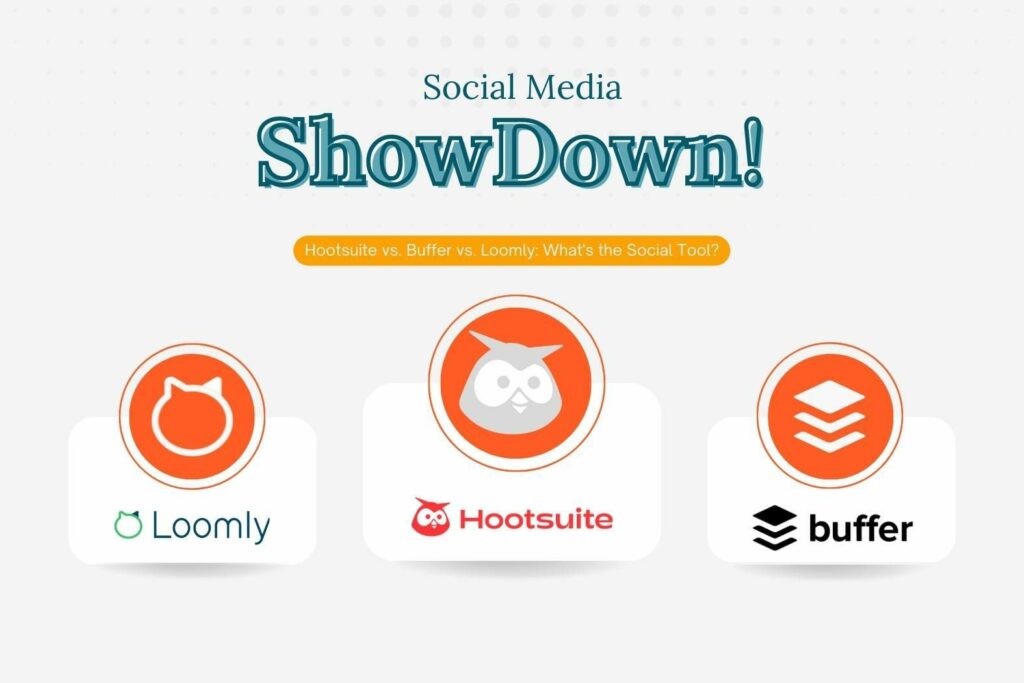 What Is Buffer?
Buffer is a social media publishing tool with approximately 140,000 paid users worldwide. The company started in the UK before eventually migrating to San Francisco in 2011. Interestingly, Buffer is a fully remote company, with over 70 employees working in 20 countries.
The first app took just 7 weeks to build, but over the past decade, it has expanded to meet changing marketing needs. In addition to its flagship publishing tool, it offers in-depth analytics, a social engagement tool and the ability to make effective landing pages from scratch in just a few minutes.
Some of its notable clients include Shopify, Microsoft, Stripe and the Denver Broncos.
Buffer Pricing
Buffer has changed its pricing structure several times over the years. Each iteration has moved the platform toward serving a wider array of brands based on the number of channels, users, access, and permission settings.
Most businesses can get away with the Essentials plan, which costs $6 per month per channel and includes publishing, analytics and engagement tools. Take a few minutes to compare all of Buffer's pricing options.
Does Buffer have a free plan?
It sure does! You can connect up to three accounts (think your Facebook, Instagram and LinkedIn accounts, for example) to the publishing tool. However, you won't have access to analytics or engagement, which will make reporting a bit time-consuming.
What is Hootsuite?
Hootsuite was one of the earliest tools for social media scheduling on the market and has kept its lead in the industry since 2008. Its dashboard and calendar format have served as the blueprint for the many Hootsuite competitors that emerged as Facebook, Twitter, Instagram and LinkedIn took off.
The company dwarves its rivals in terms of both total employee count (nearly 1,000 full-time staff) and over 16 million users in more than 170 countries.
Hootsuite boasts some big-name subscribers, including Domino's, the World Health Organization and IKEA.
Hootsuite Pricing
While Buffer's pricing is focused on the number of accounts you manage, Hootsuite has largely stuck to its original pricing structure based on set-number packages. Users can select from 4 plans that gradually increase the number of social accounts and users at each tier. Most internal marketing teams can likely stick with the Professional ($99/month) or Team ($250/month), which tops out at 20 social accounts and up to 3 users.
Does Hootsuite have a free plan?
Hootsuite retired its free plan in March 2023. It was a pretty limited option for any brand, connecting just 2 social accounts and the ability to schedule only 5 posts at a time.
Hootsuite vs. Buffer
So why is Hootsuite so much more?
Hootsuite does have a few key features that may benefit your team.
Ideal posting times – Hootsuite includes information on when your posts see the most engagement per platform, which helps you schedule posts at the right time.
Hashtag generator – Hootsuite will automatically suggest relevant hashtags to match your content, marketing and brand.
Streams – Hootsuite's earliest iteration survives as your content stream. See your Facebook, Twitter and other social media feeds on a single stream, making it easy to quickly comment, like and reshare content without logging into each platform across several tabs.
What is Loomly?
Loomly is the youngest company in our top three and by far the smallest. Founded in 2016, the company has 10 employees and over 7,000 paid subscribers as of March 2023. The start-up was acquired by ASG in 2021. It may not have a star-studded roster of big corporations, but it does have at least one marquee customer – us. Our social media team  has been using Loomly internally and for select clients for a little over a year now – and we dig it.
Loomly Pricing
Loomly might be the most competitively priced option for smaller teams, starting at $26 per month for 2 users and 10 accounts. Even the Standard plan, which allows 6 users and up to 20 accounts, is less than $1,000 per year.
Does Loomly have a free plan?
Loomly's free plan allows a single user to connect up to 3 social media accounts at a time. It might be the most functional free plan, but like Buffer, you won't have access to analytics and other nifty features.
Loomly vs. Hootsuite
In terms of functionality and features, Loomly and Hootsuite are the closest competitors, especially for distributed teams or agencies. Both have an intuitive workflow feature that makes it easy for teams to draft, approve, schedule and post content. We use this feature in Loomly to approve posts internally and with clients, saving us time and energy best saved for making great internet!
While both Loomly and Hootsuite offer some level of social listening, Loomly doesn't have Streams. That means you'll have to spend time on each platform liking, commenting and sharing, rather than doing it all from a single dashboard.
What Is the Best Social Media Scheduling Tool For…
We think each of these platforms is the best for a particular customer. No matter how you categorize your organization, make sure your chosen platform can grow with you, too!
…A One-person Internal Marketing Team
Buffer, and it's a no-brainer. The ability to pay-per-platform makes it the best option for small teams with just a few accounts and a single user.
…An Internal Marketing Team
We're going with Hootsuite because of its Stream and best time to post guidance. Hootsuite offers the sort of features that make busy marketing teams more impactful by suggesting content, performance insights and suggested hashtags during the publishing process.
…An Enterprise or Agency
Loomly! The ability to set custom user types makes it easy to collaborate, collect content and ensure top quality without unnecessary review steps. Loomly' s competitive pricing and exceptional customer support are also key factors.
Step Your Social Game Up with Oneupweb
Choosing the right social media tools is the first step toward cranking your marketing up a notch or two. The next step is working with Oneupweb. Our dedicated social media marketing team has the experience, skills and creativity to design and execute a strategy that converts. See what professional social media looks like; contact us today or call 231-922-9977 to get started!