How to Add Your Business to Apple Maps (and Why You Should)
Apple Maps is the built-in navigation app on more than 1.2 billion iPhones around the world. Those users are always on the go, and many rely on the app to find everything from a place to eat to legal services to a new pair of shoes. Get in front of those customers in just a few clicks; here's how claim your Apple Maps business listing or add your business from scratch.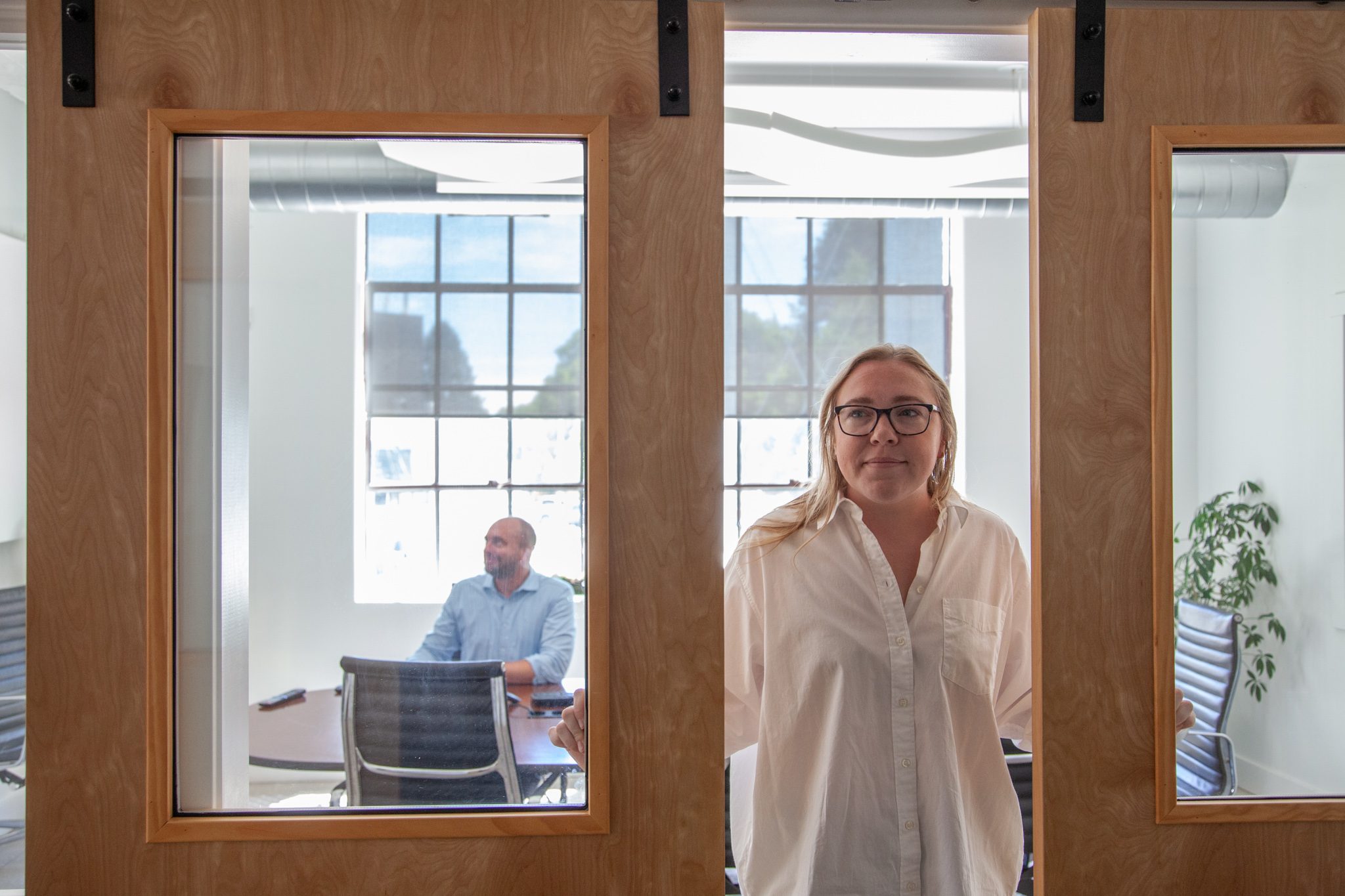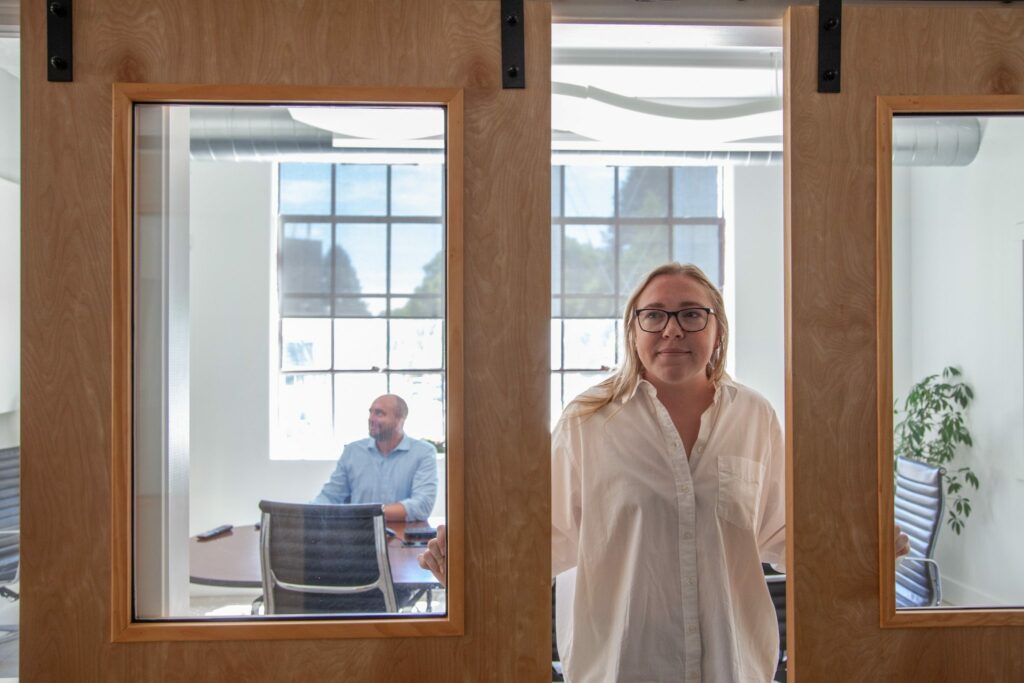 Get on the Map with Apple Business Connect
You make life easier for your customers or clients by providing important contact and location information on platforms like Apple Maps and Google Maps. These navigational apps help connect qualified users with your website or brick-and-mortar location quickly and easily.
Apple introduced Apple Business Connect in January 2023. The service mimics the functionality of Google Business Profile, providing businesses with a single source to manage their business listing on Apple Maps. New features implemented with Apple Business Connect include:
Showcases – These allow you to highlight offers and promotions, such as discounts or product launches.
Partner integrations – To encourage more user Actions, connect scheduling, delivery and other applications, including Instacart.
Multi-location integrations – Apple Business Connect profiles can now integrate with listing management tools like SoCi, Yext and others, making life much easier for businesses with more than a single location, like franchises.
More customizable fields – Update more parts of your listing details, like hours, location, map pin placement, photos, logo, offers, etc.
Adding Your Business to Apple Maps
There are two ways to add your business to Apple Maps: claiming a business and adding a new one.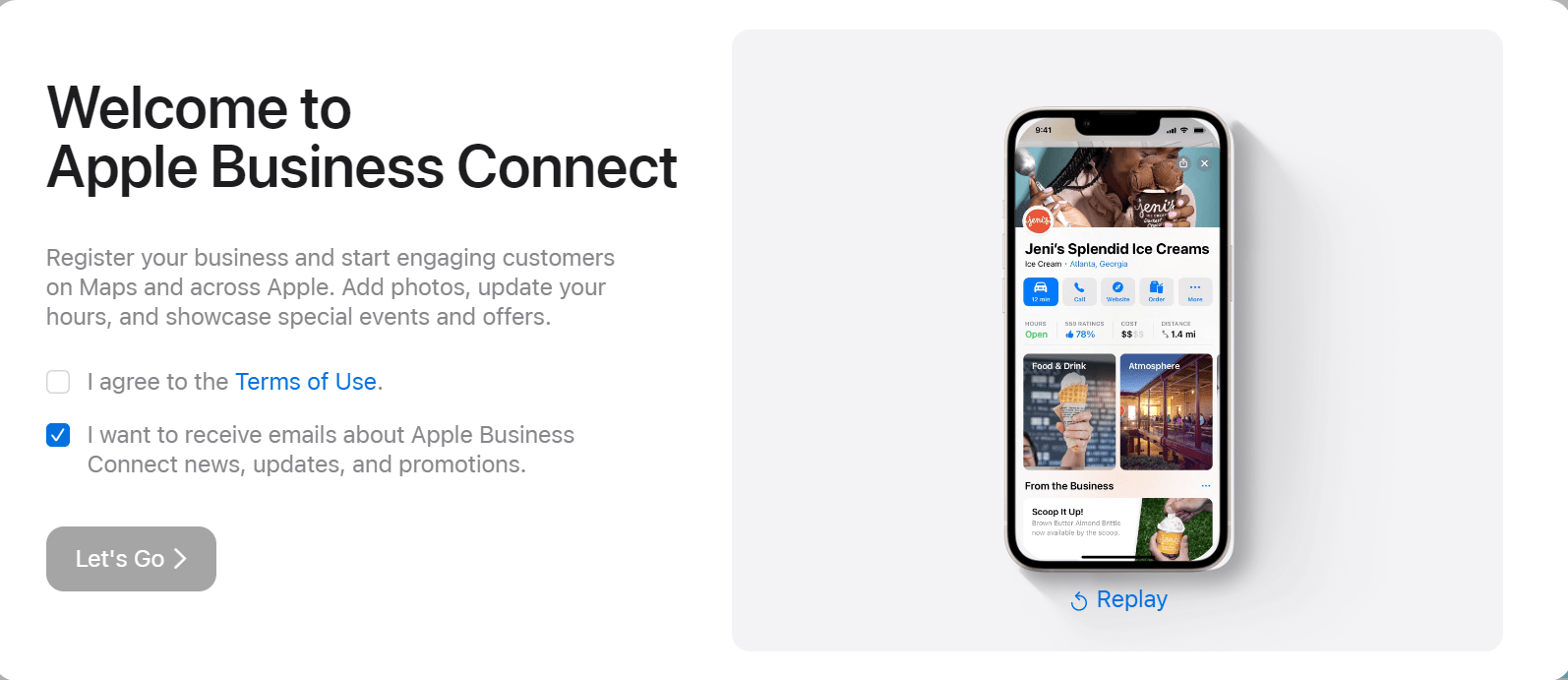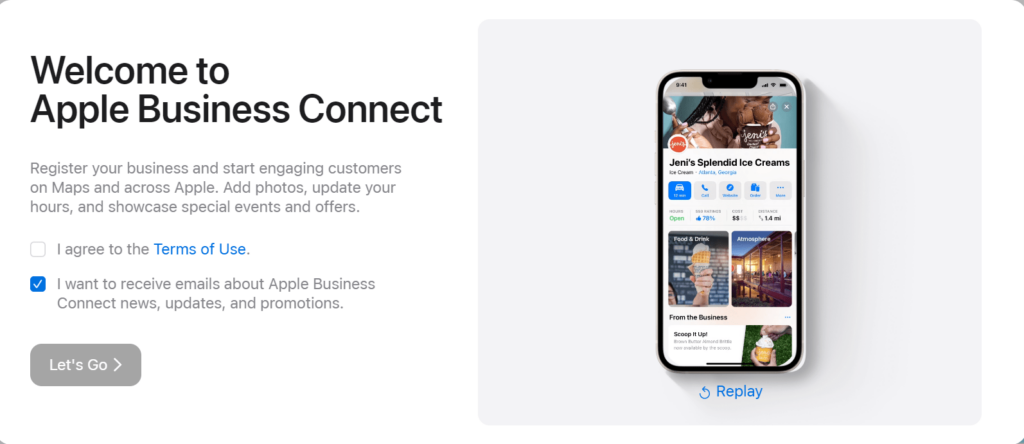 Claim a business. Apple may already display your business on Maps using basic information it found online or that was submitted by Apple Maps users. You can claim your listing and optimize it.
Add a new business. If your business doesn't appear as a Maps listing yet, you can add it from scratch!


Both claiming and listing a new business take just a few minutes. Before you get started, you'll need a few things handy:
Your business deets. Take a second to organize all your business contact information, including your address and phone number. Get more out of your listing by including links to your booking or appointment software or ecommerce store.
Your Apple ID. If you already have an Apple iPhone, iPad or Macbook, you probably have an Apple ID account. You may use that account to create or claim your Apple Maps listing.


How to Claim a Business on Apple Maps
Apple makes it easy to claim existing businesses. Here's how:
Head to the Apple Business Connect website.
Log in with your Apple ID.
Search for your business by name or address. If you don't see your business listed, select "Add new listing."
If you're adding a new listing, fill out all the information on the "Add a missing place" screen. This will include the business name, phone number and business category.
To claim an existing or new listing, you'll select "Verify Ownership" after reviewing the listing details.
Next, add yourself as the primary contact for the page.
You'll be prompted to verify your listing by phone. Select "Ok" to receive an automated call from Apple. This will give you a 4-digit code to enter on the verification screen.
After Apple checks your listing, you'll receive an email confirming your verification or asking for more information before you're approved. It usually takes 4-5 days to be verified on Apple Maps.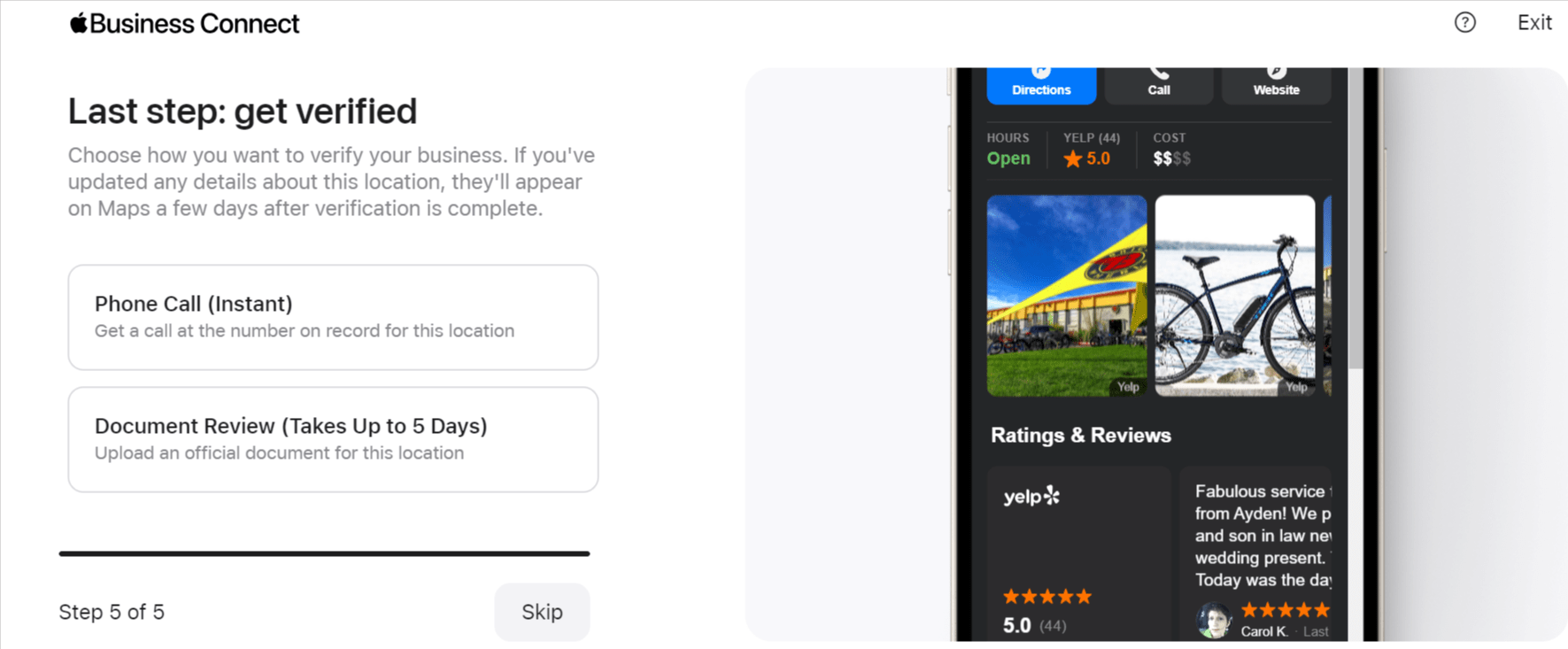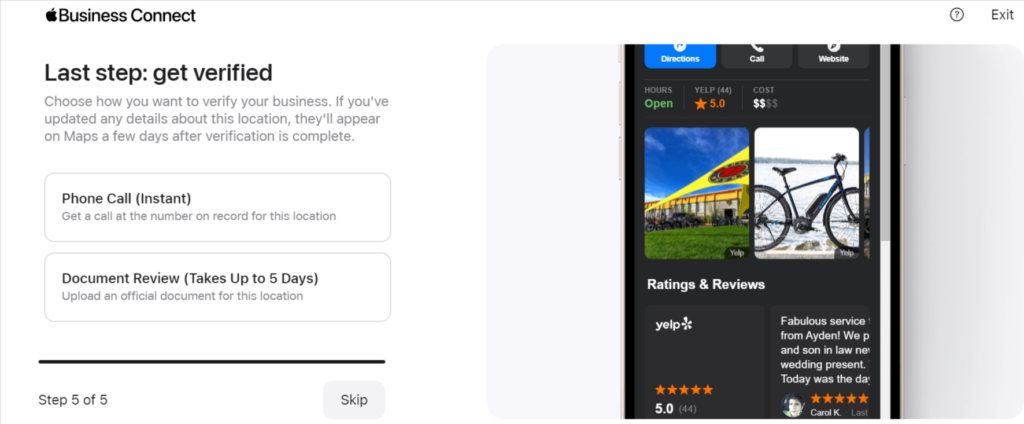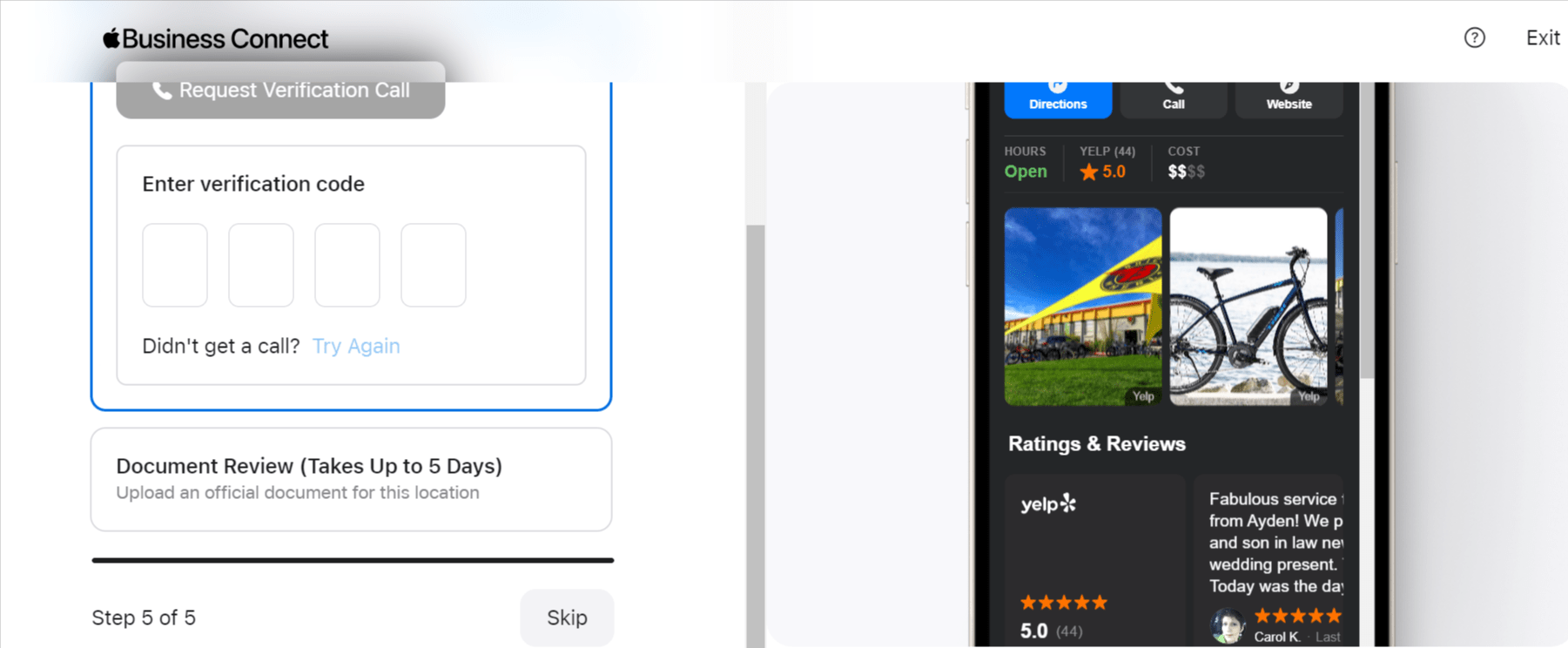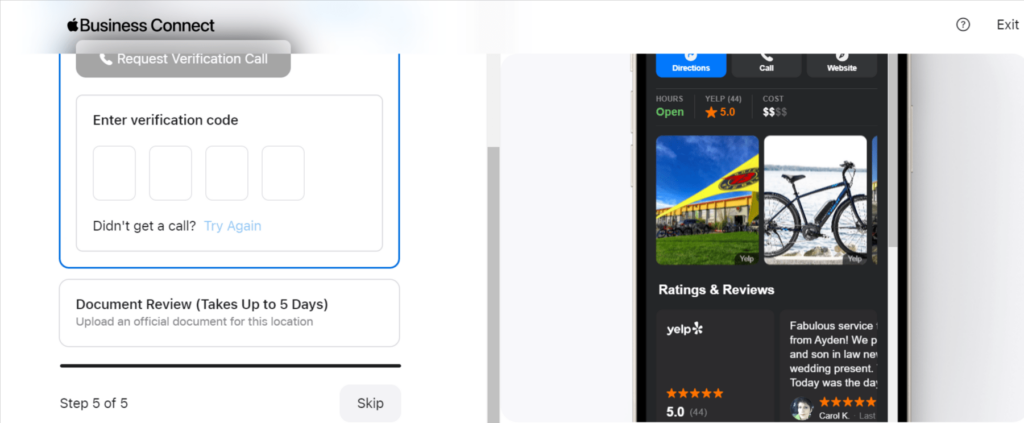 Can I Edit My Apple Maps Business Listing?
You should! Providing customers with accurate, up-to-date information reduces customer frustration and eases friction that keeps them from taking action, whether that's hitting up your restaurant for brunch or using your website to learn more about your business. Update your Apple Maps listing any time your contact information changes, your hours of operation change or when you offer new, exciting products or services that users want to know about!
Related: Google Business Profile Optimization Tips
How to Optimize on Apple Maps
Most businesses have invested considerably more time optimizing their Google Business Profile, but Apple Maps is also worth addressing. Get more out of your listing by following these Apple Maps optimization tips.
Keep Your Listings Consistent
Apple Maps draws much of its business information from Yelp but also relies on other directories to compile metadata. Keep your business name and information consistent everywhere online to boost your Apple Maps SEO. For example, if you list your business as "That's My Jam – Traverse City" on Yelp and "That's My Jam TC" on Factual, your listing may be displayed inconsistently or not displayed at all.
Gather Reviews on Yelp!
Apple Maps pulls its reviews from Yelp. Positive reviews on Yelp can improve your rank on that platform and enhance your position on Maps. Remember that most users read reviews before trying a new product or brand, so take the time to respond to reviews and answer questions!  
The Apple Business Connect platform retains the previous integration with Yelp.
Optimize for Voice Search
Does Siri use Apple Maps? It does indeed! And Apple users love Siri. The iOS virtual assistant automatically searches Apple Maps when given a voice command, so consider using long-tail keywords in your listing content and your website landing page, like, "Where is the nearest bakery?" Use your own search habits as a gut check; if you were using voice search to find your business, what are 2-3 ways you'd ask Siri to locate it?
Already Have a Google Business Profile? Don't Skimp on Apple
If you're weighing Google Maps vs. Apple Maps results for businesses to decide if you should have both types of profiles, look no further. While Google Maps is the world's preferred navigation app, Apple Maps is too big to ignore.
Google Maps has roughly 1 billion monthly active users (MAU) and captures 72% of all mapping market share. By comparison, Apple Maps holds 11% of the map market behind runner-up Waze. The best data indicates that Apple has about a quarter of the MAU on mobile.
Android Users vs. Apple Users
Apple Maps is the default app for all Apple iOS products, just as Google Maps is the go-to app for Android. Studies have found valuable differences between Android users and Apple users that are worth noting for brands.
In general, Apple users tend to have higher income levels, higher education levels and use apps on their phones more often. A lot more – the average iPhone owner scrolls about 9 hours more per month than an Android owner. During that time, they're probably shopping, too; with a median income $15,000 more than Android users in the US, iPhone fans are more likely to use their phone to buy things than other users.
Even if Apple Maps has considerably fewer monthly active users, the platform's demographics and substantial market share in the US and Europe make it a marketing opportunity brands can't afford to miss.
Get More Eyes On Your Brand with Apple Maps Optimization
Make Apple SEO a part of your comprehensive digital strategy. Call on more than two decades of proven SEO and content marketing services to improve organic search results, increase brand awareness and drive conversions. Get in touch with us or call 231-922-9977 to get your business on the map in a big way.