Meet Kristen "Plant-Friendly" Nelson: Our New Administrative Assistant
Name: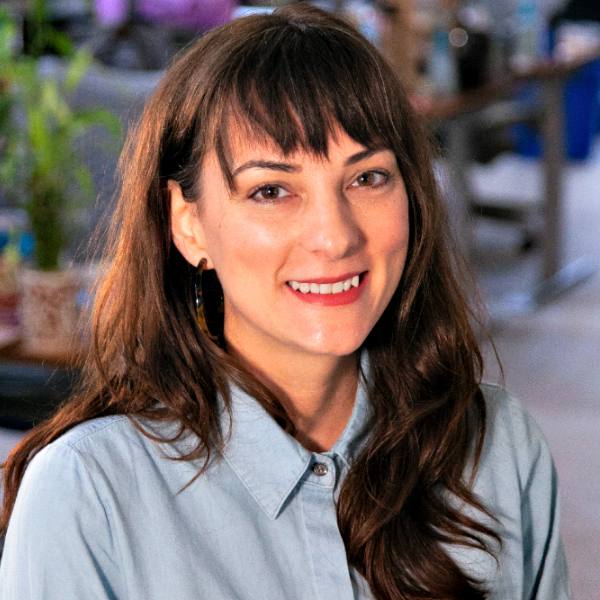 Kristen Nelson
Position:
Administrative Assistant
What's your average day like at Oneupweb?
You can usually find me darting around the office, and I'll probably be carrying something heavy or awkwardly shaped. This is the only office job I've had where I need to really think about what sensible shoes to wear. When I'm not running around, I'm staring at a random object making sure it looks just so with my "client eyes."
Tell us about a favorite Oneupweb moment.
I'm still fresh around here, but one fun moment was on my second day when we had a company-wide meeting. It was pretty clear that my super-dry sense of humor was going to fit in nicely. I also enjoy the morning hellos and walks around our neighborhood, The Village at Grand Traverse Commons.
What's your favorite blog, and why?
If you would have asked me this a year ago, I would have more to say. I used to read a lot of Eater or Well + Good, but since my son was born, I just read my morning briefing email from the NYT and call it good.
What makes Traverse City appealing?
I recently moved back here to Traverse City after several years of living in San Francisco. When I returned, I was surprised at how much our small town had grown in a fun, progressive and modern way! A Californian friend of mine visited last spring and is convinced that TC is the next "it" town – she may be right. Mostly, I'm happy to have a real summer again, instead of hearing this every July … "The coldest winter I ever spent was a summer in San Francisco."
What do you really do at Oneupweb?
I keep the plants and the people happy, healthy and hydrated … mostly the plants.
What do you do when you're not at work?
I love thrift stores and antique shops – the long, tedious hunt for a hidden treasure. I sold vintage baby clothing on Etsy for a while. When I'm not treasure hunting, I'm strolling downtown Traverse City with my family looking for a bite to eat.
If you were stuck on a desert island, what office tool would you bring and how would you make your deadline?
My succulent trimmings! They'd thrive in that terrain.
Years from now, what will stick out most about 2019?
This is honestly the hardest question for me to answer. 2019 has been a blur. I'm hoping it will be the epic Halloween costume that I come up with for my now 10-month-old baby.
It's 5:30pm – what's your cocktail of choice?
Fall & winter: Manhattan with a cherry, or Old Fashioned without the muddled fruit.
Spring & summer: It's still early, so an Aperol spritz or a Greyhound (and this is important) with freshly squeezed grapefruit juice.
What's the last song you intentionally listened to?
Spotify is telling me it was, "Vans" by The Pack – which is definitely correct, because I went on a little Bay Area listening binge this weekend.
What do you carry in your purse?
Lip balm, hand lotion and a crystal salt-rock deodorant. Well, you asked.
What's your secret guilty pleasure?
I've eaten at least 15 Cadbury Eggs (and counting) this year.
Favorite book/movie/album/TV show/etc.?
I have the worst time choosing a favorite anything, but I'll say, Desus & Mero is all I could ever wish or hope for in entertainment. Besides that, I love thrillers and awkward indie-type things in general.
Tell us something weird/unique/quirky about yourself.
This may not surprise my fellow OUWers, but I high-five trees regularly. I've also done the polar bear dip, which was held in February on Lake Michigan when I participated.
What's one of life's simple pleasures?
Driving with the windows down.
The internet is listening: Give us some words to live by.
Don't get so caught up in your own opinion, it's only one perspective – from my Instant Karma book.
That, and never listen to Aphex Twin in heavy traffic – listen to Notorious B.I.G.