SEO PPC Sexy Swivel Table Template
If you've arrived at this page, it's likely you already understand the benefits of aligning your PPC and SEO campaigns. Congratulations! You're among the enlightened.
The purpose of this Google Sheet is to help you sort through the "Paid & Organic" report that you have exported (or will soon export) from your Google Ads account. All you'll have to do is copy and paste your data into our sheet, and it will automatically populate a swivel table that allows you to easily identify paid and organic content opportunities.
5 Reasons to Align Your PPC and Organic Campaigns:
Total SERP domination
Improved quality scores, more efficient paid campaign
Better user experience
Improved CTRs (or clickthrough rate, for both organic and paid)
Ability to A/B test landing page copy with ad copy
Other agencies may call this "synergy," but that word is banned from our vernacular.
Download the Oneupweb SEO PPC Sexy Swivel Table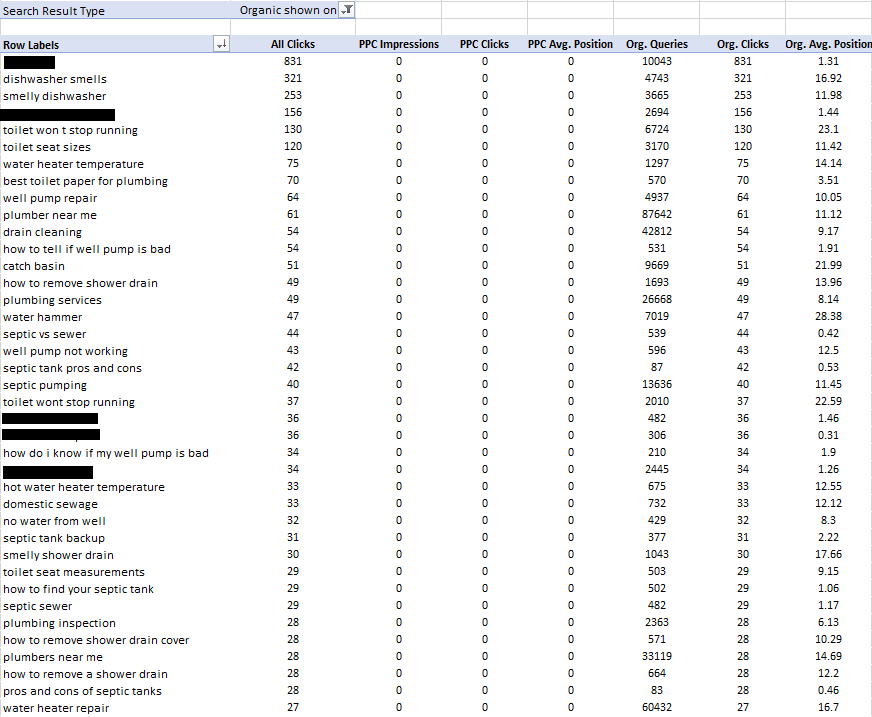 Ready to begin? Follow these instructions
EXPORT "PAID AND ORGANIC" REPORT FROM GOOGLE ADS (NEW VERSION): IN MAIN NAVIGATION, CLICK REPORTS > PREDEFINED REPORTS > BASIC > PAID AND ORGANIC
DOWNLOAD REPORT AS EXCEL.CSV DOCUMENT
OPEN FILE, AND COPY ALL DATA (CTRL+A, CTRL+C).
RETURN TO THIS WORKBOOK, AND CLICK ON CELL A1 ON THE "PASTE DATA HERE" SHEET
PASTE VALUES (CTRL+P)
IN THE "PPC SEO SEXY SWIVEL TABLE" SHEET, CLICK ANY CELL IN THE SWIVEL TABLE
IN THE MAIN MENU, OPEN THE DATA TAB AND CLICK "REFRESH ALL"
TOGGLE SEARCH RESULT TYPE IN THE TABLE TO SEE "ORGANIC SHOWN ONLY," "PAID SHOWN ONLY" OR "BOTH SHOWN"
Need help deciphering the data?
So what can you do with all this data?
In the Organic Shown Only section, consider adding the keywords you see to your PPC campaigns. What's the search intent? What's the CPC?
In the Paid Shown Only section, look for keywords that do not have an associated organic landing page. Consider creating a new page to improve the quality score of your paid campaign and achieve organic search representation.
In the Both Shown section, look for valuable keywords that are ranking low organically. How can you further optimize the associated organic landing page? Consider increasing bids until organic performance picks up.
Now make a plan and get busy! If there are multiple parties managing your PPC and content marketing campaigns, consider reviewing this report as a team. It's time we stop thinking in terms of PPC vs. SEO. We're all on the same team here. And research shows that both campaigns see higher CTRs when working together. In other words, teamwork makes the dream work. If you need help aligning your organic and PPC campaigns, let's talk!
---
If you heard about this report from the Digital Summit Detroit, you may also be interested in generating a CTR graph that's specific to your website.
Download the Organic CTR Graph Template