SEO PPC Pivot Table Template
You probably already know the benefits of aligning your organic and paid marketing campaigns. Congratulations! You're ahead of the game. If you haven't started integrating SEO and PPC efforts, now is a great time to start so you can start raking in that data.
One of the tools we use to align our organic and paid efforts is a pivot table. Here's how it works!
Using Pivot Tables for SEO and PPC Comparison
Our Excel pivot table document helps you sort through the "Paid & Organic" report that you have exported (or will soon export) from your Google Ads account. All you'll have to do is copy and paste your data into our sheet, and it will automatically populate a pivot table that allows you to easily identify paid and organic content opportunities.
How PPC and SEO Work Together
SEO and PPC integration align different parts of your marketing strategy, ensuring that your efforts support each other. Integrating paid and organic marketing efforts leads to benefits like:
Total SERP domination. Maximize your SERP coverage by targeting the same or similar searches through paid and organic efforts.
Improved quality scores and more efficient and effective campaigns. A combined paid and organic report offers insights into your marketing strategy, highlighting gaps and opportunities that your team can leverage to increase your site traffic.
Better user experience. Keep your paid and organic teams on the same page to ensure users aren't getting conflicting messages from different sources.
Improved CTRs (or clickthrough rate, for both organic and paid). PPC and SEO working together can increase a potential customer or user's awareness of your brand, making them more likely to convert in the future.
Ability to A/B test landing page copy with ad copy. Gather more data from landing page testing by running ads that push people to the landing page or support A/B testing two versions of an ad with a stellar landing page that matches the message of both.
Download the Oneupweb PPC and SEO Pivot Table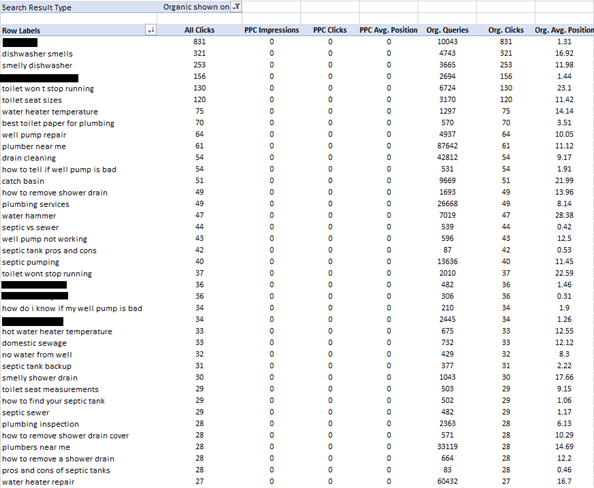 How to Integrate SEO and PPC Marketing Reports
It's easy to use this pivot table to bring your paid and organic keywords into a single place. Follow these steps to download the correct data in Google Ads and import that data into the spreadsheet.
Export your "Paid and Organic" report from Google Ads (new version): in the main navigation, click Reports > Predefined Reports > Basic > Paid and Organic
Download the report as an excel.csv document
Open the file and copy all data (CTRL+A, CTRL+C)
Return to the Oneupweb pivot table workbook and click on cell A1 in the "Paste Data Here" sheet
Paste values (CTRL+P)
In the "PPC & SEO Pivot Table Template" sheet, click any cell in the pivot table
In the Excel main menu, open the data tab and click "refresh all"
Toggle the search result type in the table to see "organic shown only," "paid shown only" or "both shown"
Need help deciphering the data?
What To Look for In Your Report
Just having the data doesn't do you much good if you can't apply it to learning and growing. Gain insight from your data by drilling down and testing your results. Here are three places to start digging:
In the Organic Shown Only section, consider adding the keywords you see to your PPC campaigns. What's the search intent? What's the CPC?
In the Paid Shown Only section, look for keywords that do not have an associated organic landing page. Consider creating a new page to improve the quality score of your paid campaign and achieve organic search representation.
In the Both Shown section, look for valuable keywords that are ranking low organically. How can you further optimize the associated organic landing page? Consider increasing bids until organic performance picks up.
A Final Note – Bring Your PPC and Organic Teams Together
If multiple parties manage your PPC and content marketing campaigns, consider reviewing this report as a team. Research shows that both campaigns see higher CTRs when working together. Don't think of this as PPC vs. SEO; breaking down silos makes both efforts more effective and more efficient. We're all on the same team here.
Let Us Sort the Data for You
Our dedicated team handles paid and organic campaigns from start to finish. You'll get an integrated monthly report with the data you need to make important decisions. Get the SEO services and PPC support your team can't provide. Ready to get more out of your digital marketing? Get in touch with us today!