Mastering Social Media on the SERP With 5 Social SEO Best Practices
Social media doesn't stay on self-contained websites anymore. It's all over the internet, from actors reacting to tweets in interviews to account links featured on nearly every company's website. Social media posts are also becoming more vital to SEO, showing up on the SERP (search engine results pages) for some queries! Google searches frequently return social media posts. It doesn't have to be a web page anymore; your social post can now show up in the SERP if you have the answer someone's been searching for.
First, SEOs came to bless your websites. Then we came to optimize your blogs. Now we're coming for your social media posts to give them the best chance to show up on Google, Insta, TikTok and more when people type their latest query.
What Is Social SEO vs. Standard Search Engine SEO?
Social SEO encompasses all social media optimizations. While you can and should optimize posts to show up on the standard results page, it's also important to optimize them for searches within the social media platform where you post.
Strategies for optimization overlap, but social SEO has its differences.
Social media SEO:
Optimizes for on-platform searches
Uses platform features like hashtags, alt text and video captions
Focuses on keywords performing well on each specific platform
Follows platform guidelines for optimal post length
Changes based on the social platform
Why You Should Care About the Connection Between SEO and Social Media
When it comes to searching for answers on the internet, Google and other traditional search engines are no longer alone. About 40% of Gen Z prefers to search for answers on social media platforms like TikTok and Instagram over Google, which makes optimizing social media posts an increasingly important part of SEO.
That doesn't mean Google is dead, of course. With 92% of the search market share, Google is still the beast to please. Google serves results from social media to ensure they still get traffic from users who might have otherwise searched through their favorite social media app.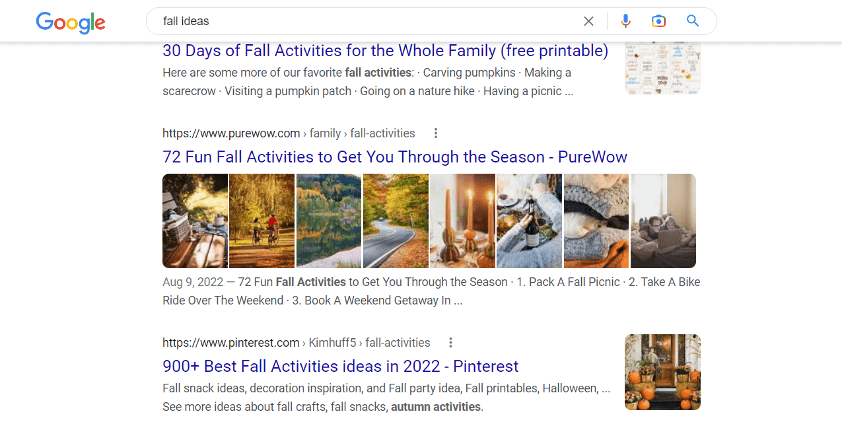 Social media offers one more way for you to answer user questions and establish your company or organization as a trustworthy source of information. A well-optimized social post will have a better chance of getting in front of potential customers on social media and on the SERP.
How to Optimize Social Media for Business: 5 Social SEO Best Practices
1. Research Social Media Keywords
Begin researching keywords for social media the same way you would any other page optimization: turn to your tools. Tools like SEMRush, Ahrefs and Google Trends can give you information on how your queries perform on general search engines. You'll need to shop around for platform-specific research tools to find what you like.
VidIQ is an excellent resource for researching YouTube keywords. Narrow down Instagram and Twitter hashtags using Keyword Tool, or upgrade to the Pro version to get data on search volume by platform. In addition, social media sites themselves make ideal resources for choosing keywords. Type a partial query into the search bar and use the autocomplete suggestions for inspiration.
2. Tailor Social Media SEO by Channel
Not every social SEO strategy will work for every social media site – and what works on Google or Bing might not translate perfectly to on-platform searches. Keeping an eye on your social media KPIs is vital, so you can note what works on individual platforms and what needs tweaking for better engagement.
Choose keywords that fit your ideal social media post length without overwhelming the content. An 80-character Facebook post works best with a to-the-point keyword, while 150 characters for an Instagram caption leaves more room for a long-tailed keyword. Long blog posts or showcase pages on LinkedIn offer you the most opportunity to include multiple keywords in a way that's natural and helpful to users.
3. Optimize Video and Images
When you include multimedia in your posts, it opens other opportunities to insert keywords. Write alt text for images using a relevant keyword to optimize your images for search. This helps social platforms understand and serve your content to searchers.
Videos that contain speech also contain opportunities for keywords. Include keywords in the script and they'll appear in auto-generated captions (though you should always edit them to ensure correctness).
4. Choose the Best Social Media for SEO and Your Business
Not all social media sites are created equal. SEO and social media are a powerful combined force for your business, but only when you choose the platforms that your users already use. Do market research to find out where your target audience spends their time.
It's also important to consider what content types fit your business model. TikTok is great for building a funny, relaxed or personable brand persona. Promote your shop on Instagram with product shots or reels. Combine words and multimedia on Facebook or establish yourself as a thought leader in your industry with blog posts on LinkedIn.
5. Optimize Your Profile, Not Just Your Posts
There's a reason that profiles have an "about" section, and it's to let people know who you are. It's also a prime spot to put keywords that relate to your business. For example, don't just put "contractor" for your roof repair company when you can put "roof repair contractor" or "roof repair company." Both are more descriptive and tell users (AND search engines!) more about what they can find on your page.
Ensure that you have all parts of your profile filled out. Include a logo or headshot profile pic, depending on your business's size and type, and a header image if the site allows one. Fill out location, industry, the "about" section, contact info and other relevant fields. Remember to link your site if there's a field for a website link or space in the description.
If the site you're on offers business or professional profiles, consider starting one. It adds legitimacy and may open you access to features not available on standard accounts.
Related Content: Developing a Social Media Strategy
How Can You Optimize Your Presence on Social Media Without a Social Media Team?
That's easy: get support from SEO and social media experts. Oneupweb fields a talented team that provides social media optimization services and marketing support to help you grow and optimize your professional presence across various social media sites. When you're ready to lay out a social media plan that includes social SEO, connect with us online or give us a call at 231-922-9977 to get started.