Developing a Social Media Strategy
Why You Need One, How to Make One, and How a Marketing Agency Can Help
Navigating your business's social media success without a strategy is like expecting to arrive at a destination well prepared and on time despite having the slowest transportation, missing luggage, and an incomplete map. Impossible!
When you plan accordingly, social media doesn't just increase sales or brand awareness; it also provides invaluable benefits like a stable community and amplification of your marketing efforts in other channels. This is exactly what a social media marketing strategy can help you accomplish. Here's the rundown of how to get started.
What Is a Social Media Strategy?
A social media strategy is your full itinerary, a master plan for concepting, creative execution, community management and refinement as you go. It addresses the how of planning and the why.
To do that, you need to be familiar with all aspects of your target audience, marketing goals, and means of production. A great way to get started is with a full social media audit, providing you with specific metrics about your current social presence and uncovering gaps or opportunities for additional growth.
The result is an adaptable blueprint for building your social media presence and community.
Why Is Social Media Strategy Important?
With more than 93% of global internet users also being social media users and spending an average of 147 minutes per day on social media, it's safe to say that social media strategy is essential for the success of most businesses. Studies show that consumers actively increase their social media use to discover new products, and 78% are willing to purchase from a company after a positive experience with them on social. There's no more obvious way for consumers to say, "Please, guide us to your products and services!"
Your strategy is their map to discovering, engaging with, and even contributing to your social growth. Consumers are already seeking you; you just need to show them where to look and how to get there.
Benefits of a Social Media Strategy
Aside from the obvious of expanding your brand reach and increasing overall site traffic, the benefits of social media strategy include:
Increasing and maintaining brand awareness.
Driving consistent traffic to your site.
Boosting sales.
Encouraging brand engagement.
Building trust and loyalty.
Learning more about your audience.
Helping your audience learn about you.
Providing better customer support.
Collecting meaningful data to support marketing.
Amplifying cross-channel marketing strategies.
If you're thinking, Well, I've already acquired these benefits without a strategy, so do I still need one? The answer is always yes! Why? Because a long-term social media strategy is all about delivering to your audience a richer, more personalized experience with your brand—one that will build a strong community.
Instead, a common social media marketing mistake that businesses make is utilizing social platforms for the sole purpose of creating a brand presence or sharing product information. These efforts often then result in low-quality traffic and limited growth because content, channel, and audience don't align. Without a strategy in place, you have no way of directly attributing your efforts to your goals or documenting beneficial tactic changes.
How to Develop a Social Media Strategy
1. Do a Social Media Audience Analysis
Simply identifying your target audience isn't enough to develop consistent sales and growth. Understanding the needs, values, interests, and purchasing motivations of your audience allows you to adapt to their changing demands through ever-evolving social media platforms. Because—let's face it—if you're not willing to grow with your audience, your audience will move on to a competitor that is.
Wondering how to identify your target audience on social media? Research these characteristics:
Purchase intention. Is your product or service commonly bought as a gift? Is it often compared to other brands? Does it provide sentimental or emotional value? The more you know about your audience's purchase intention, the better you're able to communicate and develop your offering to meet those needs.

Content consumption intention. With endless content to consume on social media, it's important to understand why your audience is actively choosing yours. Is it entertaining? Informative? Transactional? Understanding this key difference will help you establish whether your audience would be more likely to engage with an in-depth How-to YouTube video, or brief and entertaining TikTok.
Social platform preference. Most people today toggle between multiple platforms. But where does your audience hang out the most? If you're selling slinkies, your marketing efforts would not be well spent on a platform like LinkedIn. Unless, of course, a new study finds that slinkies can increase work productivity.
Interests. What common interests (outside of your product or service) does your audience have? Use these similarities to influence social themes, enhance product development, and connect with your audience through messaging.
Brand values. More and more, consumers want to see brand values before giving a brand their loyalty. Dig deeper into the values your audience prioritizes. Do they value sustainability? Speaking out on political and social issues? Contributing to charity? Consider what unique values your brand prioritizes and practices, and make sure they authentically align with your audience.
Take a look at Cards Against Humanity's Instagram, for example.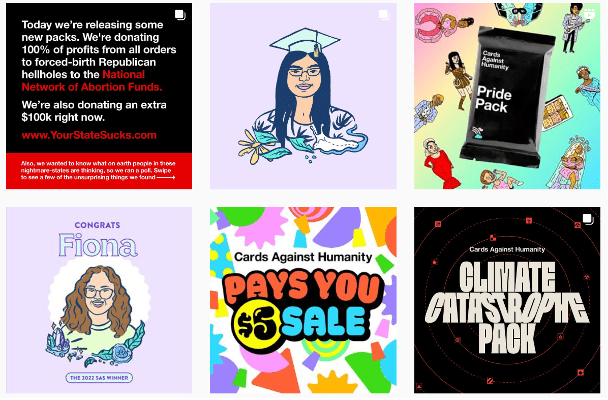 Pain points. This could include issues brought up by your customers relative to product development, customer service, content inclusion, user experience, and much more. Even if you're unable to resolve these issues through social media, they provide a platform for you to address them—something that users strongly value.
A direct way to tap into these concerns is through social listening. Setting the standard, Southwest Airlines Social Media Listening Center didn't just provide consumers with real-time feedback; it utilized the customer's voice to deliver feedback and implement changes. This is ultimately what every consumer wants—for their voice to matter.
2. Set Social Media Goals (Examples Here!)
What goals are most valuable and urgent to your brand currently? Which of them is actionable and measurable? How does each goal correspond with and affect another? As you begin to lay out these initial goals, you'll start to notice a clearer path to begin your strategy.
Here's how to set goals for social media:
Align with marketing goals. Every part of your social media marketing strategy should have a purpose or goal that aligns with your overall business objectives. If those goals are disconnected, it will not only manifest as disjointed social posts—it will also further divide your departments. On the flip side, with the right marketing alignment and metric tracking, social media is an integral piece of your business's success.
Establish measurability. Measurable goals are the key to building an effective and sustainable strategy. Top-level metrics such as engagement, impressions, and brand mentions will help you measure each platform's value and establish more specific content and micro-goals. Other key performance indicators (KPIs) may include clicks to your website, social-referred sales, and non-revenue conversions. Learn more about how to determine your KPIs for each marketing channel.
Categorize short-term and long-term. Short-term goals are often what you can measure—e.g., sales, traffic. A long-term goal may be more about your relationship with your audience. Categorizing these goals will help you determine when and where to prioritize them and how the collective short-term builds into long-term goals.
Determine causal sequence. Similar to your short- and long-term goals, the success of one goal is often reliant on the success or implementation of another. That said, the sales and goal funnel of social media is not formulaic. So, instead of expecting a specific sequence of goals or events to happen, adapt to the most recent goal completed. For example, if you've accomplished the goal of increased brand awareness, don't assume the next step is increased sales. Instead, anticipate various avenues your audience may take next, and refine those parts of the customer journey to continue guiding them.
3. Choose Social Media Platforms
Don't waste time and resources posting content to channels/platforms that your audience doesn't currently use or plan to use. Doing so will only lead you to dead ends. Once you've completed your deeper dive into audience research, align that information with your platform selections.
You'll know how to choose social media platforms after looking at these details:
Audience demographics. Use the tools from your existing platforms to identify demographics like age, gender, location, and education of your audience. From there, you can use social media demographics to narrow your content efforts to relative channels and conceptualize a plan for expansion to other relevant channels.
Primary content medium. Work with what you have. If your primary content type is photography, consider which platforms may be best suited for that type. Instagram, in this case, may be the best option. However, cross-posting is common practice and can be efficient when you adapt your content to different platform sizing and channel-specific messaging.
Always think of how you can repurpose content. Photography or graphics can be repurposed for blogs, guides, email, and more. This will allow you to expand into other channels without integrating a completely new content type, such as video, if that's not currently in the budget.
Niche considerations. There's a reason that Facebook, YouTube, Instagram, Twitter, Snapchat, TikTok, LinkedIn, and Pinterest seem to be the end-all-be-all of social media—they're the most popular social networks worldwide. So, although you should certainly be prioritizing these in your strategy, don't neglect niche networks where your most loyal customers may reside. Explore this list of 100+ social media sites that could be the springboard into better community reach.
Expansion strategy. Whether or not you currently have the tools to expand your social media strategy, it's important to develop a plan for when you do. Use your audience research to establish which additional social platforms would best meet your audience's needs, and what additional resources you'll need to accommodate that expansion.
4. Plan Your Social Media Posting Schedule
If there's one thing we know for sure about social media, it's that the algorithm waits for no one. It's not only the latest and greatest content that matters but also topic relevancy, and the frequency, date, and timing of posts. Based on your determined social channels, consider the following when planning your posting schedule:
Here's how to create a social media post schedule:
Look at seasonal trends. Seasonality affects all businesses, some more than others. The bad news is these trends are unavoidable; the good news is they're often predictable and can therefore be used to your advantage. Take Starbucks, for example. It's nearly impossible now to enter the fall season without spotting or hearing about pumpkin spice lattes. Starbucks hardly has to do any of the marketing work anymore…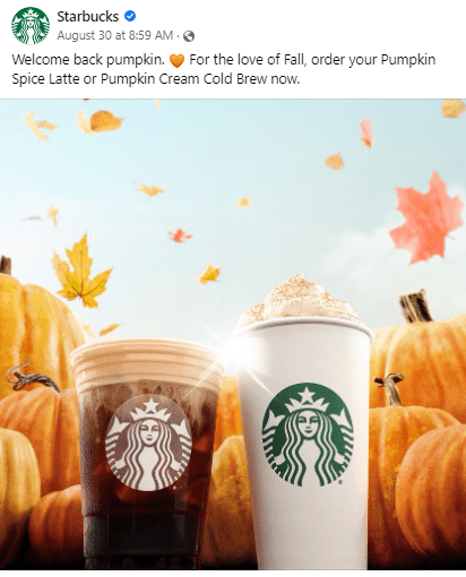 Just as there are seasonal dips, there are also seasonal peaks—embrace and strategically utilize these periods of engagement and excitement around your brand's products and services. Sales spiking around the holiday season? Lean into the sentimentality of your offerings. Offer customers greater incentives such as discounts or additional amenities. Prepare for off-seasons, and take advantage of the quiet, by improving the usability and quality of your site.
Stay "in the now." That includes current events, topics, or trends and their relevancy to your audience. Leave room in your posting schedule for flexibly responding to or sharing current happenings. No, that doesn't mean you have to hop on everything that gains heavy traction—in fact, doing so will likely backfire. But when you can find a way to genuinely fit these trending or anticipated topics into your posts, the result is often a spike in reach and, most importantly, a greater sense of comradery built between you and your audience.
Hit the right posting frequency. This ultimately depends on the expectations you've established for your audience already, and what schedule you can reasonably accommodate in the future. In other words, if you're currently posting once per week, don't suddenly drop below that amount. But also, don't underestimate the commitment it takes to significantly increase your posting frequency. Figure out the sweet spot for your audience and your social team, and stick to that schedule. If you need help staying organized, check our guide for creating a social media calendar.
Choose dates and times. There are actually best and worst times to post on social media, and it's different for different platforms. Though this data doesn't necessarily apply perfectly to every business, it does give you a framework for more successful posting times.
Boost social media posts. Boosting your posts is an easy and effective way to get more engagement out of your posts. Because, unfortunately, organic reach on Facebook is only 5%. Boosting will allow you to better target certain audiences, adjust your budget as needed, and see potential reach. The result is a bump in visibility and reach beyond current audiences to help drive brand awareness without yet committing to ads.
Remember that this wider brand exposure will not necessarily convert quality leads or drive significant traffic to your site. While boosting is essential, paid ad services can guarantee social media growth.
5. Develop a Brand Voice
Brands that have a successful and engaging social media presence don't always have huge budgets for content creation; rather, they have a team of wordsmiths who developed a consistent and engaging social media brand voice that has been adapted across platforms.
Here's how to find your voice on social media:
Align with current communication voice. Whether or not you currently have an active social media presence, your business already has an established voice: on your website, emails, customer service communication, and advertising. Your social media brand voice probably won't be (and shouldn't be) exactly like your brand voice on your website—but it should still be your brand. Maybe it's you hanging out with your work friends instead of your boss, for example.
As you continue to grow your audience and refine your posting style, over time, your voice should become so engrained with your product that users can identify one without the other. A great example is Oatly. While their audience demographics across their Facebook and Instagram accounts call for some variation in approach, it's clear that their humorous, long-winded rambles are identifiable anywhere.
Find out how you can better maintain a consistent brand voice and tone.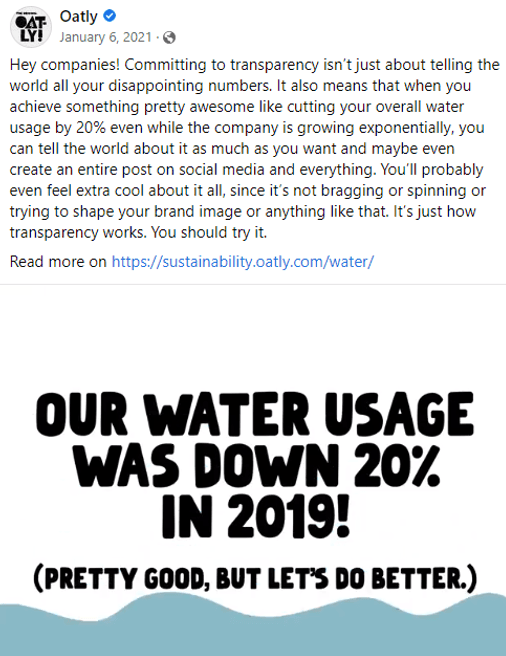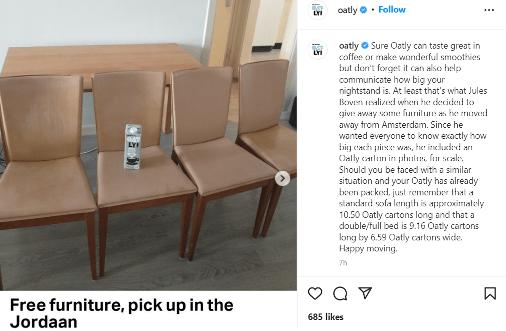 Use your audience's vocabulary. To connect with your audience, you have to speak their language. But there's a fine line between making a connection and forcing one. We don't recommend taking on a too-casual approach to hanging with the cool kids. However, pay attention to the kind of vocabulary your audience uses and responds well to. Analyzing engagement on competitors' social media activity can give you clues.
Master your consumer communication. You talk to customers all the time, but communication on social media presents a consistent and demanding public eye. Not only do most consumers expect a brand response to their question or concern within 24 hours, but they also expect friendly and convenient communication. And even those who aren't engaging with your content are still observing your public communication methods.
Considering that your social community management is a direct line of communication to your customers, you should have a dedicated department that manages this form of contact.
Related content: How to Improve Social Media Presence for Business Results
Why Hire a Social Media Marketing Company?
Everything above is just a peek into the amount of research and work it takes to develop a consistent social media strategy and process for your brand. There's a reason entire agencies exist for the sole purpose of social media strategy, conceptualization, and execution.
A team of marketing experts will:
How Can Oneupweb Help?
There are several avenues we can take to reach your destination. But if that avenue includes truly full-service social media marketing services, your roadmap will have fewer roadblocks, turnarounds, pitstops, and stop signs along the way.
From concept to delivery, our team offers a wide range of social media services:
Social auditing. Audit your current channels for strengths and weaknesses to create an in-depth social strategy. Look at demographics, performance, post frequency, competitors, and more.
Content creation. Whether we're doing photography, design, motion graphics, video, or just copy, we always consider the platform, audience, strategy, and previous performance data to get it right. Our project teams work together to develop the best product every time, with channel-specific messaging and assets.
SEO-based social media research. Social platforms are increasingly users' preferred search platform. SEO research ensures your content is relevant enough to be seen and heard. Our experts have that research covered, from keyword research to seasonal trends to channel-specific hashtags.
Social listening and community management. As a brand, being a great listener is about more than just addressing questions or complaints. It's about showing users that you're paying attention even when nobody's directly asking you something. Oneupweb provides social listening services and community management, systematically tracking comments and brand mentions to address concerns, maintain relationships, and see what trends followers want to see. We keep this process transparent and collaborative with client teams because "brand knows best!"
Social management. This includes setting up a calendar for posting content, creating that content, scheduling and posting it, and maintaining performance reports. So… pretty much anything. We support better future strategies, improve website traffic quality, and create a better social experience for users.
YouTube. From channel audits to full-speed-ahead YouTube SEO to ad campaigns, Oneupweb would love to help you with YouTube. The second largest search engine in the world, YouTube will help your business gain quality traffic and exposure in the SERP. Our video and design teams create engaging video and channel art that will help your build out your brand's visibility and authority. Discover all the YouTube services we offer.
Related content: 5 Tips for How to Choose a Marketing Agency
Get Better Results with a Social Media Strategy Plan from The Experts
Flexibility is the most important thing to remember when developing a social media marketing strategy. As a user-driven space, social media is constantly evolving. Brands need to keep up! With an entire business on your plate, that can be difficult to manage. Our social media team at Oneupweb can offer that and so much more. Using our field expertise and data analysis, we can establish a plan that best aligns your business goals with the world of social media.
Get connected with us here, or give us a call at 231-922-9977 to start mapping your strategy.