Meta's Threads: What It Means for Marketers
Meta's long-awaited Twitter-killer, Threads, launched on July 5 and quickly picked up over 10 million users within just a few hours of launch. Thanks to a nearly seamless integration with Instagram, the Threads app has an immediate head start in terms of adoption and advertiser dollars when it's ready.
It's in its early days, but marketers should be ready to dive in. Here's what marketers should know about Meta's Threads app.
What Is Threads?
More than six months after it was rumored to be in development, Meta confirmed plans to release a Twitter-like standalone app. Threads uses a similar (that's a polite way to say "nearly identical") interface to Twitter, including an animated scroll refresh and a 500-character cap per thread. Users can post GIFs, photos, videos and external links.
Threads Taps into Instagram to Ramp Up Adoption
One of the unique advantages Meta enjoys with the Threads app is a nearly frictionless sign-up experience. Once users download the Threads app, they can use their Instagram profile photo, bio and link to set up their Threads account. Users can also follow all of the same accounts they follow on Instagram with just one tap. It took us less than 1 minute to download the app and establish a rock-solid account.
How Many People Signed Up for Threads?
Mark Zuckerberg announced that more than 10 million people signed up for Threads within 7 hours of launch. The app is available in the US, UK and more than 100 countries but faces a delayed rollout in the EU because of privacy and regulatory concerns.
Related: How Twitter Has Changed Since Elon Musk Took Over
How to Add Threads to Your Social Media Marketing Mix
Marketers are dusting off their Twitter playbook as they ease into life on the new platform. The tone and types of posts are largely the same as Twitter, but with some notable differences.
No ads. Did you notice? Meta hasn't plugged Threads into its ad network yet, and while they've ponied up cash to sign celebrities and influencers as early adopters, marketers won't be able to publish ads on Threads – yet.
No hashtags. With how instrumental hashtags are on Instagram, you can expect to see this feature added soon. This could even tie into hashtags and content on Instagram in the future, further blurring the lines between the two platforms.
No "trending topics." Twitter's "What's Trending?" feature is a newsmaker in its own right and allows users to follow and join global conversations quickly. This feature will almost certainly debut alongside hashtags, but marketers need to be proactive when it comes to chiming in on important Threads.
Focus on Delivering Content You Already Have (But Tweak It!)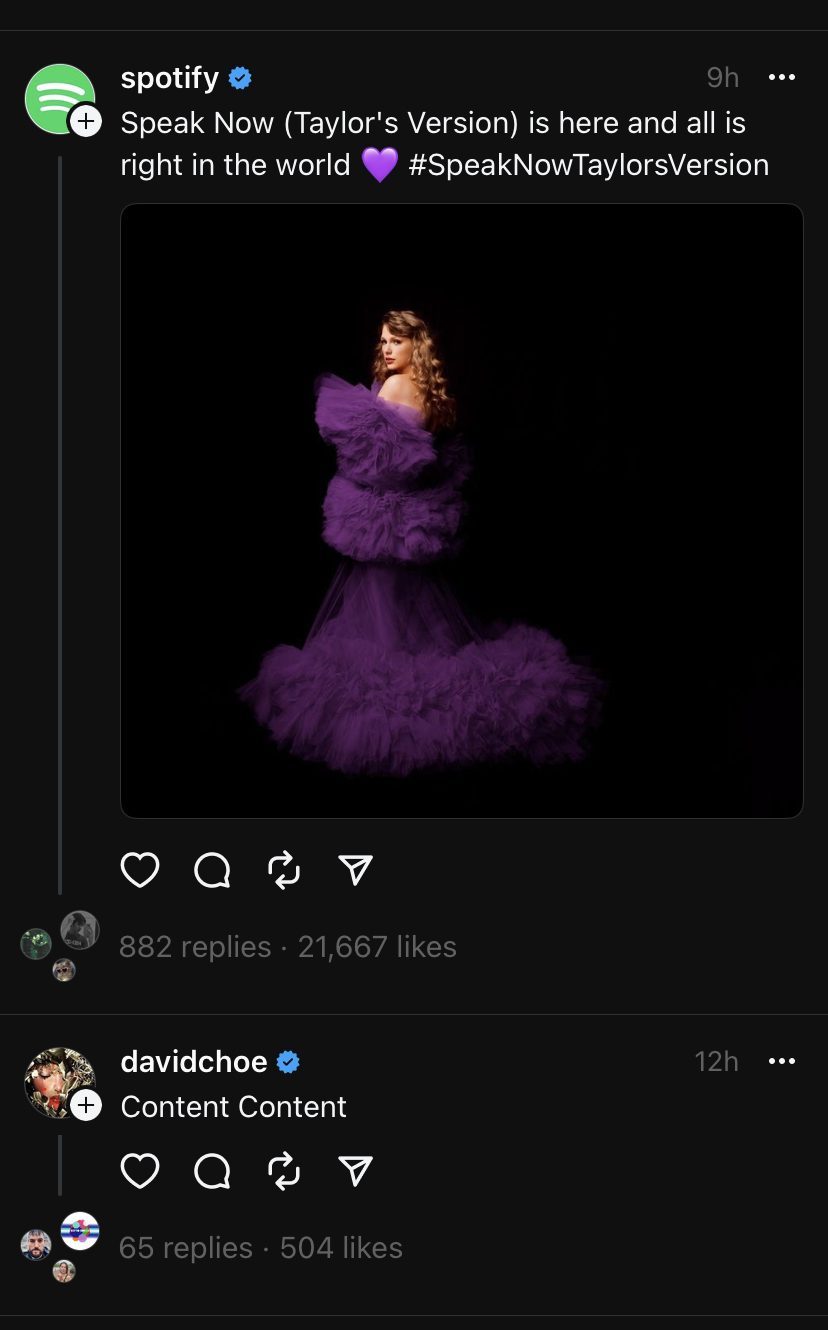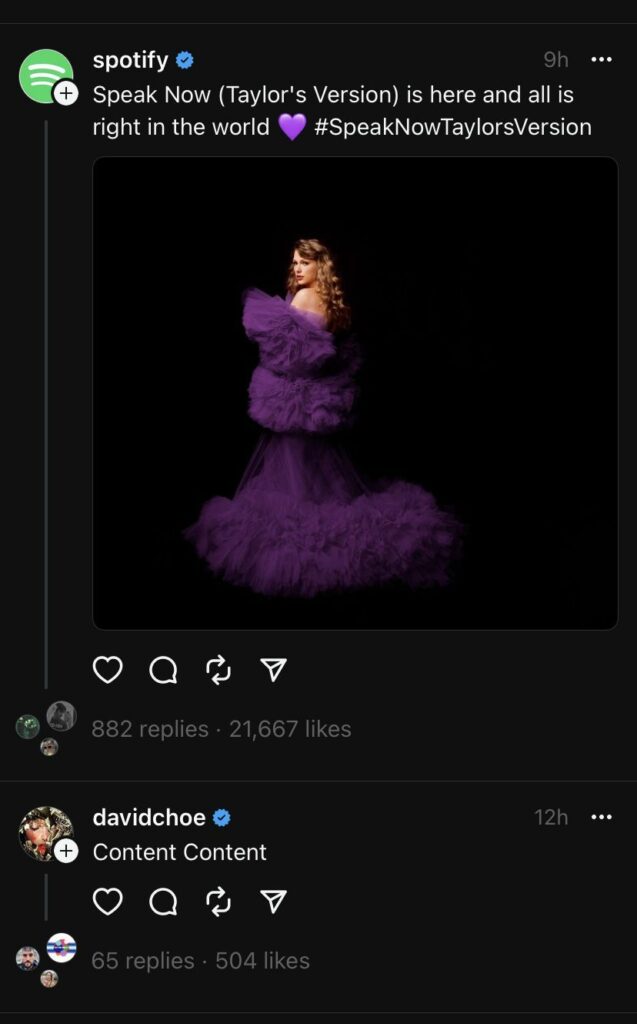 With updated messaging, brands can quickly leverage existing Facebook, Instagram or Twitter content on Threads. Remember that Threads, like Twitter, is a conversation – be ready to answer questions, comment on other posts, and expand your audience with consistent engagement. Users love topical, entertaining content – and a good meme now and then, too.
Why Threads Makes Sense for Marketers
The Threads app marks a frictionless experience for marketers to join the platform. Closely integrating all three of Meta's core products creates a central platform to schedule posts, analyze results and manage ads.
Of course, this raises the stakes concerning Meta's dubious record on privacy and political influence. Meta couldn't release threads in the European Union due to long-running regulatory concerns and they probably haven't paid off the record $1.3 billion fine levied by the EU in May.
Is Twitter Dead?
Twitter has been in real trouble since Elon Musk took the company private in 2022. After shelling out more than $44 billion to acquire the company, Musk's leadership and sweeping layoffs caused public outrage and technical issues within days of closing the deal. Outside estimates now place Twitter's value at around $15 billion after losing as much as 40% of its ad revenue.
A slate of Twitter replacements has sprung up, including Blue Sky, an app built by former Twitter CEO Jack Dorsey. But Threads is different because it has successfully converted millions of users from its other platforms. The result? Meta needs just 1 in 4 Instagram users to make a Threads account to outnumber Twitter users – and that could happen in a matter of months.
Get Expert Help Managing All Your Social Platforms
Our dedicated social media team is all-in on Threads. We're already testing and analyzing the platform to spot new opportunities to provide followers with scroll-stopping content that delivers real value. Whether you've already jumped in with both feet or need more time to see where this goes, Oneupweb can help you shape an effective full-funnel social media strategy. Get in touch or call 231-922-9977 today to get started!