Stunning (and Famous) Examples of WordPress Websites
This blog was written by Oneupweb Graphic Designer Jess Gordon-Beach.
Every so often, our team gets asked what our content management system of choice is. Our answer is WordPress.
You may be saying, "Huh? Isn't that a blog platform?" And you're not wrong! But it's also for so, so much more. It's a trusted tool that many companies, big and small alike, have built their online presence upon.
How Many Websites Use WordPress?
According to the latest WordPress usage statistics from W3Techs, 43% of websites use WordPress as their content management system. We've worked with WordPress for a very long time at Oneupweb, but I was still really surprised to find out how many websites use WordPress. (And this article was even my idea!) WordPress launched in 2003 and its original purpose was for building blogs. But because WordPress was built to make it easy for everyone to customize, it's way more than a blogging platform now. It's a powerful tool with a robust plugin library (over 54,000) that allows a website to be whatever it needs to be: a large e-commerce platform, a B2B resource hub, a healthcare client portal, even your knitting blog (send us a link!).
Is WordPress Good for Professional Websites?
Yes! You can do all sorts of things to customize a WordPress site so it works the way your company needs. Hard to believe? Check out these examples of famous websites built on WordPress by some of the biggest names in retail and entertainment!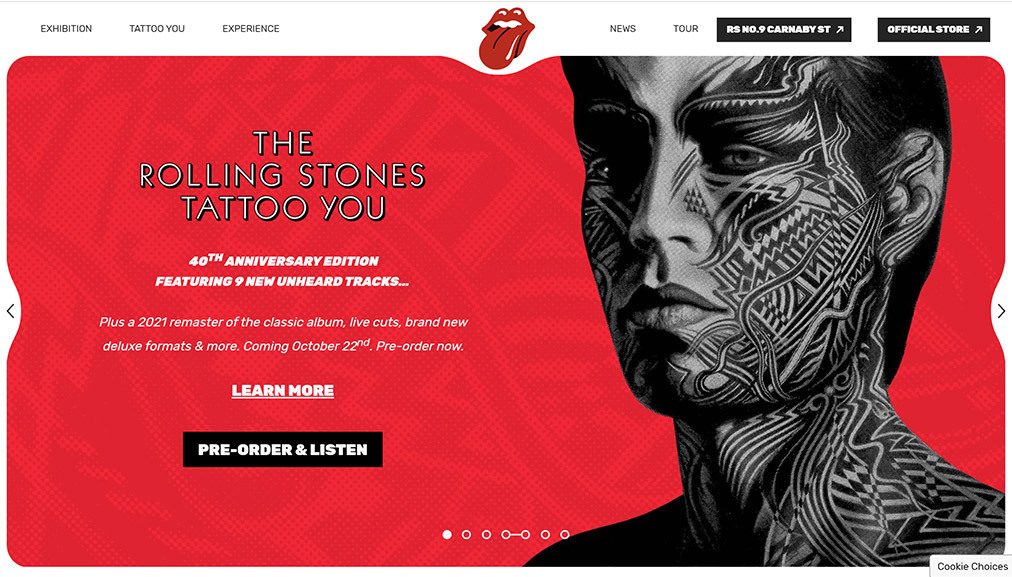 The legendary band's site has some really beautiful details: animated hoverstates and page transitions, bold use of color and images and, when you hover over their iconic symbol in the main header, it quickly animates in a fun flurry of different styles. It's a fun website to explore, and really, would you expect anything less from The Rolling Stones?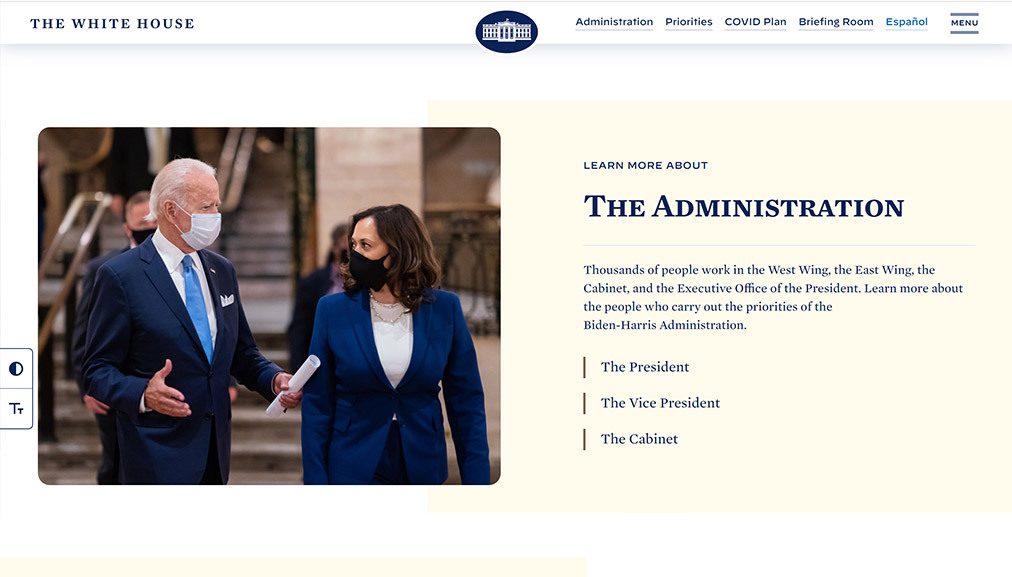 If you're looking for an example of a WordPress site where security and accessibility matter (as they should), here you go. The Biden Administration chose WordPress to rebuild the White House website. Its simple yet effective structure and design makes it easy for users to access the important information on this site.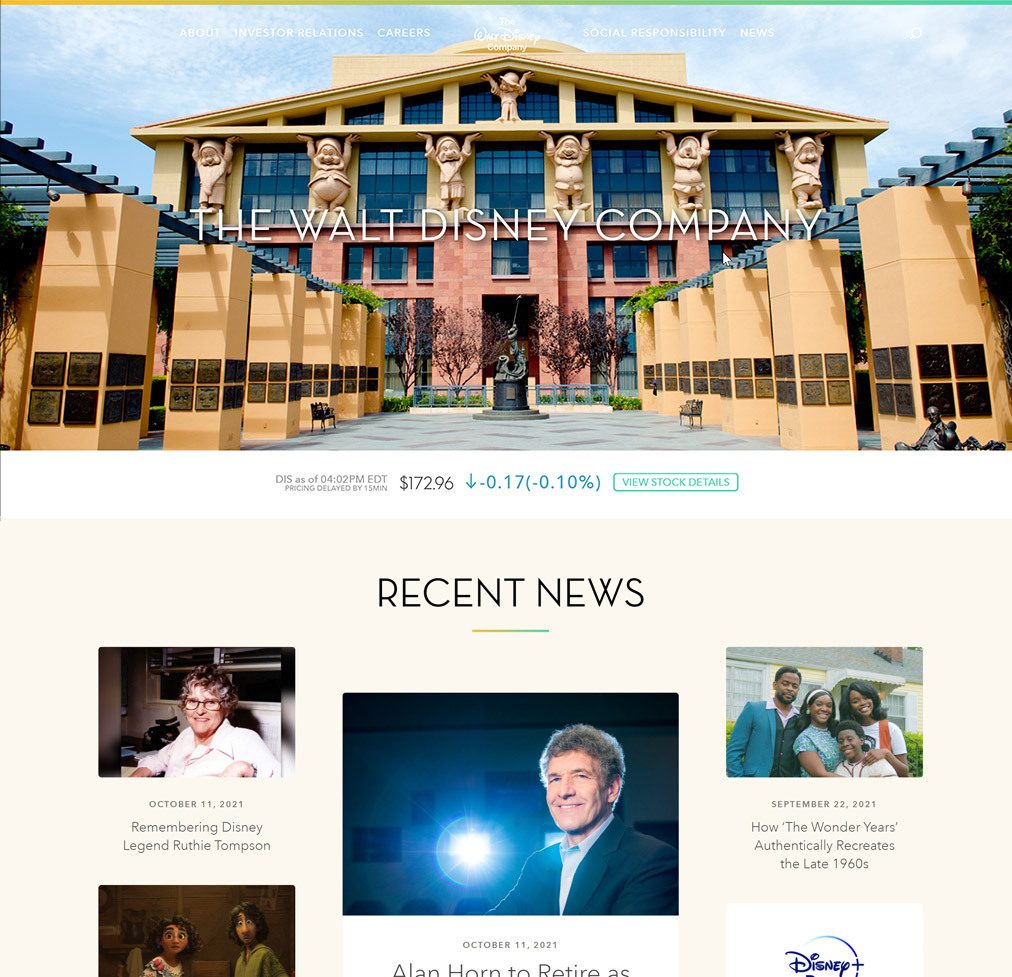 Disney has chosen WordPress for several of their websites, including thewaltdisneycompany.com and books.disney.com. This Disney site is a more subdued iteration of the giant brand, as it's more investor and press-focused than for consumers. But there's still magic here. The site has an elegance and lightness to its design that works so well in bringing together assets from across their properties.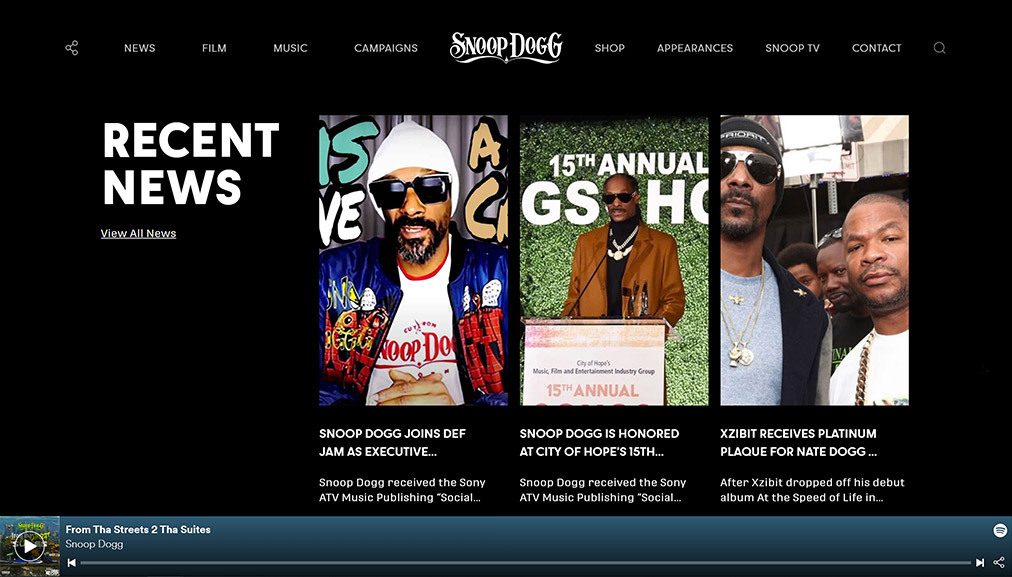 I can't claim to know much about Snoop Dogg or his music, but I was a quick fan of this website. Websites with dark backgrounds are so striking, and the combination of white, bold typography paired with excellent use of white space makes this designer's heart sing. My favorite detail? The special numbers used for the tour dates.
Best Ecommerce Websites Using WordPress
"But I'm just an online shop!" you're saying. If professional sites for huge organizations or famous individuals don't resonate, there are plenty of examples of WordPress sites built for e-commerce. Brands large and small can enjoy the customization of WordPress to create the perfect site for selling a product or service.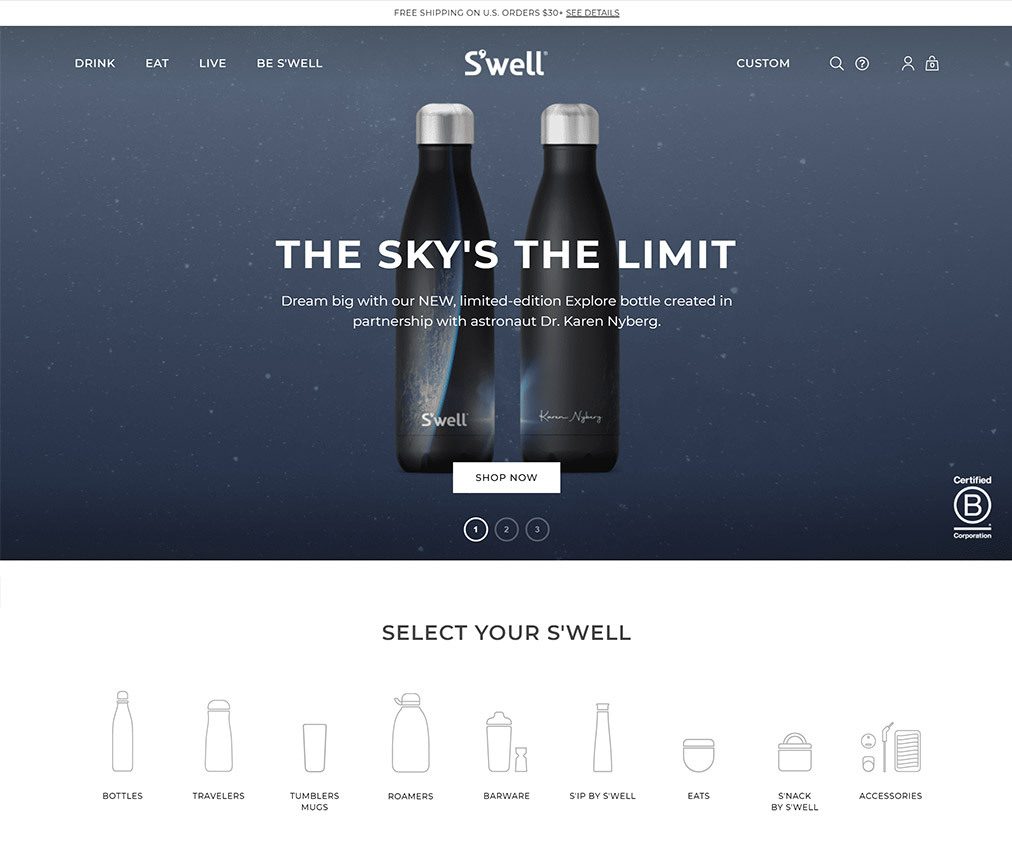 S'well has used a winning combination of beautiful product and lifestyle images (chef's kiss) with modern, unfussy typography to create their lovely WordPress e-commerce site. I especially love the first section of the homepage under the hero, which lets the user click simple line drawing outlines of their products to shop that entire product line. Keeping this section minimal in color and imagery really helps it to stand out against the rest of the large images on the page.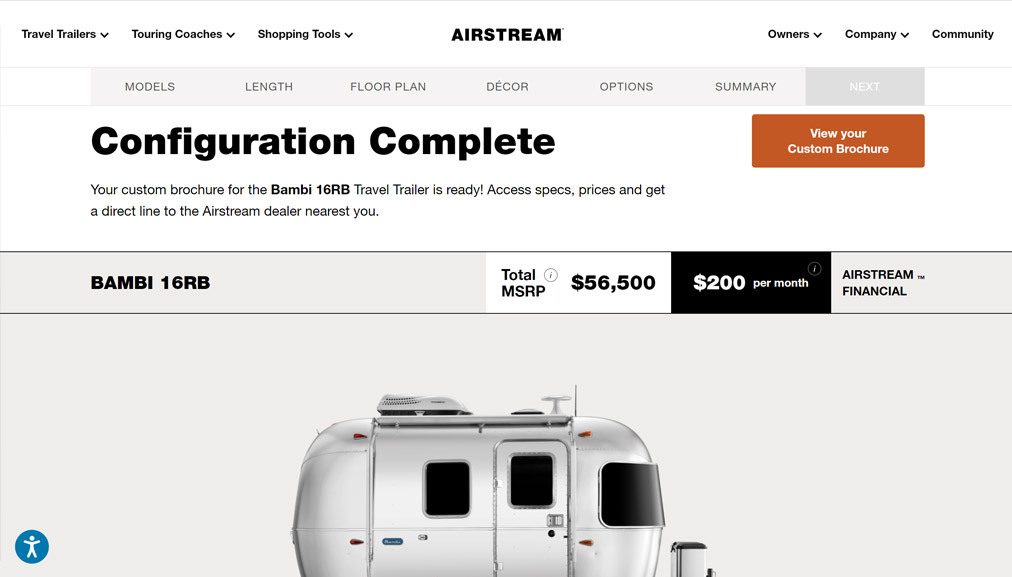 Airstream has used WordPress to put together an easy way to order the trailer of your glamping dreams. The process to assemble the options you want is broken down into easy steps, and while you can't order the trailer directly, the site puts together a custom brochure from your options so you can easily take the information to the nearest Airstream dealer (whom they also find for you).
3. Strandberg Guitars https://strandbergguitars.com/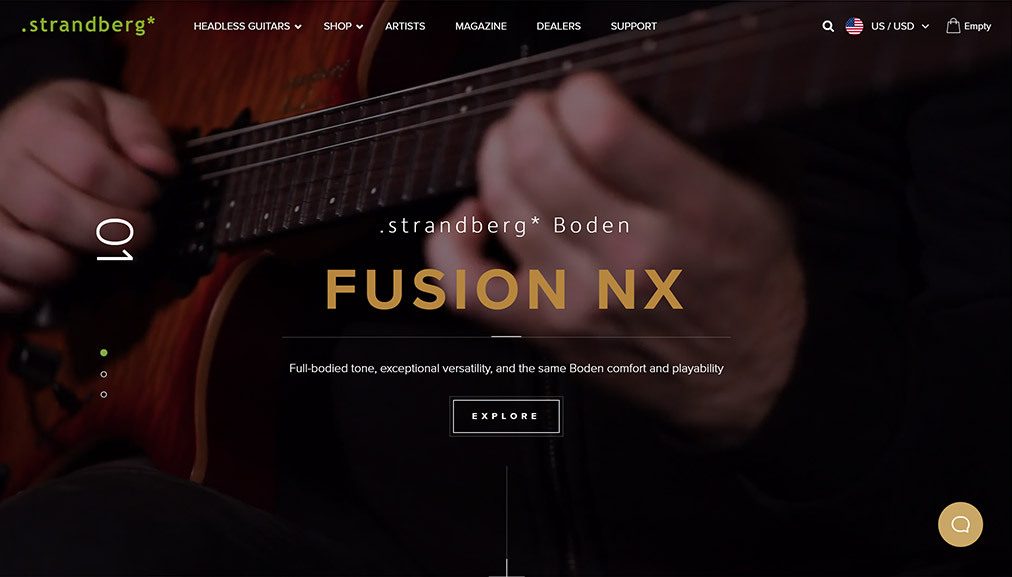 While maybe not a household name like the other sites featured in this post, Strandberg Guitar's website was too beautiful to not include. I live for the delicate line details that connect sections and frame images. The photography and video used in the backgrounds of the homepage are beautiful, yet let the typography – and therefore, information – stand at the forefront. It's a great example of how WordPress can be used to create amazing websites.
Related: Shopify vs. WordPress: Which is the Better Website Platform for Your Business?
Three Quick WordPress FAQs
How to Tell If a Website Is WordPress
The easiest trick is to enter the site's URL into a tool like Built With. It will generate a Technology Profile that lists all sorts of different plugins, widgets, and frameworks that the developers used to bring the site to life. Scan or search the page for titles like WordPress, WP Engine, WordPress Plugins. Found them? Nice! It's a WordPress site for sure.
If you want to roll up your sleeves and do the investigation on your own, another way to tell if a website is WordPress is to dig into the source code of the site. Right-click anywhere on the page and select "Inspect" from the options that come up. From there, use the search function to look for things like /wp-content, /wp-admin and /wp-includes. If you find these, it's very likely to be a WordPress site. You can also try adding /wp-admin/ or /wp-login.php to the end of the site domain name to really make sure. If a login page comes up, then yep! It's WordPress.
How to Build a Great Website With WordPress (and a Little Bit of Help)
Now that you know that you'll be in the esteemed company of the thousands of other businesses that rely on WordPress, you're ready to get started.
We have years of experience designing and building with WordPress. We love it for its reliability and flexibility to meet the needs of our clients. Helping our clients determine the best solution for their needs is what we do every day, and we're happy to discuss the WordPress solution that works best for your business. Reach out online or call (231) 922-9977 and let's get building!