CareMeridian Case Study
Helping Those Who Help Others
Healthcare organization CareMeridian, which has since merged with NeuroRestorative, provided care and rehabilitation to patients with profound and medically complex injuries in comfortable, home-like environments.
Whether patients had suffered a traumatic brain injury, spinal cord injury or needed specialized nursing or ventilator care, the dedicated staff at CareMeridian provided individualized, round-the-clock attention.
Each of their facilities, located across the west, expedited the recovery process for their patients and eased their eventual transition back home.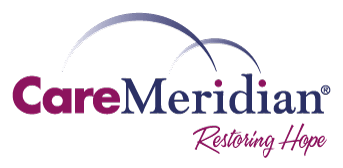 At a Glance
The First Problem: Their Site Got Hacked
CareMeridian initially came to us in the summer of 2014 because their site had been hacked – not good for anyone, but especially for a company dealing with such serious and sensitive healthcare needs. We set to work to discover the nature of the attack, identifying vulnerabilities and putting a number of security measures in place to ensure it never happened again while repairing the damage.
Our remedy of the problem led to a subsequent discussion about how else we could help CareMeridian.
The Second Problem: They Needed to Help More Patients
CareMeridian had a solid reputation, but they had available beds and patients in need of specialized care that were not able to find them. Fixing the attack on their site helped increase their visibility online, but there was more work to do. We developed a robust marketing strategy designed for healthcare.
Three Core Objectives
Increase traffic by improving CareMeridian's rank in search engines for the keywords used by those looking for care.
Build out content on the corporate and facility location pages to increase the authority and trustworthiness of the CareMeridian name.
Provide design and development support to "freshen up" the look, improve the UX and accommodate shifting business needs and priorities.
And now for the meat of the case study . . .
The Results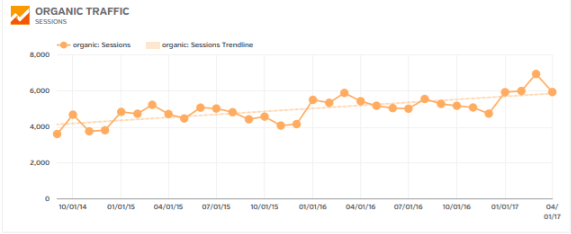 How We Did It
We began with robust keyword research to determine how much opportunity there was from an optimization standpoint.
Here are some of the keywords we ended up targeting:
Skilled nursing facilities 720 searches / month
Spinal cord rehabilitation 260
Subacute care facilities 110
Spinal cord injury rehabilitation centers 90
Nursing rehabilitation centers 70
Traumatic brain injury rehab 40
Long term ventilator care facilities 30
We then set to work optimizing the site for search engines by updating keyword targets; rewriting title tags, meta descriptions, H1s, and alt text; and improving internal linking.
But this was just the beginning.
One of our core objectives was getting more traffic to the location pages of the various CareMeridian facilities in the network.
Since the decision-makers (people whose loved ones need this intensive care) do not want to travel that far for visits, we decided it was critical to optimize for geo-specific queries. An additional challenge was that many of CareMeridian's two-dozen locations were located in the same metros in California – and were in danger of cannibalizing one other online.
We knew that we needed additional location-specific content in order to send good local ranking signals to search engines, so we created a questionnaire that our contact distributed to the Directors of Nursing at each of the CareMeridian facilities.
We asked questions such as:
Are there any yearly/monthly planned events or nearby attractions that you take patients to? What are they?
Either in-house or in the community, what kinds of special activities do you organize for patients? (crafts, bowling, the zoo, etc.)
What are the special activities that are staff or patient favorites?
Are there any local organizations you partner with (e.g., Ronald McDonald, other suppliers for food, events, etc.)?
Any local volunteer organizations or other groups that help out CareMeridian patients, staff or facilities?
Is there any special technology or equipment used at your facility that makes you unique (pool, hydrotherapy, assisted technology communication device, Wii-hab, etc.)?
Where do patients like to spend their time (e.g., gardens, mobility paths, patios, entertainment rooms, comfortable open areas for guests, etc.)?
What about your décor or facilities is unique to your location? (Does it have a particularly modern feel? Is it near a popular park? Etc.)
Are there accommodations available on-site? What nearby locations do family members stay?
How do loved ones travel to the facility? Can you describe your proximity to nearby airports, trains or any other major forms of transportation?
Leveraging this robust content allowed us to localize each care facility's online presence, increasing local authority and relevance in the eyes of search engines – and in addition, of course, providing great content that was relevant for website visitors!
As a result, in the three months after the launch of this expanded content, the location pages saw a 25% increase in contact form submissions YOY. We also increased the number of entrances by 9% and improved the bounce rate, pages per session and average session duration across the board.


Conclusion
In healthcare, as in all industries, "SEO + content" is a winning combination. We aim to see trendlines like the one from SEMrush (above) for all our clients, and CareMeridian was thrilled to reap the benefits they enjoyed from such profound organic traffic growth.
Want to see how Oneupweb can help your healthcare business gain more patients? Reach out today.
Be sure to check out our other case studies, too!