Non-Profit Case Study: The PKD Foundation
Chapter 1: The Story
Imagine your kidneys are bigger than footballs and weigh 25 pounds each.
Imagine that there is no cure for this, and that you're strongly considering not having children because there is a 50 percent chance you will pass the disease on to them.
You have polycystic kidney disease, and you're one of approximately 200,000 Americans that are diagnosed each year. You know that by age 60, there's a good chance your kidneys will fail.
This is the mindset Oneupweb put ourselves in as we began discussions with the PKD Foundation, the sole organization dedicated to finding treatments and a cure for polycystic kidney disease. We had to fully understand the impacts of this tragic and terrible disease, and for a long time, we just listened. We heard patient stories. We read comments from their community. We listened as the team at the PKD Foundation told us about the work their organization does, and about the people who never give up hope.
Through those initial talks, we became attached to the team at the PKD Foundation, and to the organization itself, and it became clear that a partnership between our two companies would be an excellent fit. Further, we knew there was a lot of potential impact riding on the success of this organization, and the project was something we really wanted to take on.
While discussions ranged from SEO to event activation and everything in between, we knew that the first and best place to start was a new website.
In addition to providing more content and more integrations to facilitate community interaction, we also had to make the site's UX less confusing.
Chapter 2: Why a New Website?
The PKD Foundation thrives on community. Its success is dependent on that community being able to come together for a common goal. As we talked with the marketing team at the foundation, the problem became clear: Their website wasn't facilitating enough community engagement.
The site was doing a great job of providing information for patients, but it wasn't galvanizing all the other stakeholders – friends and family members, physicians, researchers, volunteers, advocates and other audiences. These individuals needed a place where they could make their voices heard, get the information they needed, and connect with peer groups.
But in addition to providing more content and more integrations to facilitate community interaction, we also had to make the site's UX less confusing. We knew we had to accomplish all this while also optimizing the site experience for the primary conversion point – securing donations. The foundation couldn't continue to meet the needs of its members without additional donations coming through the website.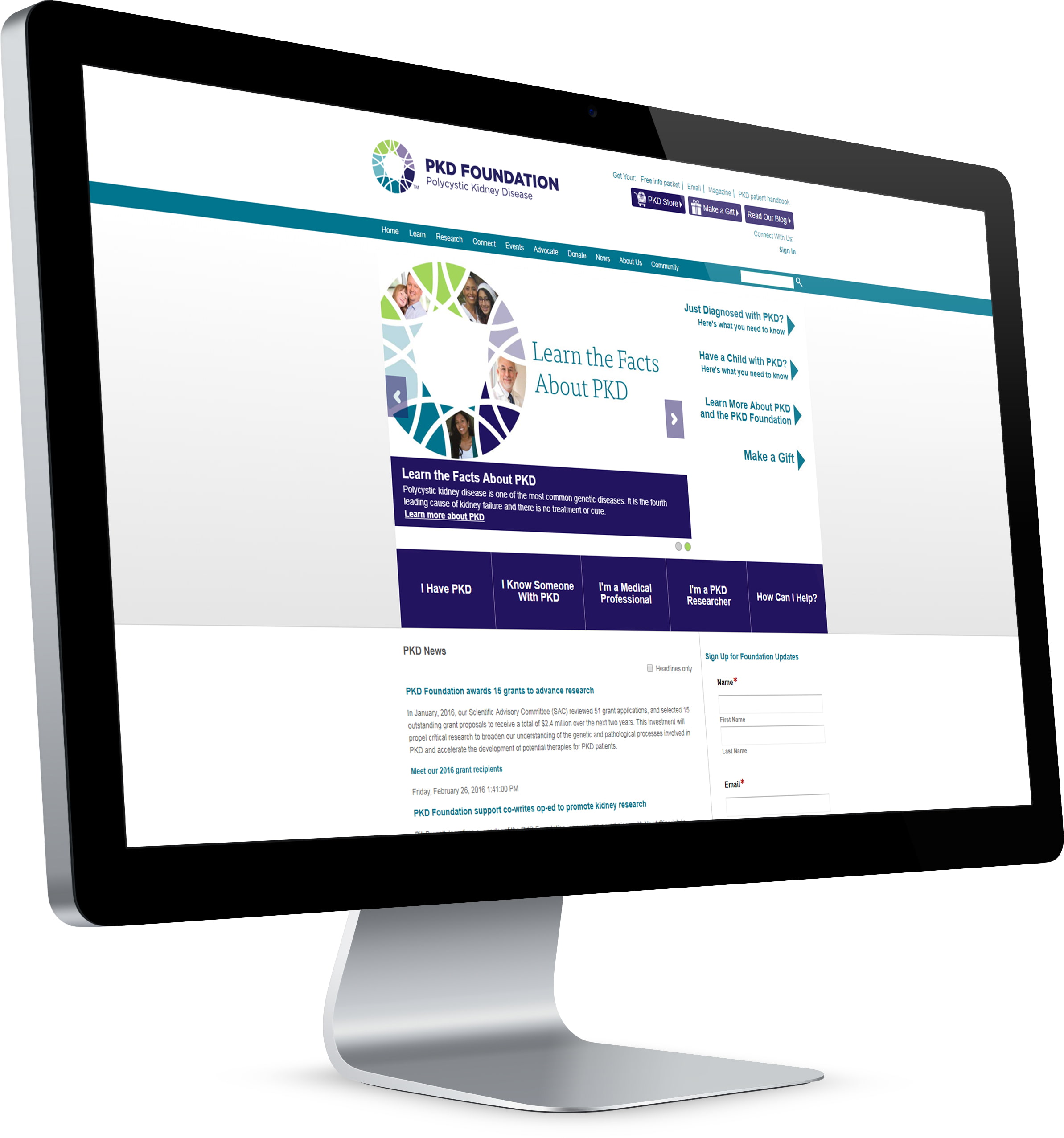 Chapter 3: Our Approach
Research & Goals
Because of the unique challenges facing the PKD Foundation, we began by holding interviews with various stakeholders. By talking to people inside and outside the organization, we put together a much more complete picture of the obstacles and goals of each of these groups. Our decisions for the website navigation, site architecture, content and design were guided by the many people affected by this disease.
Then we got to work, strategizing and designing the new site with five primary goals in mind:
Serve the PKD community: The ultimate goal of the site wasto improve the lives of those affected by PKD. Period.
Get people involved: We knew we had to design a website that drove sign-ups for events and encouraged grassroots action for the PKD community.
Improve the user experience (UX): One of the key drivers for our design was to improve time on site, usability and searchability – for all of the diverse audiences.
Grow the email list: In order to keep the community informed, we redesigned the site to strategically facilitate additional email signups so that more patients, family members and advocates could receive information about the PKD Foundation regularly.
Drive fundraising: To better serve those affected by PKD,another of our top priorities was to provide a path for usersto give what they can afford, and to guide them in a friendly and enticing way.
Need help with healthcare marketing?
Tactics
Here are some of the specific tactics we employed to achieve those goals:
Pairing faces with information, always. We wanted to offer comfort to visitors (often newly diagnosed individuals) by showing them the real researchers and day-to-day success stories; this also helped us establish a sense of their newfound community.
Getting users to information that was relevant to them as quickly as possible, without a lot of interruption. For example, we brought more navigation into the homepage to streamline users' journeys.
Creating a site that could be built up as time went by. We knew that the site would need data to improve over time, which it continues to do.
Making a complex site feel small. Initially, we accomplished that with a complex navigation system that excluded non-relevant information, but after gathering enough analytics about how users were behaving, it became clear that a menu-mega would suit the design better. So we redesigned this element of it.
Designing a site that focused on information above all else. We (the PKD Foundation and Oneupweb teams) didn't want anything to stand in the way of these visitors learning what they need to learn.
Web Development

Development of the site was similarly complex. Given the diverse needs of their audiences and the seamless ways that we wanted to encourage community action, the website was built to connect with multiple APIs to handle geolocation of members and events. This approach also helped us integrate the site with membership and donation programs, and a custom-built site editor allowed for rich media and content. The massive scale of the project required Oneupweb to create new optimization and performance techniques for a fluid and friendly user experience, along with image-heavy designs and subtle UI animation.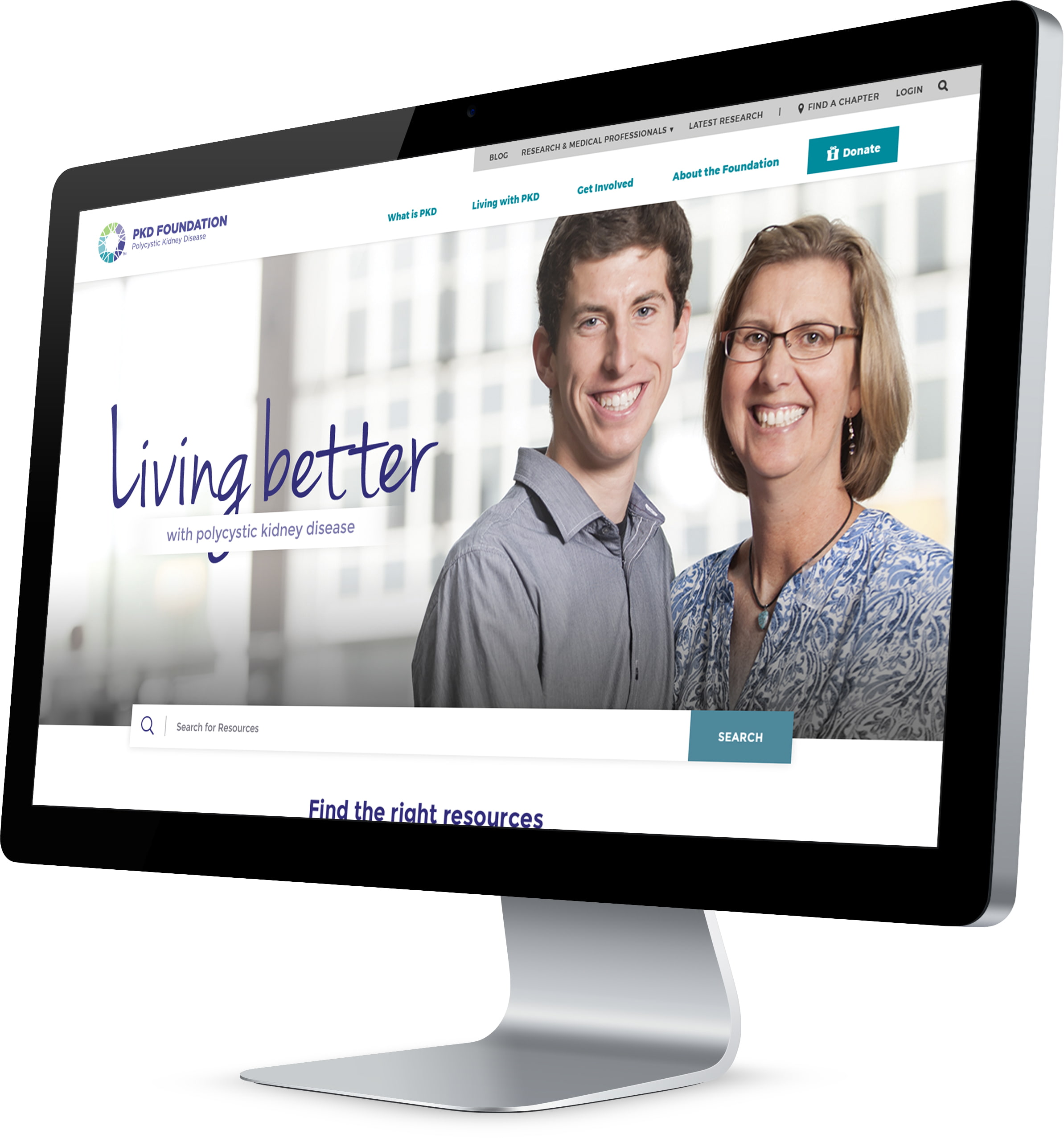 Chapter 4: How the New Website Performed
In the five months after launch, compared to the same five months the year before (there is a degree of seasonality to their traffic), we saw a 45% increase in sessions, a 41% surge in new users, and a 44% increase in donations. We also saw that users were spending more time on the site and visiting more pages overall.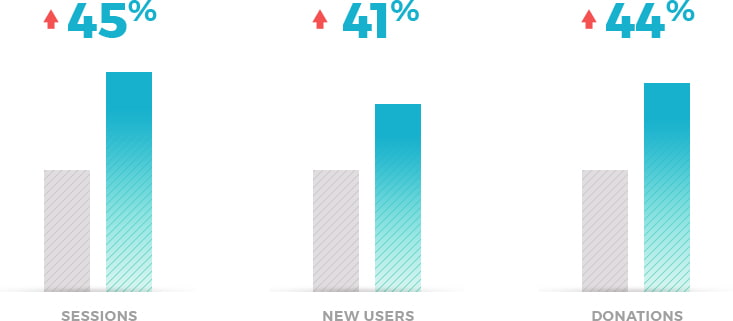 Just as important, we executed a project that the team was very happy with, and we made some new friends for life. Mark Solis, digital marketing manager at the PKD Foundation, shared this: "We knew you truly cared about our project, us and our people. Everything you have done for us has been top-notch. We really do think of Oneupweb as part of our family!"
A year and a half later, we continue to make small improvements to the website in order to further enhance the user experience and drive engagement and donations.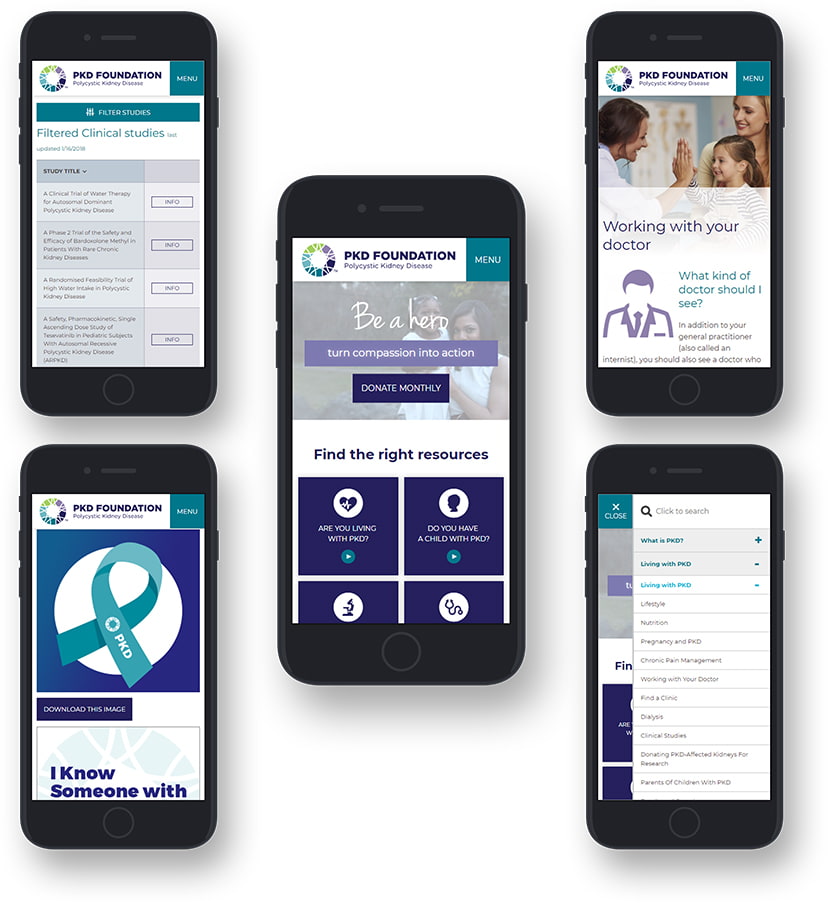 Chapter 5: After Building the New Site, It Was Time to Bring People There

More than a year after the launch of the website, the PKD Foundation asked us back to provide some additional marketing services. Specifically, they asked us to support their annual Awareness Day – their big push for growing their audience and expanding support.
To ensure the 2017 Awareness Day push was as successful as it could be, Oneupweb created a highly targeted blog and social media campaign, along with a landing page. We knew that our various audiences for this campaign – existing and new social followers, blog subscribers and PKD employee advocates – needed a concerted effort and as much support as possible.
In the five months after launch, compared to thesame five months the year before (there is a degree ofseasonality to their traffic), we saw a 45% increasein sessions, a 41% surge in new users, and a 44%increase in donations.
Chapter 6: Our Social Campaign Approach
Phase 1: Spreading the Word

We activated the campaign by creating a blog post that outlined the importance of getting involved, and how people can raise awareness. This was also sent out to newsletter subscribers. Additionally, we updated all headers on social channels to generate interest among current (and new) followers.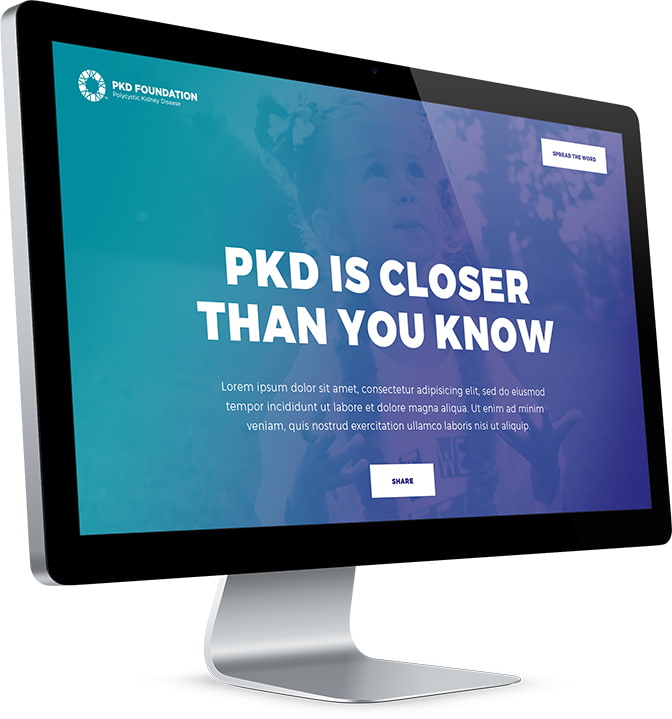 Phase 2: Constituent Activation
We designed an activation kit for all PKD advocates – chapter leaders, family members, employees, etc. – so they could spread the word to their own networks. The kit detailed best practices for how and when to post, headers to use, calls to action to include, and more, encouraging them to create their own individual Awareness Day campaigns. The result was an expanding sphere of PKD influence.
Phase 3: Targeted Messaging
The campaign was designed to intensify interest in the three weeks before Awareness Day, and to culminate with a big final push. Posts about PKD facts, the organization's progress so far, and even instructions for making awareness ribbons – everything drove visitors to the new campaign landing page. This landing page featured a history of the organization's gains; information that exposed the prevalence of the disease; and a number of emotional patient stories, which we knew would resonate with visitors. And every post, image or graphic was organized around our central theme: PKD is closer than you think. This was meant to introduce new audiences to a disease they may not have been aware of, by highlighting just how many people have the disease but don't really talk about it.
The campaign ran across Facebook, Instagram, Pinterest and Twitter. Because it was primarily a social campaign, it was easy for users to share information with their networks, which further expanded the campaign's reach. "Sharing" was our primary call to action, supported by secondary CTAs for participation and donations.
Chapter 7: How the Social Campaign Performed
In addition to driving a 118 percent increase in donations within a two-week period, we sent more than 2,800 new users to the site within that time frame.
The campaign was a pretty big success. We also saw 10,706 sessions from Facebook alone, an increase of 151 percent since before we launched the campaign.
Though we were glad to have succeeded for our client, we were thrilled we were able to help bring more awareness of this lesser-known disease, in the hopes of ultimately arriving at a cure. It's a project we're really proud of, and it was an honor to partner with the PKD Foundation.