Service Franchise Case Study: Rainbow International Restoration
How we helped a disaster restoration franchise better serve its franchisees with national and local SEO.

At a Glance

The Problem:
One of the top three disaster restoration companies in the U.S. and Canada, Rainbow International Restoration wanted to raise its profile in organic search results. They not only wanted to outrank their two larger competitors, SERVPRO and ServiceMaster, for relevant national keywords; they needed to raise the search engine rankings of more than 350 franchises across North America to help them win more business in their local communities.

The Solution:
After completing national and local keyword research, we reorganized Rainbow's top-level pages and local franchise pages. We wrote a new keyword-optimized homepage and top-level service pages. Then we wrote new, customized content for hundreds of local franchise pages, strategically optimizing them for SEO at the local level. Many of the new franchise pages were customized based on direct feedback from the franchisees themselves, who answered a survey questionnaire we created that was distributed by Rainbow International's corporate office.

The Results

Homepage + 16 National Service Pages Optimized by OUW:

+20% organic sessions
+88% organic appointment form conversions
These are YOY increases comparing Q3 – Q4 2017 to Q3 – Q4 2016.

Local Franchise Pages Optimized by OUW:

+29% organic sessions
+85% organic appointment form conversions
These are YOY increases comparing Q3 – Q4 2017 to Q3 – Q4 2016.
After this massive project was complete, Rainbow International remained a retainer client; we continue to assist them with content expansion and maintaining an even healthier digital presence.

Chapter 1: The Story

It's a day or night like any other – until out of the blue the unimaginable happens:

Your basement is suddenly flooded with water
A fire sets off your smoke alarm, forcing you and your family to evacuate.
You investigate a musty odor in your bathroom, and it dawns on you that you might have a serious mold issue.
In any of these scenarios, your mind reels. You're concerned for your property and family. You need professional help – right now – to get your home or business back to normal.

Rainbow International Restoration is one of the top three emergency restoration companies in the United States. Its 350+ franchisees serve home and business owners across the U.S. and Canada, and the company is ranked by Entrepreneur magazine as America's #409 franchise on their "Franchise 500."

Compared to the competing top industry behemoths – SERVPRO and ServiceMaster – Rainbow International offers customers similar pricing, an excellent customer experience, 24-hour/365 service and advanced equipment to perform the latest IICRC-approved restoration techniques.

With differentiation between the top brands being so minimal, and with the needs of restoration customers being so urgent, search engine rankings matter even more in this business vertical.

Often, the customer will hire the first or second company they find online.

To their credit, Rainbow took a close look at how they were stacking up against their larger but most direct competition in the search engines. When they looked at national keywords (e.g., air duct cleaning, mold removal, smoke remediation) and local keywords (e.g."Des Moines smoke damage remediation," "flood restoration St. Paul"), they saw room for improvement.

After Oneupweb had been performing winning SEO campaigns and content marketing expansions for sister franchise brands under Dwyer Group ownership for several years, Rainbow International reached out to us for the same support, and we were happy to help.

Our efforts were directed at two areas of the Rainbow International website:
Top-level pages, including service pages and the homepage
Individual franchise pages
Chapter 2: Top-Level Page Optimization Approach

Rainbow International was ready to have their top-level pages re-evaluated.

GOALS & RESEARCH

The goals:

Optimize the homepage and 16 top-level service pages with new, strategically chosen keyword groups.
Re-imagine the organization and function of these pages so that users would find them to be immediately helpful and informative.
In other words, the client wanted their most important pages to measure up to their larger and most formidable competition, and then for those pages to receive a boost in the search engines – so more prospects looking urgently for professional help could see Rainbow International.

The several-pronged strategy we used to accomplish these goals grew out of insights from a series of research projects, including an audit of the existing keywords, title tags, meta descriptions and page headlines on rainbowintl.com.

Then we researched new keyword opportunities based on:

relevancy to the brand
national and local search volume
ranking difficulty
competitor keyword strategies
current rankings for queries related to disaster restoration and deep cleaning services
TACTICS

We wrote new copy, headlines, title tags and meta descriptions – all updated with our new national keyword strategy.

We made tweaks to how Rainbow International presented its services – e.g., by avoiding industry jargon, providing clearer paths to conversion, and so on – improving the user experience and making the company's offerings more immediately understandable to those hiring a restoration company for the first time.

Chapter 3: How the Top-Level Optimization Performed

After implementing the new homepage and top-level service page copy, year over year, we saw the following gains:

20% increase in organic sessions
88% increase in organic appointment form conversions
55% increase in conversion rate for organic appointment forms
Data compares Q3 – Q4 2017 to Q3 – Q4 2016.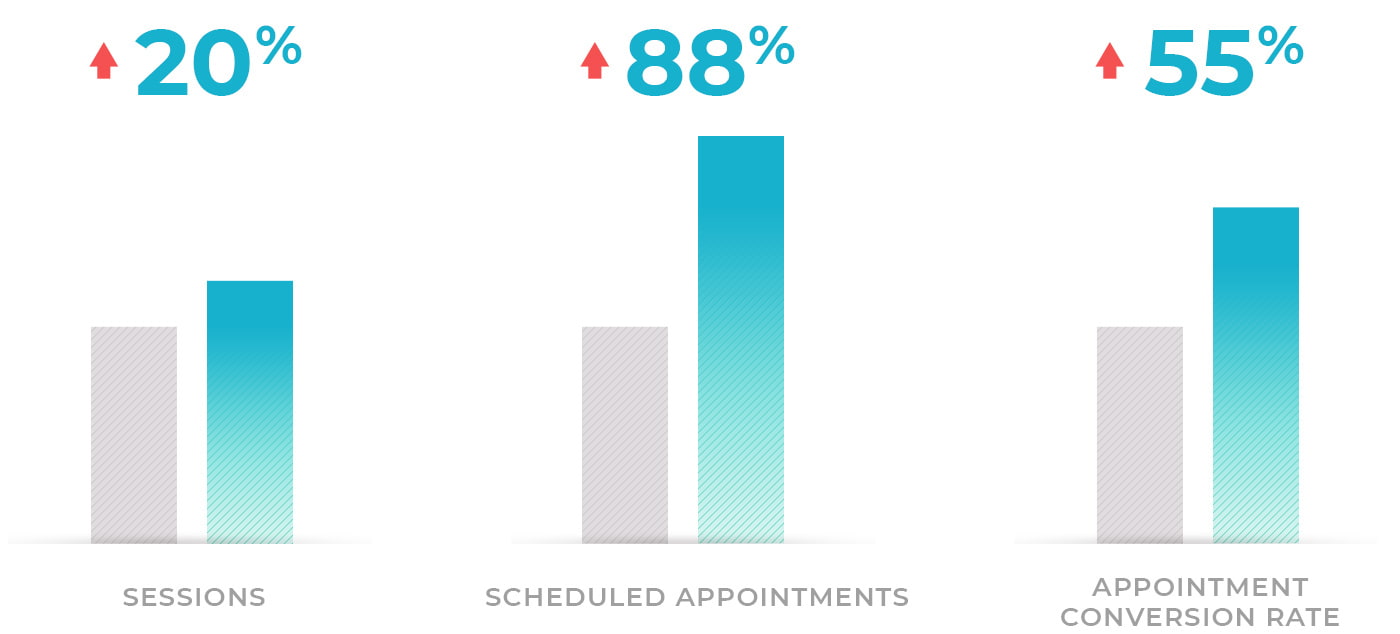 Chapter 4: Our Local Franchise Pages SEO Approach

A major second stage of the campaign was to generate more business for the company's franchisees.

There are over 350 Rainbow International locations operating in big cities and small towns from coast to coast and across Canada. They all needed some degree of help, and the bottom quarter needed help urgently.

GOALS & RESEARCH

Our SEO team's goal was to improve and optimize these local franchise pages on the rainbowintl.com website so the national office could help their local franchise owners generate new business in their communities. The main thrust of this goal was to avoid duplicate content penalties from search engines.

To help inform the campaign, we researched keywords related to disaster restoration, deep cleaning and deodorizing services, looking at local search volumes in 300+ markets and current ranking benchmarks for more than 20 queries per location.

Our audit of rainbowintl.com for potential foundational SEO opportunities identified several avenues by which we could help the franchise pages in aggregate. Simultaneously, with help from the client, we surveyed the franchise owners directly, making sure we had the latest, most accurate information to add to their pages.

TACTICS

Google and Bing algorithms will become confused by pages that are too similar to other pages. That is, if hundreds of pages on a website feature duplicate content, the search engines may not know which page is most relevant for a certain query, and therefore may elect to serve content from a different, less-confusing website. We believed this was happening to Rainbow International. About 95 percent of the copy on every franchise page was also on hundreds of other franchise pages.

To overcome this duplicate content situation, we needed to differentiate these pages with unique copy – even if, from 500 feet high, the franchises themselves all seemed the same.

The truth on the ground, though, is that each Rainbow franchise is unique, with unique local ownership offering a somewhat unique mix of services in a finite service area. To tap into each individual story, we created a digital questionnaire that Rainbow's national office distributed to each individual franchise owner. The survey got at the heart of each franchise's unique backstory, their service offerings and their differentiators in their local market. We even encouraged franchisees to share which services were the top revenue earners so we could emphasize – in keywords and body copy – the services that mattered most to each franchise owner's bottom line.

With returned questionnaires in hand, we matched the custom information with new strategic local keywords to write copy that was factually accurate, local SEO-focused and super competitive.

For those franchises that did not submit responses to the survey, we used other methods to update the pages, authoring unique copy to overcome the duplicate content issue.

Customizing 350+ web pages was a huge job! We worked with Rainbow's corporate office to identify the franchises that needed the most help (i.e., the ones that had the least traffic) so we could prioritize them in this months-long project.

As we did with the top-level national pages, we also re-imagined the organization of local pages while staying within the guardrails of the existing brand. This included adding location maps and making other tweaks to improve the user experience and smooth the path to conversion.

Additionally, to help the company better identify and understand where traffic is coming from, we added Google My Business link tagging to all the franchise pages. This allowed the corporate office to clearly see how much traffic was coming from traditional organic search results and how much from Google My Business profiles, including knowledge graphs, local map packs and Google Maps.

Lastly, we worked with Rainbow to ensure that the large amounts of new content – copy, title tags, meta descriptions and alt text – were all implemented completely and in a timely fashion.

After all the new content was implemented, Rainbow International kept Oneupweb on a monthly SEO and content marketing retainer for ongoing Google My Business tracking, site performance analysis, new content, technical site and user experience improvements, and strategy consultation.  

Chapter 5: How the Franchise Pages SEO Campaign Performed

The local franchise page content expansion was completed in four flights over four months, March to June 2017. We provided new content for the lowest-performing franchises first, to give them the earliest boost in traffic.

Three months after the content was implemented, we took another look at where rainbowintl.com was ranking in Google search results for 20+ queries in 300+ local markets (nearly 7,500 data points). The results were impressive.

The number of pages ranking in the top 3 positions on the SERP increased to 1,962 from 1,224 (+60% YOY). The number of pages ranking in the top 5 positions increased to 2,536 from 1,875 (+74% YOY).
These gains were also apparent in Google Analytics:

29% increase in organic sessions
85% increase in organic appointment form conversions
44% increase in conversion rate for organic appointment forms
Data compares Q3 – Q4 2017 to Q3 – Q4 2016.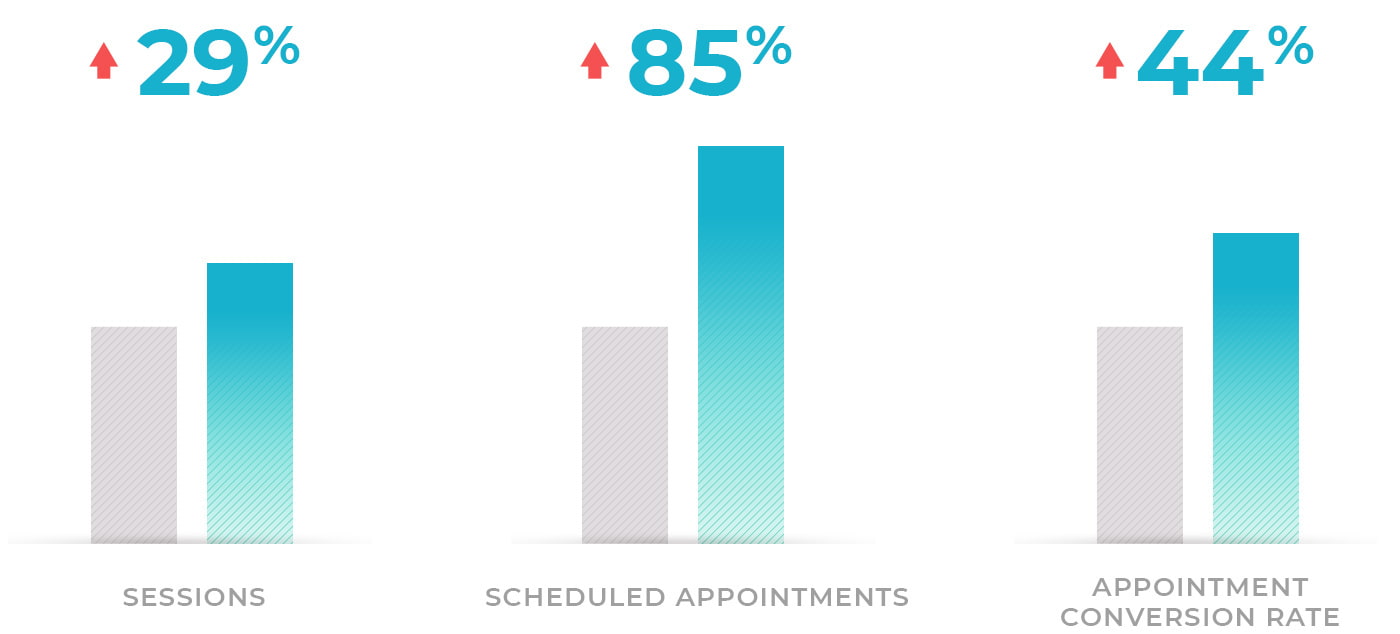 Conclusion
Every client has unique needs and business objectives. For Rainbow International Restoration, this large service franchise improved its standing in the search engines nationally.

And, by optimizing hundreds of local franchise pages, Rainbow International fulfilled one of its most important business missions: to provide its franchisees with the marketing assistance they need to win customers and be successful in their local markets.

Our SEO efforts elevated rainbowintl.com above their competition in several ways; improved the user experience on their most important pages; and provided their hundreds of franchise owners with an updated, unique, vibrant web presence optimized for the keywords that matter most to them in their local markets.

"My experience has been nothing less than fabulous. The work they deliver is top notch."


– Brandi Kloostra, VP of Brand Management

We're grateful to have become a trusted part of the Rainbow International team over the last two years.

Get in touch with us if you'd like to learn more about our experience marketing for franchise brands.