Computer Security Day: 5 Tips for Keeping Your Information Safe
November 30 is Computer Security Day, so we asked the brightest computer minds in our office for the best tips on keeping your data safe. Here is what they had to say.
1.Never use the same password twice
Passwords are everyone's best friend and worst enemy. They keep our most important information safe and get us locked out of Netflix when we forget them. If you think the way to remedy forgetting your password is to just use the same one for everything, stop it right now! Get yourself a password manager like 1password to keep track of all your different passwords. The $3/month will be worth it.
Bonus tip: Did you know that 8 character passwords only take 2-6 hours to crack? Passwords should be 12-15 characters long and contain upper and lower case letters, numbers and special characters.

2. Never use your debit card to pay online – ever!
While credit cards have protections in place to detect, prevent and refund you in the case of fraud, debit cards almost never do. If you don't want to use a credit card, try an online payment system like PayPal—it's a fairly safe alternative and includes fraud protection.
3.Never provide secure information over a non-secure site
Starting early in 2017 Google Chrome started to label all websites that don't have a current HTTPS certificate as non-secure. Sites with HTTPS have encryption on their sites to keep any data transmitted secure, while HTTP doesn't. If you have your own website and haven't made the switch to HTTPS make sure you contact your web development team to discuss your options.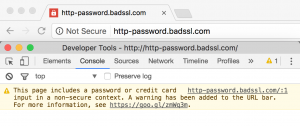 Bonus Tip: Never log into a non HTTPS site over public wifi. You're just asking to get hacked.
4. Avoid portable media
Portable media, like flash drives, are full of information just waiting to be lost. If you do have to use a portable media device, make sure to never save confidential information on it. It is also recommended that you always encrypt any data that you store on a flash drive so that is can only be accessed via a password.
5. Beware of phishing
Phishing scams, like this one that plagued Netflix, can be easy for the unsuspecting consumer to fall for. If you click on the link in the email, many of these scams (like the Netflix example) will take you to a landing page that is even styled to look like it is legitimately the company it's claiming to be. So how do you avoid falling for them?
Confirm who sent you the email (often you can expand the details of the sender in the to and from box).
Hover over links and examine the URLs without clicking on them.
Only make account changes or enter in information by navigating to the company's site on your own, not via links in an email.

If you're a business looking to make your website secure reach out to our web development team. We would be happy to help.