How to Get Quality Franchise Leads on Your Own
Do you really love it when Franchise Direct or Franchise Help sends you a heap of expensive, low-quality leads? Most franchisors don't, but they feel that the pay-to-play portal environment is necessary.
The truth is that you can independently source better-qualified franchise leads with more strategic marketing. Once you start, finding franchise leads gets more efficient over time.
Why You Shouldn't Buy Franchise Leads
The problem with franchise portals and franchise lead generation companies is that they rank for a lot of broad, top-of-the-funnel keywords, which tends to attract a lot of window shoppers. Many dream about owning their own Subway or Jiffy Lube, hiring some employees to do the work and sitting back to rake in profits. But since most people don't have an extra $250,000 lying around, they arrive at portal sites highly unqualified.
Instead of paying for unqualified leads, get smarter about who and where you're targeting. Search and display ads are great options for refining your audience and using the demographic controls available. These allow you to target by household income and other key metrics.
In addition, the portal sites don't let you test and refine messaging and design to maximize conversions. That's why it's important to take advantage of conversion rate optimization (CRO) testing on your own digital properties.
One Franchise Lead Generation Strategy
Recently, Oneupweb performed a considerable amount of A/B testing and CRO during our franchise development efforts for Real Property Management. Here's one change we made to the main form on our paid landing pages, which resulted in a clear winner and more conversions: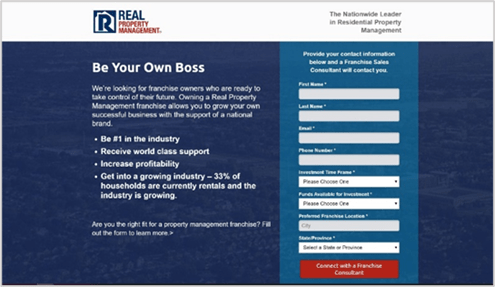 We also got very granular with our landing page messaging and advertising audiences. For instance, we found that, when it came to looking for franchise opportunities in property management:
Men preferred terms like "top" and "#1" in ad copy.
Women preferred terms like "opportunity," "how to" and "finance."
Targeting and tactics like that are something the franchise portals can't offer. So getting qualified franchise leads is more effective when the strategy is in your own hands.
How to Generate Franchise Leads with Content Marketing
Content marketing with strong SEO is one of the best ways to compete long-term with franchise portal sites and your direct competitors.
Start with competitive keyword research to determine how to optimize and expand your website content and rank above your competitors for relevant keywords. As you do, consider how different keywords align with different parts of the sales funnel and gear your content toward users who are in that stage.
For example, a keyword like "landscaping franchise success rate" is very top-of-funnel and research-oriented. In contrast, "landscaping franchise opportunities" is a lower funnel and indicates an intent to convert. Your strategy may be to write a blog that targets the former keyword in a helpful, non-sales-oriented manner. Then write an evergreen "franchise opportunity" page to target the latter keyword, focusing more on the differentiators of your franchise and helping the user self-qualify.
Finally, a multi-channel, full-funnel content strategy will yield greater results than focusing on SEO alone. Don't forget to promote content on social media, in an email newsletter, on YouTube, and so on. Building a content calendar will help you keep every piece of your strategy moving.
Customer Franchise Leads for Franchisors
Wait, aren't we talking about finding franchise leads? We are. But think about it: If your consumer-facing marketing is performing well, that's going to be a big selling point for potential franchisees. They're going to do their due diligence and look at how the consumer site performs in organic search, what the website UX looks like, etc. After all, if they're considering buying into a system designed to get them customers, they're going to want to know how well that system is working.
Additionally, in many industries, a franchise's customer has the potential to become a franchisee. For example, IT professionals tasked with finding an outsourcing partner for their data and security needs may turn to a popular managed IT franchise, which could also open their eyes to the possibility of finally becoming their own boss. A well-heeled and savvy businesswoman who frequents her local Pilates and hydration IV bar franchises may recognize the considerable opportunity in these spaces and invest her money in one or both.
For tips about doing consumer-facing marketing really well, check out our Franchise Marketing Playbook.
Tracking the Growth of Qualified Franchise Leads
While figuring out how to get franchise leads, some franchise marketing teams forget the value of tracking their progress in detail. But it's so important to establish benchmarks, set up event tracking and analyze performance data to improve your strategy as you go.
Here are some tips for doing just that.
Talk to Your Sales Team!
We're honestly baffled by how often we hear from our clients that "marketing and sales don't talk." You need a clear picture of how qualified your leads are, and which persona is most likely to buy.
Talk. To. Your. Sales. Team.
Some (kind of serious) ideas for making this happen:
Organize a fake company picnic, and ambush them with a meeting.
Create a reality TV show for the sales and marketing employees, where those who provide the most helpful information get to stay, and the others are voted off the island.
Administer a truth serum in your daily stand-up.
Bottom line: do whatever it takes to get the data both teams need to make informed decisions. Otherwise, you're creating inefficiencies and wasting money at every turn.
How to Get Leads Without Paying: Accurate and Visible Data
Often, you'll find that doing an audit of the current state of your sales and marketing funnel is enough to begin to convince everyone to cooperate. Our experience has shown that if you're able to do that, you'll already be ahead of many franchisors when it comes to signing up new franchisees.
These are some of the questions you'll want to ask yourself during this audit:
Do marketing and sales use different CRMs or different features of the same CRM? Can you connect them, or do you need to change how you use this technology?
Do you have full visibility of the sales funnel, from the time a prospective franchise lead comes in through a paid ad (for example) until the moment they ink their agreement? What's missing, and why?
How are leads being scored?
Is there a discrepancy between the marketing messaging and the sales messaging? When a lead transitions from marketing to sales, do their expectations continue to be met?
Have you set benchmarks and KPIs that everyone agrees on?
Are you tracking the right events in your data and analytics platform? Where are the knowledge gaps in the behaviors users display?
If this seems daunting, take heart in the fact that CEOs, CMOs and VPs like seeing hard figures. Put in a little extra time to outline – in clear, bottom-line numbers – how much money the company is spending, and wasting, on inefficient processes and platforms, and you'll grab their attention. You'll save the day. You'll probably get a promotion and a raise. You'll finally take that vacation to Hawaii.
Say Goodbye to Franchise Lead Generation Companies
Yes, we've reached the end, so it's time for the shameless plug. Over the years, Oneupweb has developed efficient, successful marketing strategies for franchises, one of our core industries.
Check out examples of our franchise work, such as:
Case studies
Videos
Social media assets
Guides
More
Take the Lead in Your Franchise Industry
We've been supporting franchise organizations for decades. We bring earned experience and creative solutions to tackle your marketing needs with a vertically integrated marketing team that covers video, SEO, paid media and more. Ready to grow? Let's go. Get in touch or give us a call at 231-922-9977 today.