Franchise Marketing Playbook
July 15, 2020: We updated the Franchise Marketing Playbook with relevant information for marketing during COVID-19.
Get the updated Franchise Marketing Playbook now:
Franchise marketing starts at the top. As a franchisor, it's up to you to set the tone for your corporate brand and help franchisees find ways to translate that tone for local marketing campaigns.
Historically, franchise marketing has leveraged print, radio, and television advertising to promote local services. Maybe you're still skeptical about digital marketing. Here's some food for thought:
The more franchisees you bring on board, the more complicated it becomes to manage online listings, websites, and marketing campaigns for all those locations. This guide will break down each facet of digital franchise marketing and offer up expert advice to make the most of your marketing team's resources.
Corporate Marketing Programs
Often, the franchisor controls certain aspects of marketing for all franchisees, and sometimes this can lead to a contentious relationship between the corporate office and local owners. But there are good reasons for splitting marketing responsibilities this way. We'll dive into those reasons more in the sections below.
There are three areas of digital marketing where corporate control is often a good idea: local listings, online reviews, and website management.
Local Listings Management
Online business directories offer companies a great opportunity to help consumers find their business and make purchasing decisions. Online directories include platforms such as:
Google My Business
Facebook business pages
Yelp
Yellow Pages
Angie's List
Many franchisors control system-wide local listings because it's easy to centralize and standardize this type of information. It's important to ensure that customers can find their local franchise and access the right information, wherever they're searching from. Customers are increasingly looking to shop locally. Having correct and consistent business information displayed in local listings is also a valuable search engine ranking factor for the associated franchise website(s). Plus, local listings are a good way to build backlinks, which are another ranking factor.
Benefits of corporate-controlled local listings include:
Franchisees' basic information (such as business description) isn't all that complicated, so franchisees shouldn't have to customize anything.
It's one less thing for franchisees to worry about.
Corporate control of all franchise listings means that any lessons gleaned from one profile can be applied to all the others.
A listing is a relatively low-importance customer touch point (unlike the sales call, for instance) and therefore can easily be handled at the corporate level or outsourced to an agency or local listings tool.
At the same time, there are potential drawbacks to corporate control of local listings:
Corporate may have to update any information like business hours or pictures, unless they give franchisees access. (But giving access also comes with drawbacks.)
Paying an internal employee (or outsourcing to an agency) to manage listings can get expensive; for some tools you might be looking at $30 per month, multiplied by hundreds of franchise units.
Read The Practical Guide to Google Local Listings for Franchise Businesses.
Online Reviews Management
Online reviews drive clicks in local search engine results pages (SERPs) more than any other factor, and 86% of consumers count on online reviews when considering their options at local businesses. Therefore, good review management practices are crucial to driving online marketing in a positive direction.
How to Encourage People to Leave Online Reviews
Tell your service employees to ask customers for reviews, saying that their boss will give them a $5 gift card or another internal reward. It's a good way to encourage reviews and give customers the satisfaction of leaving a "tip" of sorts.
Request a review as soon as possible after the job is completed. Depending on the business type, staff may use a tablet that immediately asks for a review when the customer signs. Or they may collect the customer's email address and send an auto-generated follow-up with easy "Leave a Review" links. In retail shops, the cashier should remind the customer at the POS to leave a review.
Avoid asking for a positive review. It's best practice to allow your customers to leave a review with any star rating they choose. If you want to guide more positive reviews than negative ones, you may simply curate the list of customers you ask.
How to Respond to Reviews
We cannot believe it's 2020 and some businesses are still not responding to reviews – or, worse, they're responding by getting angry, defensive, or passive-aggressive. Rather than writing a brash response to a negative review, acknowledge the customer's experience publicly and take the conversation offline. Briefly respond to all the positive reviews too so your customers feel heard. The little time this takes is worth it.
Here is a great example of how not to respond to a negative review: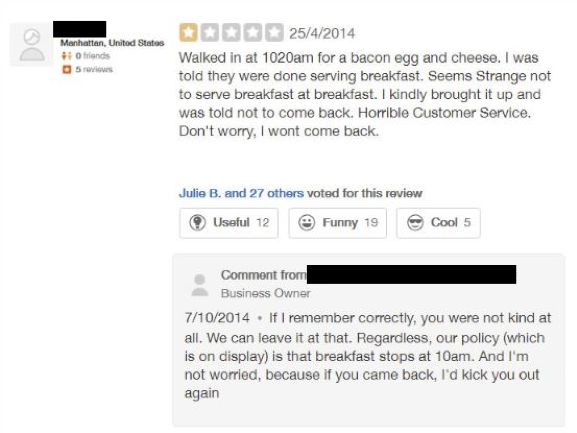 Here's an example of a well-written response to a negative review: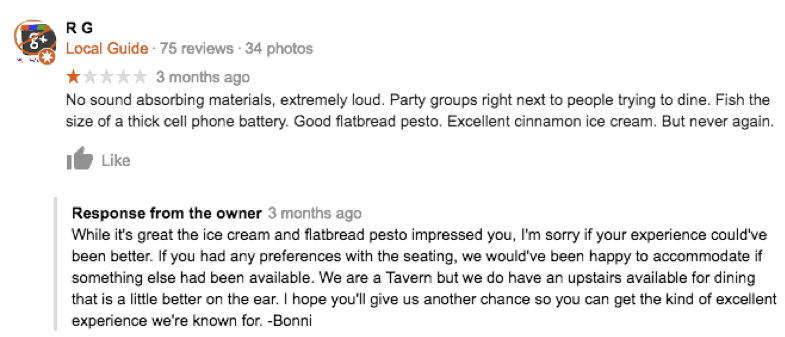 Notice that the owner validated the complaint, suggested a solution to the issue, and asked the customer to give the restaurant another shot.
Tip: Do not shut down your profile because you get a negative review. If you get a bad review, embrace it as an opportunity to grow, educate your customers, and provide better service.
To help keep track of review management tasks, consider using a tool such as BirdEye (which also integrates local listings management) that notifies you when you get a review, collects reviews from different platforms on one dashboard, and makes it easy to solicit and respond to reviews.
Corporate Control of the Website
This is easily one of the most contentious points of the franchisor/franchisee relationship. Sometimes franchisees can't change any of the content on their website. Sometimes they can only change a portion of it. Sometimes a franchisee sees that their competitor's website is outranking them in search, so they go out and build their own website because clearly the corporate site is not cutting it.
Corporate control of the website – including any location-specific subdomains or localized pages – is an excellent way to maintain brand consistency. Why, after all, is corporate spending all that money on national TV ads, radio spots, videos, and everything else if customers then find a rogue website with branding that doesn't match? That inconsistency is not a good experience for the user.
If a franchise owner argues that they want to express their unique personality by updating the website, a franchisor may explain that website consistency builds brand trust and that the franchise owner may still control their local social media presence.
Other reasons that corporate control of the website is good policy:
If a franchise owner creates a rogue website, it's likely to compete with the corporate website (or a local subdomain/localized page) for relevant keywords – which means you both lose.
A rogue website is not supported by corporate, which means the franchisee has to manage it or hire someone else to do so. This is an unnecessary expense and commitment, as website support is (in most cases) already included in the franchise agreement.
Corporate's controlling the website means that lessons gleaned from one franchise page can be applied to the whole system, which lifts everyone up. For instance, if corporate performs conversion rate optimization (CRO) testing and finds that the local franchise homepage template converts better with more contrasting colors around the contact form, that change can easily be rolled out on all franchisees' web pages.
Rogue websites make it impossible to get an accurate picture of which channels are bringing in quality leads. Corporate may retain one or several marketing partners, who may be working in different channels (such as paid advertising, SEO, etc.) to drive traffic to the corporate and local franchise website pages. If all those pages feed one source of performance data (like a single Google Analytics view), these marketing partners can accurately analyze and report on corporate and local page analytics. But if franchisees have gone rogue, the data will be disconnected and lack actionable insights.
Conclusion
Our team has supported many franchisor/franchisee relationships, and we're not here to take anyone's side. Instead, we offer a neutral take on what works best for customers and prospects, for data analysis, and for the success of both parties.
Want more great franchise marketing content?
Franchise Website Structure
Creating and managing a corporate website can become a massive undertaking. Depending on how many franchises you have and how many pages each location requires, you could end up building and maintaining thousands of pages of content.
But don't panic. Stick to the standards of good franchise website structure, and your digital team will have no trouble keeping all those pages updated, relevant, and organized.
Website Design and Branding
Whether franchise pages are included on the corporate website or in a subdomain, each franchise page should stick to the same design and branding standards as the corporate pages. This way, there is no doubt for visitors whether they are viewing one of your company's franchise pages.
We recommend that corporate retain ultimate control over franchise pages, while allowing franchisees some access to edit their pages. Maintaining corporate control of franchise pages allows the franchisor to:
Track franchise page performance.
Ensure that brand standards are adhered to.
Redirect pages for closed franchises.
Update information for franchises that change the services they offer or move locations.
Publish new pages for new franchises in a timely manner.
Implement schema markup to help Google better interpret on-page content.
Optimize the website for humans and search engines.
Information to Include on Franchise Homepages
Franchise homepages should always include the location's full address and contact information in an easy-to-find spot (the header and footer are great options). Also, consider linking from these pages to the individual franchise's social media accounts. Virtually all content management systems make it possible to display branded social buttons that are recognizable to users.
The franchise homepage is also a great place for the franchisee to showcase what makes their location unique, trustworthy, and better than the competition. Encourage your franchisees to "toot their own horn" in a way that will speak to their local audience.
Local Service Pages
If your franchise is a service-based business, you'll want to build out local service pages for each franchise. These pages offer a great opportunity to optimize for long-tail keywords that target people searching for specific services near them.
For example, if you have an electrical services franchise in Dallas, you could build out separate local service pages targeting keywords such as:
electrical repair Dallas – 140 searches per month
Dallas landscape lighting – 140 searches per month
same day electric service in Dallas TX – 70 searches per month
Users searching for local services are already working their way down the sales funnel. They are closer to making an appointment than the average website visitor. Therefore, use the franchise service pages to clearly explain how your franchise can solve their problem – and how you can do it better than the other guys.
Franchisees and Their Web Pages
What elements of local franchise pages should be locked down, and what should franchisees be able to edit?
There are some pages that franchisees should be able to change. With hundreds of local-specific franchise pages and only so many resources available on the corporate side, it makes sense for corporate to share website management tasks with franchise owners.
Franchisees should have the ability to:
Post to their blog.
Update pages specific to their business that will change over time, such as pages that highlight their staff or a gallery of completed projects.
Publish local specials, promotions, and coupons.
The franchisor may also decide to grant franchisees access to local service pages. Some content management systems will allow franchisees to save their content updates as drafts, which can then be approved by corporate before those changes go live on the website.
Publishing Unique Content on Franchise Pages
When you are faced with the prospect of creating hundreds or even thousands of pages for all franchise units, it can be tempting to replicate the same content over and over.
This is a bad idea.
If you have 50 franchise units that all provide the same service, and you use the same content on all 50 of their local service pages, they will all be competing for organic search traffic – whether they share the same domain or not. We call this "keyword cannibalization," a search engine optimization (SEO) problem that's worsened by duplicated content.
Instead, start with a template for those service pages, and create unique, localized content for each franchise unit. This is a great opportunity to involve franchisees in the content creation process. After all, they know their local consumers better than the corporate team does. Let them lend a hand in building their own page content.
Tip: Send a survey to franchisees to get a sense of what services are most important to their businesses. Ask what they feel sets them apart from their local competitors. Include any other pertinent questions, and use that survey data to build unique local pages for each franchise.
Until you get all those local pages written, it's a good idea to implement canonical meta tags on franchise pages that do not contain unique content. Canonical tags tell search engines what is the "master copy" of a page that contains duplicate content. Consider making the national service page the canonical URL for all those pages until you can get them optimized for local search.
Conclusion
Building a franchise website is a wonderful opportunity to target local keywords and help franchisees cultivate a reputation for excellence. But the franchisor must maintain some control over the website in order to ensure that voice, tone, and branding remain consistent. When the right balance is struck, both parties will be happy with the results.
How National SEO Informs Local SEO
The corporate franchise office can lay the foundation for great SEO – especially when national pages and localized content are on the same domain or a domain-subdomain setup. This foundation includes ensuring the website is technically sound, and that all the right pages are ranking in search engine results for important keywords. Valuable keywords may include the brand name, the industry category, service/product-based terms and informational queries.
If the franchisor provides this groundwork, franchisees get a huge competitive advantage – which is a valuable selling point for franchise development! It means new franchisees can immediately get leads from corporate SEO efforts.
With the SEO base only partially built, the question becomes: How can we build on what has already been established?
We have more local SEO tips for franchises.
Take Cues from National Keyword Targets
Whoever is managing your national SEO has already done some keyword research. Check out the homepage and other important service/product pages. What words are used in the page titles, headers, and throughout the body copy? Consider modifying these keywords on the local franchise pages. For example, if your national homepage is targeting "portable containers," a local-specific summary page/homepage could target "Orlando portable containers." If this is executed properly, your national homepage and local homepage can both rank for "portable containers" without interfering with each other.
Tip: This strategy puts a lot of faith in whoever is managing your national SEO campaigns. We always recommend checking search volume for geo-specific keywords to validate the keywords you're targeting. However, you won't always find significant search volume for geo-specific keywords, especially in smaller markets. In those cases, you can default to a formulaic approach: [Location + Keyword] or [Keyword + Location].
When Does It Make Sense to Create Local Service Pages?
Most franchise brands offer most of the same services at all locations. So it makes absolute sense to explain the service on a local service page – including any details unique to that location – and link to the national service page for more information. This is a great way to reinforce keyword targets through internal links and avoid the pitfalls of thin or duplicate content. But instead of using the same anchor text for every link, switch it up to improve your chances of ranking for other variations of your keyword target.
Tip: Sometimes, a franchisee will offer a service or product that isn't available across the entire system. Creating a page for this service is a great way to test the waters. For example, a franchisee may create a page for financing options. If that page receives droves of organic traffic from users outside its service area, then it might be a good idea to roll out financing options across the entire system. This is an example of how micro can inform macro.
Audit Your Backlink Profile to Find Opportunities
A backlink is a hyperlink on an external website that links back to your website. A website's backlink profile is considered one of Google's top three ranking factors. The more quality backlinks your website gains, the better its chances of improving search visibility by moving toward the top of the search engine results page (SERP). Backlinks primarily benefit the page that's receiving the backlink, but they positively impact the entire domain. Therefore, backlinks to national pages, like a well-written blog, can also benefit the local franchise pages on that domain. The same is true the other way around. Encourage franchisees to build links.
A rising tide lifts all boats.
Tip: The easiest way to build links is to link Google My Business pages, social profiles, and other local listings to associated local franchise homepages. We also recommend auditing the entire domain for backlinks so that franchisees can learn from one another. For example, you may find a dozen links from various chambers of commerce. If so, the corporate office could recommend that franchisees pursue backlinks from their local chambers of commerce.
Conclusion
The franchise website platform is often thought of as two separate experiences: the local and the national. It is paramount that these two experiences inform each other – micro informs macro, macro informs micro. The three examples we provided are certainly good places to start improving this macro-micro relationship.
Paid Media for Franchises
Paid media marketing helps franchises generate leads and expand their audience. However, if a paid strategy is not carefully planned and executed, the corporate office may compete with local franchise owners for impressions and clicks.
To avoid this wasteful problem, the corporate office can focus on paid media campaigns that raise general brand awareness. Local franchise owners should focus their paid media efforts on the specific products, services, and other value that people in their community want. This involves geographically bound campaigns built around specific keywords and interests.
This guide explores all the details of managing paid advertising for your franchise, system wide.
What Is Paid Media?
Generally speaking, paid media is advertising appearing on one or more mediums, including:
Search ads, which are shown in search engine results based on keywords.
Display ads, which are visual ads appearing in certain display networks. These are commonly referred to as "banner ads" and are based on audience intent or affinity.
Social ads, which are often seen as the "Sponsored Content" on your favorite social media platforms.
Video ads, which appear predominantly in YouTube advertising.
Businesses typically pay per click on their ads, though this can vary by the platform and ad type.
Corporate Franchise Paid Advertising
For the franchisor, it is most beneficial to run paid media campaigns in the most widespread geography possible and to use messaging that reinforces the brand's value and general product/service category. To maximize the efficiency of your advertising budget, consistently export the zip codes (or other geo-identifier) of your franchise's active service areas. Target only those active locations in your chosen advertising channel.
Tip: Don't forget to run and apply this zip code export on a periodic basis as your franchise locations change, due to openings and closings.
This is how awareness is generated by the franchisor. Someone becomes in need of your product or service, recalls seeing your ad, and then performs a local search for what you offer. Raising awareness of your brand is also how paid media can increase organic traffic to your website, which improves future ranking potential and has a positive impact on your franchisees.
Examples of Good Corporate Paid Media Ads
Corporate Social and Display Ad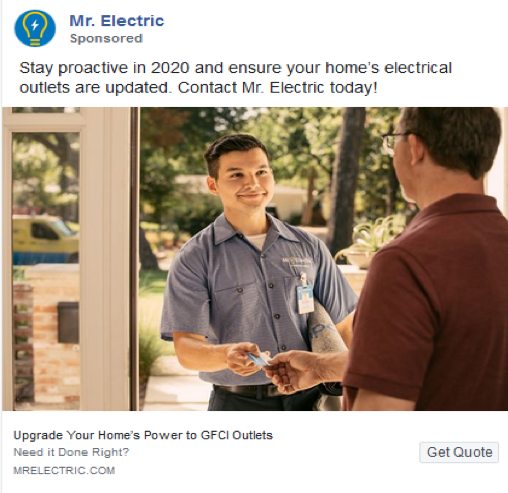 Corporate Search Ad

Paid Media Ads for Franchisees
Franchisees know what people in their communities are looking for. They know how local interests and needs vary by season. Thus, the local franchise owner is the party best suited to use paid ads to directly generate leads and sales. They may start with advertising on search engines such as Google, Bing, and DuckDuckGo.
Franchisees, or their local marketing partners, should create ad headlines that tell locals exactly how the business will provide a valuable solution. Selected keywords for ads should focus on search terms that match the product or service the franchisee offers. Each ad should link to the most relevant local service/product web page, which ideally contains similar keywords in the on-page content.
Tip: Review what search terms match your keywords on a regular basis. Use this information to maintain a negative keyword list composed of search terms that are not relevant to your franchise. This will save money!
Examples of Good Local Franchise Ads
Local Social and Display Ad (Franchisee Level)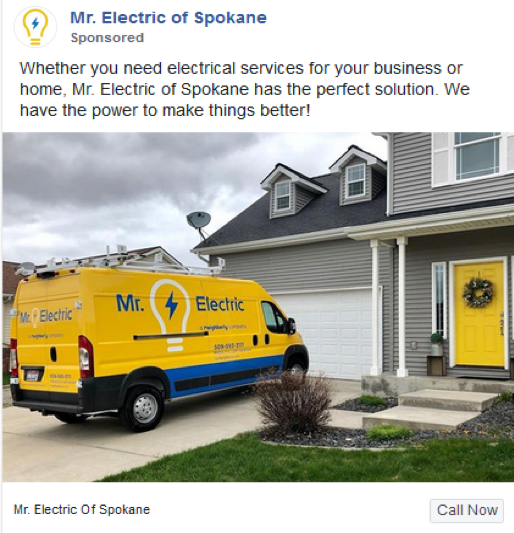 Local Search Ad (Franchisee Level)
How to Coordinate Paid Media Efforts to Maximize Results
Though it may be a difficult subject now, it is possible for franchisors and franchisees to work together across all paid media marketing. The key is to create clear processes so each party adheres to their proper role in paid media. The franchisor creates awareness and brand excitement; the franchisee anticipates and responds to search intent to generate more leads and sales.
For example, in a residential maid franchise, corporate should bid on general terms like "house cleaner" to increase brand awareness. When franchise owners bid on "house cleaner + zip code," it tells local consumers who they can count on to deliver those services in their neighborhood.
It's also a good idea for corporate to share their keyword list with local franchise owners to mitigate overlaps.
Tip: Make your paid media process two-way rather than top-down. If a franchisee can share with the corporate office what is and is not working locally, those learnings can be disseminated throughout the company.
Conclusion
Paid media offers an excellent return on investment, if used strategically throughout a customer's decision-making journey. Using platform-integrated analytics, franchises can measure the results of their ad spend, view audience insights, and refine their strategy nationally and locally. Finally, paid media gets messages out quickly, which can help ease big changes such as re-brands.
Want to read this later?