Does the "Link in Bio" Instagram Strategy Actually Work?
"Check the link in our bio!" It's the refrain of everyone on Instagram who has a site or a YouTube channel to plug. Big brands and small creators routinely post photos or videos that correspond to a posted blog, hoping to direct Instagrammers to their website. How effective is the "link in bio" strategy in driving social referrals?
Lately, there has been some disagreement over whether this marketing strategy works. Does anyone actually click the link in your bio on Instagram? We're here to find out.
What Does "Link in Bio" Mean on Instagram?
It works like this: You write and publish your blog, product page or other content. Then, you post the corresponding blog or product photo to Instagram. In the caption, you write something to the effect of, "Click the link in bio for more information." At the top of the Instagram page (the bio area), you insert a clickable link to a link library which serves as a directory to anything you want, including blogs, products, email sign-ups and more.
Most link in bio services are essentially a landing page designed to display links to your content. Some of the most popular options include Linkinbio, LinkTree, Feedlink and dozens of others. These services typically offer a free plan with the option to upgrade for more branding and customization options.
Why Use a Linking Service?
Links on Instagram are limited to one per bio, which most accounts use to link to their homepage. For brands with a more dedicated social media strategy, that doesn't cut it. Using a linking service allows users to place a single URL in Instagram to show users curated content associated with recently posted videos and photos. You're replacing multiple links in an Instagram bio (something you can't have) with a single post to a directory of curated content (something you can).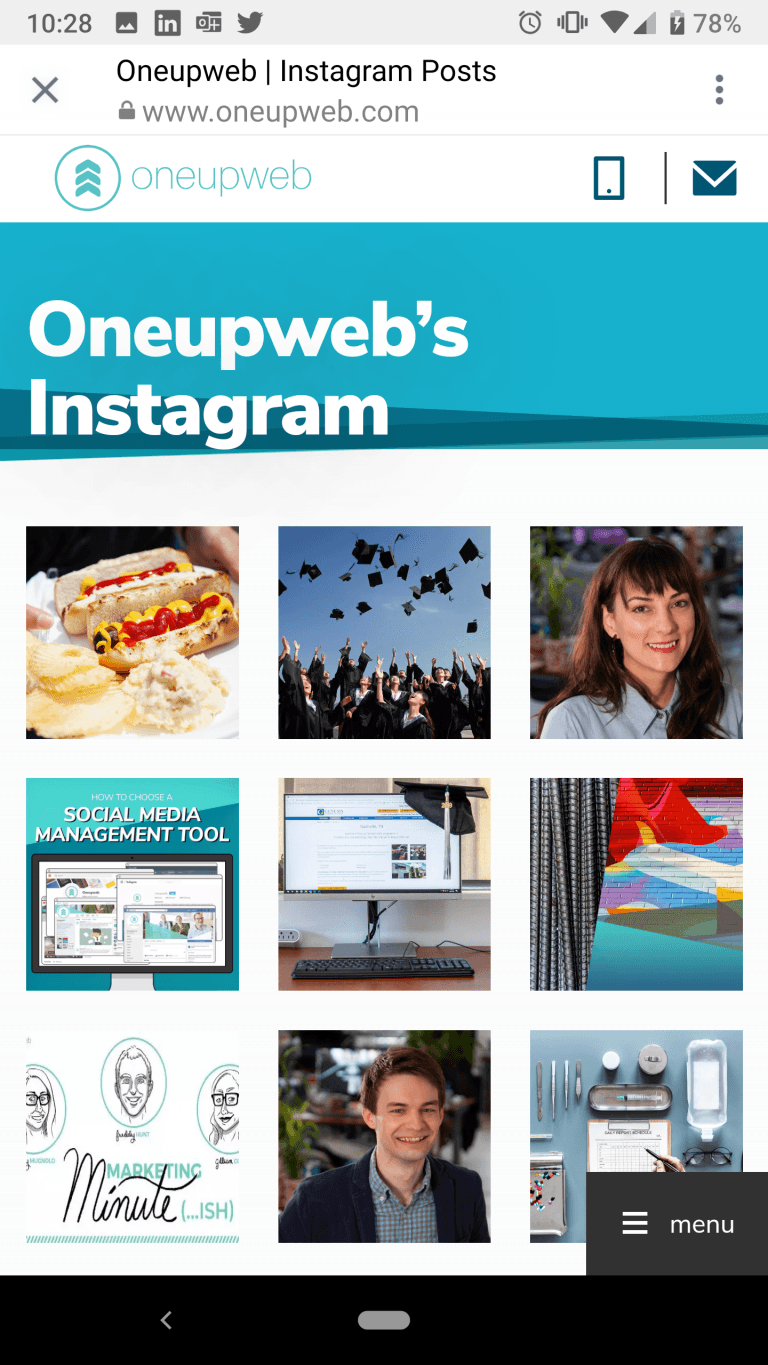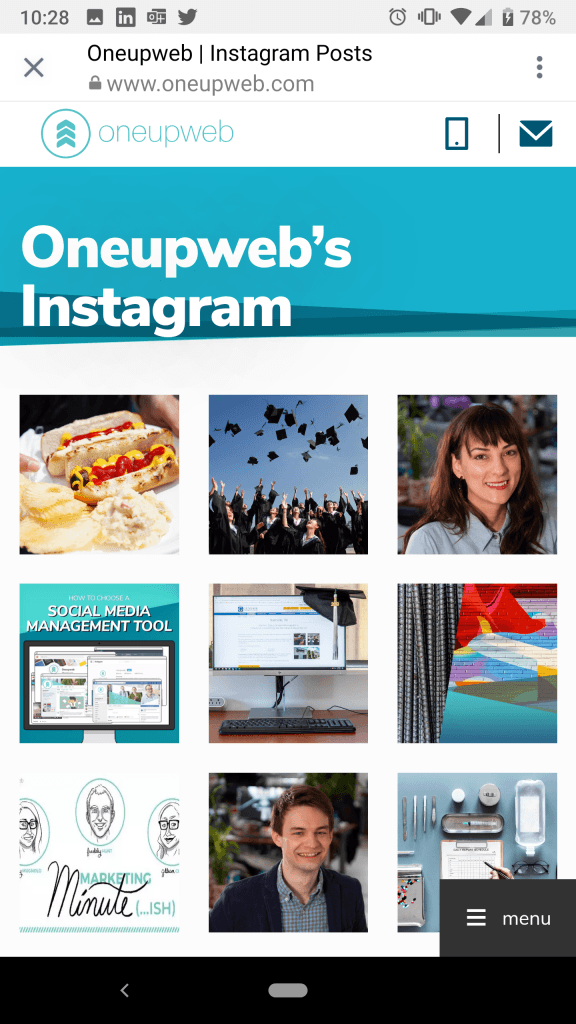 Do Instagram Bio Links Actually Work?
After reading a dismissive post on the Agorapulse blog on using a link in bio strategy, we wanted to run some tests of our own to see if the strategy made a difference in driving Instagram traffic to our website. We were confident that using a link in our bio would improve referral sessions to the site from Instagram – so we did some science.
The landing page we created to house our blogs tied to Instagram posts.
How the "Link in Bio" Strategy Got Its Start
Instagram is a platform designed for images. Like other social media platforms, IG is continually optimizing its platform to keep you engaged as long as possible and to get you to come back frequently. Also like most social platforms, making a good first impression on your Instagram bio is essential. Unlike LinkedIn, Facebook or Twitter, there is no Instagram "link in post" option. In fact, there is only one spot on each profile to permanently add a website link. (We'll get into how to add a link to an Instagram story later.)
Updating your bio link with every post quickly proves inefficient. Beyond being annoying and time-consuming, it also puts an expiration date on the caption of your post. Because of Instagram's algorithm, posts may be shown out-of-order, leaving users who click on your profile confused when they search for a bio link posted last week that's already been replaced with a link to newer content.
How to Add a Link to Your Instagram Bio
First, the technical details. To add a link to your Instagram bio:
Tap on your profile picture.
Navigate to "Edit Profile" > "Bio."
Add your URL to your written bio (make sure to write a bio if you don't already have one).
Save by hitting "Done" on your iPhone or the green check mark on Android.
Now you just have to choose the link you want to use.
Our Single-Link Solution
We aim to drive traffic from our Instagram to our website in a way that's useful and logical for the user. Third-party link services like Dash Hudson and LNK.bio offer ways to maximize Instagram links. However, nothing on the market provides the exact experience we wanted.
Our solution? A landing page designed to host links to the Oneupweb blog posts with the same images we posted to Instagram. From there, it was as simple as replacing our "bio link" with a link to the custom page and then implementing a new strategy (where you have a dedicated landing page and address it in the copy of each post) for posting.
Let's Talk Tracking Specifics
The aforementioned blog from Agorapulse made two claims:
Having a link in the bio didn't drive additional traffic to their website from Instagram posts.
Instagram is punishing these posts because they want to keep users on the platform (as opposed to driving them off-platform to your website) unless your organization is paying to advertise on Instagram.
With these two points in mind, we took a deep dive into the sessions to our website that came via the link in our Instagram bio. We tracked from the time the new landing page and strategy (sending readers to our bio to click on our specific link) was implemented.
It's also worth noting that we had to monitor site sessions from our landing page, not Instagram. In many cases, site sessions from a site like Link Tree will be marked as a referral channel and not social traffic. That's a good reason to use UTM parameters to more accurately track "link in bio" clicks.
It's worth mentioning that there are many factors that affect social media engagement. Factors such as the time of day of the post, the type of content, the hashtags and so much more affect where your post will be seen and if it will reach your audience.
The numbers showed promising results.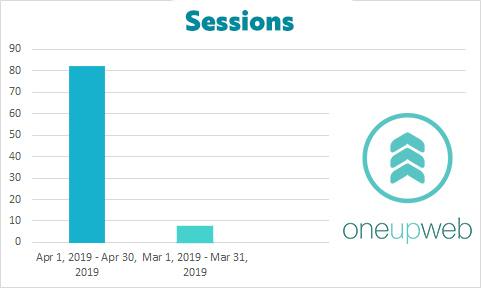 Sessions were up 1,071% from March 2019 to April 2019.
Another Option: How to Add a Link to an Instagram Story
Once you have your content and you're getting ready to post it to your story, click on the sticker tool. Add the "Link" sticker to your content, input the URL and click "Done." Then, you can place the sticker on your story and customize using Instagram's color options.
Supplement your bio links with these story links to promote there-and-gone content like flash sales, big discounts, events happening soon and other content.
Our Instagram Bio to Landing Page Strategy Drove Significantly More Traffic to Our Website
The landing page Instagram bio link went live on April 5, 2019. We used and tested the new page and strategy before monitoring with the intent to benchmark future sessions.
In March, we had seven users reach our site via Instagram. In April, we had 82 users reach our website via Instagram. That's a 1,071% increase month-over-month.
Many factors impact the performance of social media accounts. In this instance, we did not account for these other variables. It's likely that, in addition to posting more, utilizing a hashtag strategy and crafting all-around solid content made users on the platform want to read our blog. Publishing a clear bio link and addressing it each time a new post was made streamlined the journey from Instagram to our site.
On Instagram posts that directed users to our link in the bio, we had an average of 5.72 users landing on our profile from posts. Without directing users to our bio in the post, it's about 1.3 users (unique or repeat, we don't know).
Instagram traffic from March to April, right from Google Analytics.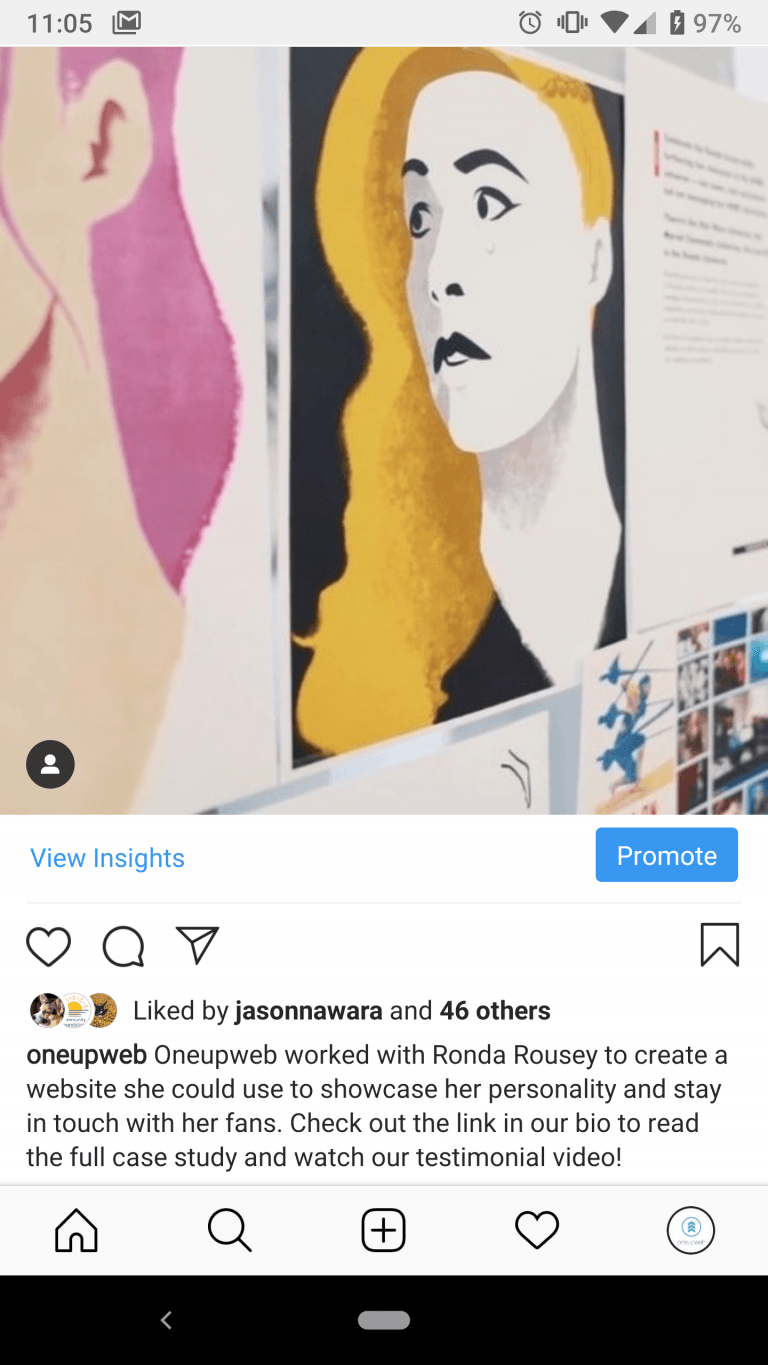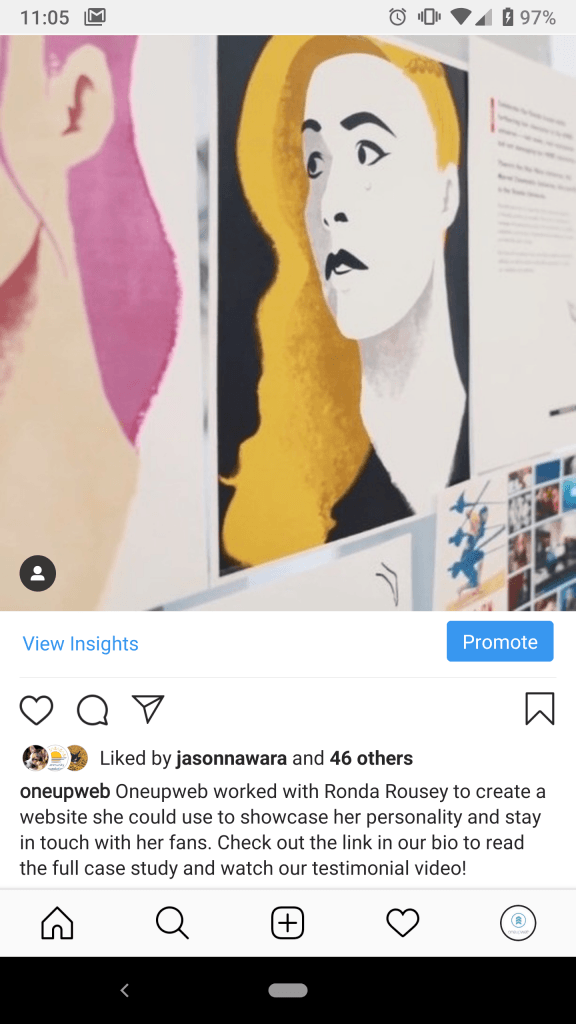 Does Instagram Throttle Reach on "Link in Bio" Posts?
Without being able to account for all the factors at play in the Instagram algorithm, we can only make assumptions based only on the data we have.
Agorapulse claimed that because Instagram wants to keep users on the platform, the platform will de-emphasize posts that have "link in bio" language in the caption. Before implementing the strategy where posts direct users to our page and website, our posts averaged a reach of about 200 users. With the strategy, the average is up slightly to 213 users per post.
While we don't see a dramatic increase in post reach, we're definitely not seeing a decrease. We do not believe Instagram has made any effort to de-emphasize content with "link in bio" language in the post itself. Finding other ways to say "link in bio" may help diversify your posts for readers, however, and keep things interesting.
One of our more popular Instagram posts from April sent 14 users to our website in just five days, 12 of which were new.
Key Takeaways
Marketing strategies will and should change frequently. Social media platforms are constantly updating their algorithms and it's our job as marketers to morph with them.
Most importantly, what works for us, might not work for you. Agorapulse ran tests on their own photos to see what the results were, so we chose to do the same for Oneupweb. We are two very different companies with different marketing goals (not to mention all the other factors that go into social media management). Thus, the results of our experiments are different.
When you're looking through other research, don't get discouraged. Our research shows that the Instagram "link in bio" marketing strategy works. Yours might, too.
Get Help from Instagram Experts
If you don't want to learn how to add a link to Instagram, ask for help! We love running experiments and trying out new marketing techniques on our own content. If you're struggling with social media strategy or management, explore support options from our selection of social media marketing services. Contact us online or call us at (231) 922-9977.