Meet Our Content King – Freddy Hunt
Name:
Freddy Hunt

Position:
Director of Content Marketing and SEO
What's your average day like at Oneupweb?
I bring my own coffee mug to work every day. Not because I'm a germaphobe but because I have a lot of cool coffee mugs at home. After I fill up, I dive into the latest trends in SEO and content marketing. I spend a good deal of my morning thinking about our clients and how we can work to stay ahead of the next round of updates. The rest of my day is spent writing copy and exploring new opportunities for content promotion.
Tell us about a favorite client moment.
Writing a blog post for a client about personalized party accessories for your dog's bark mitzvah. And yes, it gets traffic!
Tell us about a favorite Oneupweb moment.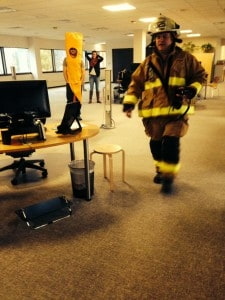 It was Halloween, so I came dressed in my "Cool Carrot" costume. Of course, there just had to be a fire in the server room that day. We evacuated the building. Among the firemen, our parking lot looked like one hell of a party!
What's your favorite blog and why?
I love cruising Fark.com for funny headlines. I have a background in journalism and online media. News, especially local news, can be incredibly laughable!
What makes Traverse City appealing?
No highways! Instead, we have endless lakes and trails.
What do you do when you're not at work?
I'm an aspiring chef specializing in pizza roll pizzas.
It's 5:30 PM – what's your cocktail of choice?
Miller High Life in a bottle or Grand Rabbits by Marquette's Blackrocks Brewery.
What's the last song you intentionally listened to?
"Genius of Love" by Tom Tom Club.
What's your secret guilty pleasure?
I've been knitting since I was 12 years old. I could probably teach your grandma a thing or two.
Tell us something weird/unique/quirky about yourself.
I haven't drunk bottled water in five years. Why pay for water? It's on tap, and I don't need any more plastic waste!
What's one of life's simple pleasures?
Denim from head to toe
Do you like bacon apple pies? Email Freddy at fhunt@oneupweb.com for his famous recipe!
Up Next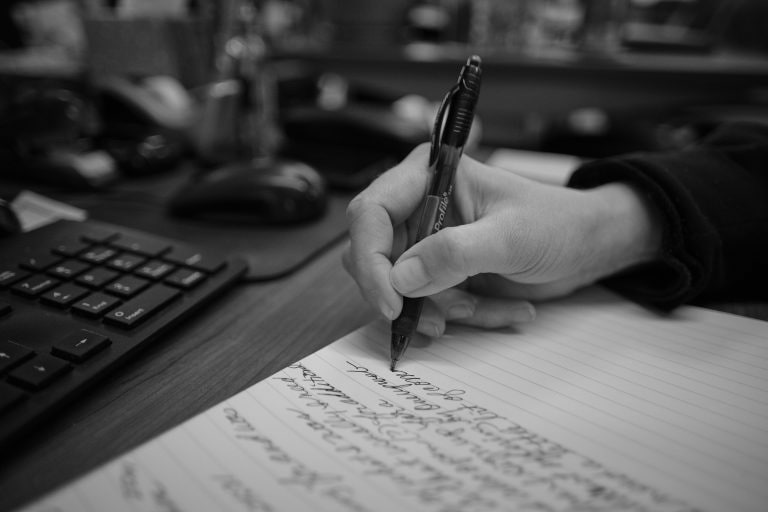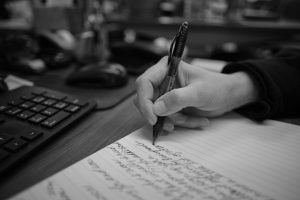 Marketing copy is often written hastily (or by a content farm) to meet a tight deadline. Other times, it's written bland to match what's already approved by legal. Both situations lead to boring copy that doesn't conquer campaign goals. If you want your words to work, make them fresh and meaningful. Here are some marketing...