What Is Full-Funnel Marketing?
The sales and marketing funnel is a visual representation of your customer lifecycle: from awareness and interest to evaluation and purchase. Full-funnel marketing is developing different marketing touchpoints to support every client interaction through each stage of the funnel by offering unique content for the top, middle and lower parts of the funnel.
Because the funnel is easily understandable, it can be championed by your entire organization. The first step to building a funnel of your very own is to determine a well-rounded strategy that equates to a specific phase of your customer's journey, whether it's a need they're looking to fill or a question they need an answer to.
Here's how to build a funnel that works for your organization, step by step …
Sales and Marketing Funnel Stages: The Parts of a Sales Funnel
While there are many versions of the sales funnel, this is one of the most common representations:
Awareness
Interest
Consideration
Intent
Evaluation
Purchase
Different departments in your company will be aware of different parts of your sales funnel. Full-funnel marketing allows sales and marketing teams to understand their customer lifecycle better. Start by asking questions internally about typical customer experiences. Some good starting points might be:
Where do your customers first encounter your brand? (This might be social media, your website, on-site activations like expos, or even walking by your retail store.)
What stage of the funnel do your current marketing efforts address successfully?
At what stage do your prospects or customers reside?
Where are they getting stuck or dropping off altogether?
With this information, you can develop new tactics to better move prospects down the funnel and prepare them for the sales team.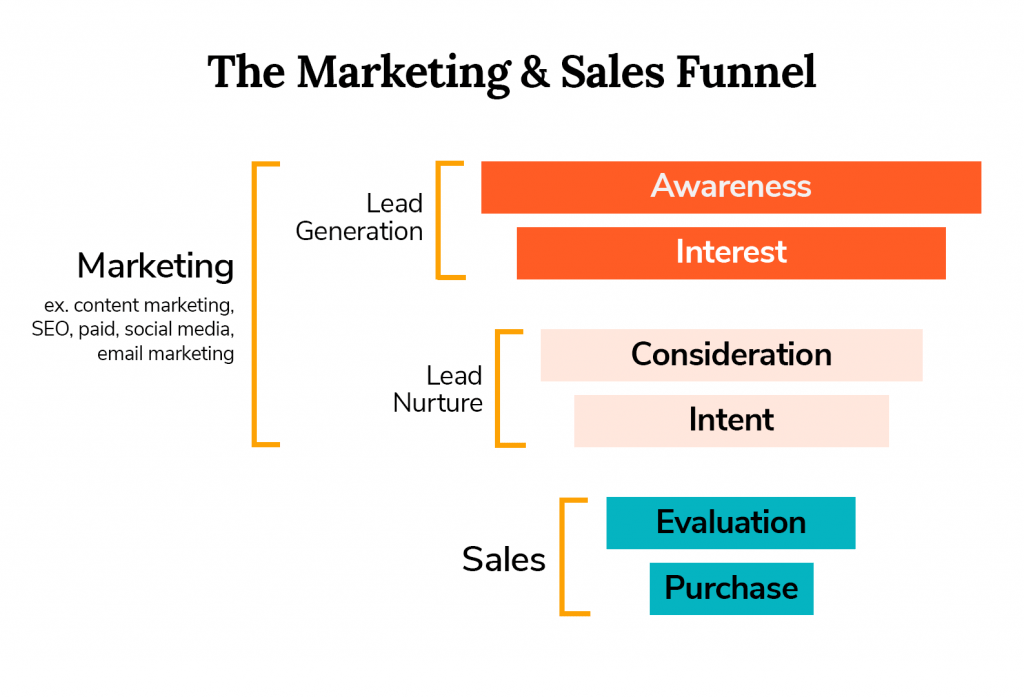 How to Develop Full-Funnel Digital Marketing
Oneupweb's digital marketing experts love a funnel! Here are the steps we recommend to improve your strategy:
Know the Benefits So You Don't Get Stuck
Funnel-based planning can be a sticking point for some organizations because various stakeholders prioritize different funnel stages and ignore others. Maybe your board members mainly care about bottom-of-funnel marketing, while your SEO team wants to focus on the top.
Before you do anything, get on the same page about the value of full-funnel marketing. For example, consider this:
Map It Out
Pick the version of the marketing and sales funnel that works best for your organization's planning process – whether it has three stages or seven. Put it next to a list of all your main marketing and sales touchpoints. Then match each of those communications or content pieces with the most fitting funnel stage.
To take this a step further, consider adding KPIs to each piece of your strategy. This way, you can visualize which parts of the funnel you're covering, and which parts are most effective.
Are some of the marketing funnel stages looking somewhat thin or not performing well? That's where you can focus next.
Digital Marketing Funnel Stages
What is top-of-funnel marketing?
Top-of-funnel (TOFU) marketing generates brand awareness and interest, fulfilling users' initial desires without pushing your product on them. Examples of top-of-funnel marketing are resource-focused SEO, email, paid media marketing (e.g., free trials), social media marketing, YouTube marketing, etc.
Content at this stage is typically educational and helpful rather than sales-focused. Some of your TOFU content may be gated, helping you collect contact information to nurture your new leads.
What is mid-funnel marketing?
Middle-of-funnel (MOFU) marketing caters to leads who are in the consideration and "intent to buy" stages. Marketing content at this stage includes product/service pages, content marketing focused on pain points and differentiators, video marketing (e.g., product explainers) and social media.
You may be able to attract new leads who are already primed for the MOFU stages. (For example, they're searching directly for a service vs. researching a topic.) But it's also important to nurture your contact list of top-of-funnel users – if you have their contact info – so they reach this part of the funnel.
Content at this stage educates users about your products or services and your business in general.
What is lower-funnel marketing?
Lower-funnel or bottom-of-funnel marketing (BOFM) targets leads who are very likely to make a purchase. Examples of lower-funnel marketing content are remarketing ads, special offers, testimonials, "Why Us?" content, sales presentations, pricing sheets, etc. The idea is to do whatever it takes to close the sale.
You may also need to send communications to those who are stuck mid-purchase. For example, send an email reminder to someone who has a full shopping cart on your website but hasn't clicked "Buy."
What is full-funnel marketing?
Full-funnel marketing is when the top, middle and bottom levels of the funnel are all given proper attention and support. Stages of the funnel will change based on the type of business and size of your team. But having awareness of funnel marketing can make it easier to nurture potential customers and develop great relationships along the way.
Measure Results – Evaluate Each Stage of the Funnel
No matter if it's top, middle or bottom-funnel content, it's vital to keep an eye on performance data to be sure your full-funnel marketing strategy is working. Is a certain white paper leading to frequent bounces? Need different top-of-funnel gated content to gather more email addresses? Are people leaving your site because of a long, cumbersome form?
No strategy can be perfect without frequent measuring, testing, and adjusting.
Call in Reinforcements (That's Us)
You can make full-funnel marketing work for your business if your goals are clear, your whole team is on board and you have the resources to test and iterate. Finding the resources is typically the hardest part. Our experts use the sales and marketing funnel model to plan digital marketing services that truly work.
To start a no-pressure conversation about your goals, reach out to us online or call (231) 922-9977.
---