Google Authorship (for Dummies): How to Set It Up and See That Mug
Scrapers, spammers, black hatters—Google hates 'em all. What the big G does like, on the other hand, is informative, engaging content written with care by actual people. With actual faces. Here's how to set up Google Authorship, which will lend additional credibility to the work you produce and should improve your CTR.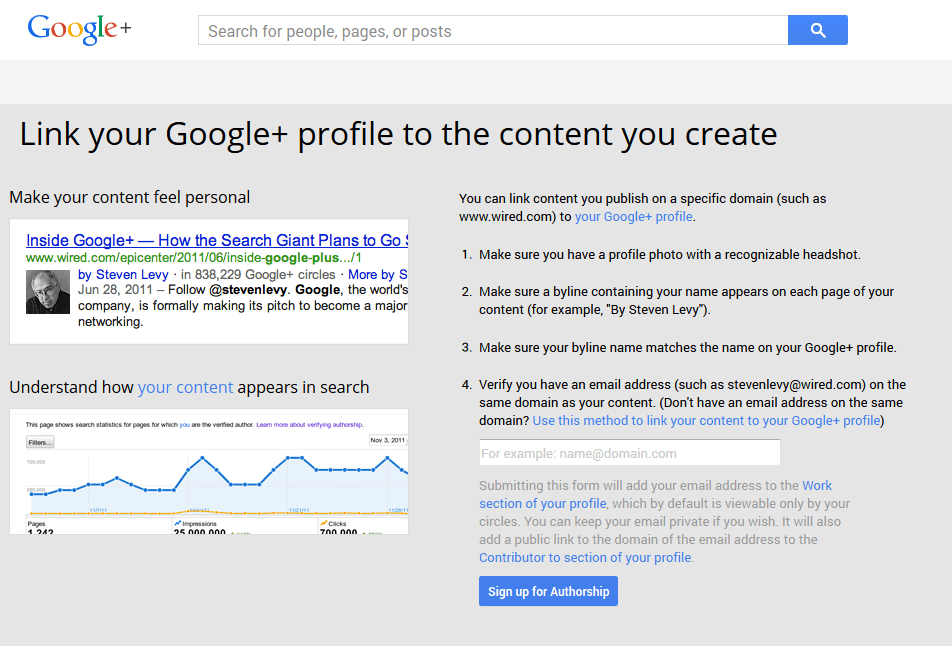 Tell Google who you are. If you have an email address on the domain you write for (ddoran@oneupweb.com), login to your Google+ account and send Google an email through this page. Make sure your byline is the same as what appears on your Google+ profile.
If you don't have a domain email, go into your Google+ profile and add a link to the site you write for under the "Contributor to" section. Important: Make sure you link to the website's blog (or wherever your content gets posted), rather than the homepage.
Insert some code. Define the association for Google by inserting a bit of code into the Google+ button on your blog or the text in your author bio:
<a href="http://plus.google.com/103780700566333678292?rel=author">
Your bio looks something like this:
"David once held a koala. He enjoys gargling. You can stalk him on Google+ (insert aforementioned code!) and Facebook." Easy enough, right? But it gets even easier . . .
If inserting code scares you, like it does me, and you're working with WordPress, there is thankfully a handy-dandy plug-in you can download that features some pretty simple instructions. Find it here.
Test for success. Give Google some time, and then check to make sure your authorship rich snippet has been implemented. To do this, use the Structured Data Testing Tool.
Things to keep in mind. You should be active on your Google+ page for authorship to work. If all you do is post a picture of your dog once a year, beef up your authority and relevance by posting a picture of said dog at least once a month. Also, be sure you have a clear headshot that Google can take from your profile. No cartoon characters, no graphics.
Voila! You are now a certified Google author.
Want to discuss other ways you can boost your visibility and generate more traffic? Drop us a comment, give us a ring, or send us an email.